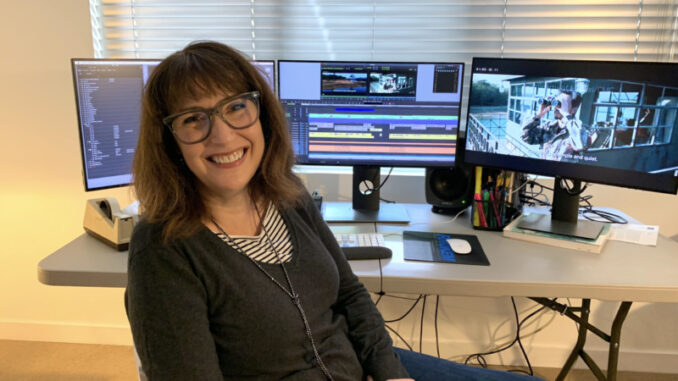 Where are you currently employed?
I'm not working as of this writing, but I'm starting a feature in the fall. I can't say what it is, but it's very exciting! My last job was a Chinese/US co-production feature called "Unspoken," produced by Court Five and CMC Pictures. Before that, I worked on two Mike Flanagan horror projects for Netflix: "Midnight Mass," a limited series, and a regular series called "The Midnight Club."
Describe your job.
As a feature picture editor, during shooting, I cut dailies. I usually receive them the day after they are shot. It's preferable to keep pace with production because the editor's cut is due a week or so after shooting wraps. During the director's cut, I work with the director, doing their notes and ironing out kinks. This stage can sometimes involve significant restructuring and experimentation. After that, we work on producer's notes together. Once there's a cut that is generally well-regarded, there are usually screenings for a test audience. After a while, depending on time and budget, someone finally declares picture lock, which means post-production sound people can start to build dialogue, music, and effects tracks that will be in sync with picture for sound mixing.
Picture editorial not only handles picture. We are the first to set the tone with temp music, temp sound design, and temp visual effects to get the cut to work and communicate story points. It's a lot of crucial work that is often overlooked when describing the editor's and assistant editor's jobs.
How did you first become interested in this line of work?
After working in all sorts of jobs, including being a production assistant at a multimedia company that made CD-ROMs (it was the 90s!) and teaching English in Italy, I decided I needed a proper life plan and went back to education as a mature student. I found editing through a general art and design degree, and I immediately knew it was what I wanted to do. I played the piano from ages 6-18 (I find most editors are musical) and obsessively rewatched certain films as a teenager (excellent preparation for editing!). I also loved jigsaws and studying images of all kinds. So I really felt like I'd found my calling when I discovered there was a job that combined so many audio, visual, storytelling, and analytical skills.
Who gave you your first break?
My first break came via my film school, The National Film and Television School in the UK. I worked on "Return to Cranford," a period extravaganza starring Judi Dench. I was the cutting room trainee/second assistant editor, and it's where I first learned assistant editing skills. After I graduated from film school, I pounded the pavements for a bit. Then a post house in West London, Coach House Studios, introduced me to my first editor, Dave King, who was about to start a BBC production of a series of classic children's books called "Just William." To my incredible luck, the series won a BAFTA.
A special mention in the break-giving category goes to Tim Alverson. He was pivotal in my getting the opportunity to cut "Ma," which opened a lot of doors for me. He also taught me a lot of tricks of the trade that I still use today. Total mensch.
What was your first union job?
It was a film for Blumhouse called "Curve." I worked in some capacity for Blumhouse on 10 of their movies. I was there at a time of great expansion for them, which was very exciting.
What credits or projects are you proudest of, and why?
I love all my babies! I think I have a soft spot for "The Choice" — a Nicholas Sparks adaptation for Lionsgate — as it was my first main title credit. I love "Ma," also. We had a lot of fun on that, and it had something of a cult-following meme life on Instagram.
What was your biggest challenge in your job (or on a particular project) and how did you overcome/solve it?
There have been many times when restructuring a movie seems insurmountably complicated, but I actually really enjoy that process. With a good scene-card wall and a method of organizing alternate cuts, it can be very satisfying to reach an optimal scene structure. My most recent movie, "Unspoken," contained scenes in English, Mandarin, and American Sign Language (ASL). My incredible assistant Melanie Kuan and I came up with a killer system of locators and script line numbering that enabled us to work pretty smoothly despite neither of us speaking Mandarin or ASL!
What was the most fun you've had at work?
I was at Blumhouse working on "Happy Death Day" with Greg Plotkin when "Get Out," his previous movie, was screened at Sundance. I had almost no involvement in "Get Out," but to follow the growth of that movie was incredible. I saw it properly at an internal screening and loved it, of course, but had no idea what a hit it would be. To see the awards campaign gather steam was really fun. I was so happy for Greg and glad such a good movie was recognized.
Another time was an "all hands on deck" moment when I was at Blumhouse. "Truth or Dare" dailies were coming in thick and fast, and my friend and great editor, Sean Albertson, literally said at the lunch table, "Anyone wanna cut dailies? I'm drowning!" Sean, Kurt Nishimura, and I each cut different scenes that were then pieced together to form the basis for the editor's cut. I had a blast working like that. It helped that everyone involved was fun and collaborative, too.
Jobwise, what do you hope to be doing five years from now?
I'd like to cut a historical drama limited series — naturally with a great cast and high production values!
What are your outside activities, hobbies, passions?
Apart from the obvious ones of watching oodles of movies and television shows, I do a lot of personal development activities. I love LA for that; I'm originally from the UK where no one talks about anything! I'm always trying to be mentally and physically healthier and happier.
Favorite movie(s)?
"I, Tonya," "Love and Mercy," "Milk," "The Devil Wears Prada," "Margin Call," "The Social Network," "Maria Full of Grace," "Young Adult," "Eighth Grade," "The Assistant," "Jesus Christ Superstar."
Favorite TV program(s)?
"The Queen's Gambit," "A Very English Scandal," "Fosse/Verdon," "Chernobyl," "Winning Time," "The Offer," "Normal People," "The Act," "Mare of Easttown,", "White Lotus," "The Morning Show."
Why?
I love any sort of story about the arts or business, workplace dramas, historical period dramas, and most things based on a true story. As well as watching for entertainment (and escapism), I have always looked to television and movies to learn about life. I find the most incredible stories are ones that have actually happened. I like suspenseful dramas and dark comedies that make the audience and filmmakers think.
Do you have an industry mentor?
The Great Ms Tatiana Riegel! She has been an incredible guiding light, support, and now friend. I am extremely grateful for her guidance and wisdom.
What advice would you offer to someone interested in pursuing your line of work?
I enjoyed film school for the opportunity to be really creative, but it didn't help me get work. During the period I was working as an assistant editor, I tried to keep the creativity alive by working on shorts. You have to take responsibility for managing your own career. Agents help but can only do so much. Work hard, be humble, be ready.
Was there ever a circumstance when you had to rely on the Guild for help or assistance?
I am extremely grateful to the Guild for the healthcare and pension plan benefits and for those who negotiate on our behalf. Generally speaking, editors can be solution-based to a fault, and without the Guild backing us, I fear we'd be continually taken advantage of.
Is there anything you'd like to say to your fellow Guild members, some words of encouragement?
Working in editorial can be magical, but it's also a very tough business. I try to help people as much as I can and collect good people as I go. I hear terrible stories of how editors are treated and have walked through some very difficult times myself. Without my friends and supportive co-workers, it wouldn't be half as much fun. In difficult times, I try to remember these two things: "Nothing in this world can take the place of persistence," and "Fortune favors the brave."
Compiled by David Bruskin.