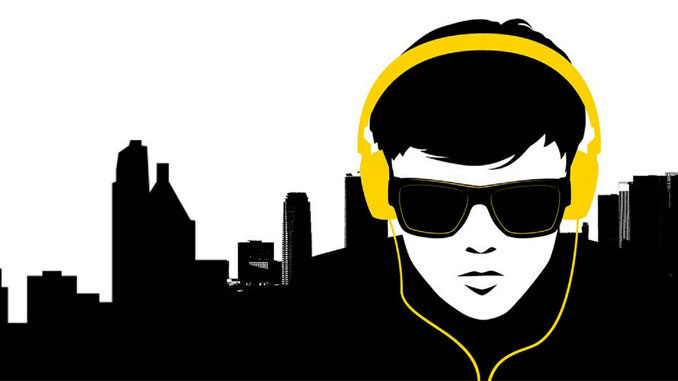 story and photos by Mel Lambert
As on previous occasions, Mix magazine's fourth annual Sound for Film & TV conference was held at Sony Pictures Studios in Culver City in cooperation with the Cinema Audio Society (CAS) and Motion Picture Sound Editors (MPSE). The all-day event, held September 16 and subtitled The Basics, featured a fascinating keynote address from film composer/musician Tom Holkenborg — aka Junkie XL — together with panel discussions on immersive sound designs, production and post-production workflows.
According to Tom McCarthy, MPSE president and executive vice president of Post-Production Facilities at Sony Pictures Entertainment, the event attracted some 630 attendees. New this year was The Composer's Lounge, a series of one-on-one conversations among leading film and TV composers, including examples from their work. A series of Master Class Workshops featured demonstrations from such familiar brands as Avid Technology, Dolby, Focusrite, Westlake Pro, Auro 3D, Fortium, Yamaha, Steinberg, Line Six, Sound Particles and Meyer Sound, the latter of which introduced its new Bluehorn monitor loudspeaker system for sound design and re-recording stages. Also featured was a Sound Reel Showcase in the William Holden Theatre of extracts from recent films, with introductions by their sound teams.
During his keynote address in the Cary Grant Theatre, Grammy-nominated Holkenborg focused on the synergy of music and sound design, including an appreciation of the role that the latter plays during the realization of contemporary soundtracks. His film-scoring credits include Mad Max: Fury Road, Deadpool, Black Mass, Divergent, Brimstone and Dark Tower. The composer recalled that, as a teenager, he brought to his high school one Christmas a copy of Pink Floyd's instrumental song "On the Run," from the group's seminal The Dark Side of the Moon album. The song's synthesizer sequencer, blended with a white noise generator, backwards guitar parts and myriad sound effects, had an unexpected effect. "It caused a number of my fellow school children to start crying," the composer reported, "and made some parents very angry. I then realized that I was drawn to the darker side of sound, and that carefully crafted music has a very powerful effect on audiences."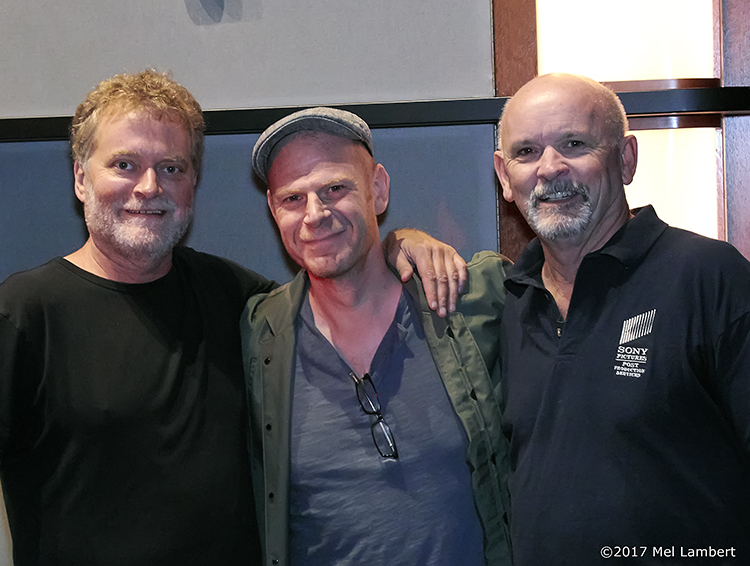 When he started composing film scores some 20 years ago, Holkenborg remained faithful to that early insight: "There needs to be a coherent balance between sound design and composition; it's a complex process. Composers should cooperate closely with sound editorial to maintain that important dialogue. What is good for the film?" While working on the score for director George Miller's Oscar-winning Mad Max: Fury Road, the composer recalled regular discussions with supervising sound editor Mark Mangini, MPSE. "I would regularly ask him, 'Do we need music here?' Mark and I were constantly handing off from sound effects into music; it was a constant back-and-forth process until it was impossible to tell where my work ended and Mark's began."
The One Soundtrack, Multiple Formats: Preparing Immersive Audio for Any-Sized Screen session in the Burt Lancaster Theatre, sponsored by MPSE, focused on the ways in which sound supervisors approach different types of budgets and formats, ranging from 5.1 stems to immersive tracks for theatrical, TV, home theatre and streaming deliveries. Along with session moderator Mangini, panelists consisted of supervising sound editor Andrew DeCristofaro, MPSE, sound designer/re-recording mixer Julian Slater, MPSE, video game sound designer David Rowe, supervising sound editor/sound designer Jay Jennings and sound designer/re-recording mixer Tony Lamberti, CAS. The key to success, the audience learned, is that post-production workflow and decision-making needs to be flexible and innovative.
"Our soundtrack should transport audiences to another exotic, remarkable environment," DeCristofaro said. "We need to use tools that create emotion." To which Slater added, "It's easy to put sound in sync with on-screen action. The hard part is how to create a realistic, immersive environment — that's what we try to do on the re-recording stage."
Slater confessed that he is a big fan of Dolby Atmos immersive soundtracks. "We mixed [director Edgar Wright's] Baby Driver in Native Atmos from Day 1," he recalled. "We then produced a 5.1-channel mix over the course of four days. Emotionally, I left the project with the feeling that it was not as immersive as our Atmos mix, and lacked low-frequency information and had a reduced emotional impact. For example, during the opening sequence — the six-minute Coffee Run — everything is panned [as Atmos objects] according to the lead character's POV. In a 5.1-channel, a fair amount of that immersive presence is lost."
"You need time to prepare an Atmos mix," DeCristofaro explained. "And 7.1- and 5.1-channel [down mixes] will sound very different. We need more Atmos theatres." An audience member stated that, currently, there are 2,734 such environments around the world. Lamberti confirmed that writer/director Jon Watts' Spider-Man: Homecoming was re-recorded in 5.1- and 7.1-channel, and then un-mixed to Atmos format. "With adequate planning, we had no problems," he offered.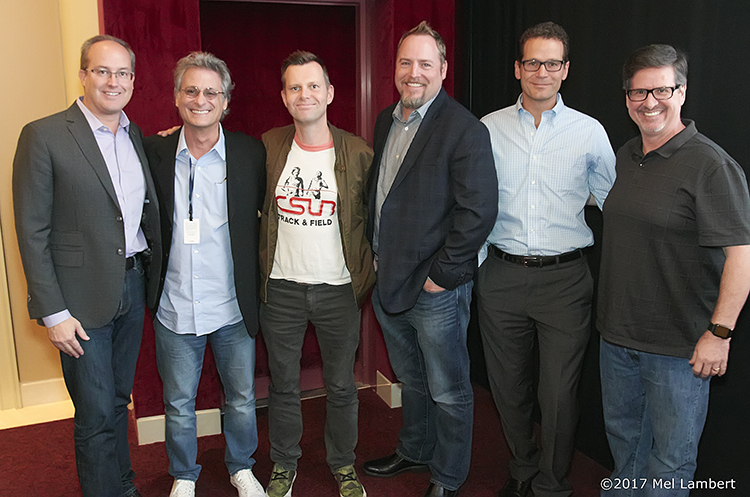 Moderated in the Anthony Quinn Theatre by Steven Saltzman, MPSE, participants in the well-attended Composers Lounge sessions include scoring mixer Bobby Fernandez with composer Tommy Vicari, CAS, who discussed the process of recording music on a scoring stage. The duo was later joined by music editors Peter "Oso" Snell, MPSE, and Joseph DeBeasito to discuss the ways in which elements from the scoring stage pass through sound editorial — with the music editor representing the team on the re-recording stage.
Other participants included composers Pinar Toprak and Joel Goodman, who focused on music for documentaries, and the ways in which TV and streaming has created opportunities for documentary filmmakers — including larger budgets for creating original music and feature-style scores. The final session comprised an animated discussion between composer Mark Isham and scoring engineer Jason LaRocca, who worked together on such film as The Mechanic, Warrior, The Cooler and Life as a House.
During the From Mic to Mix session, sponsored by CAS, moderator Karol Urban, CAS, led a discussion among production mixers Steve Tibbo, CAS and Ed Moskowitz, CAS, together with picture editor Stephen Rivkin, ACE, assistant editor/recordist Jesse Ehredt, supervising sound editor Teri E. Dorman and re-recording mixer Scott Millan, CAS, regarding workflow from the set or on location to the final soundtrack. As Dorman stated, "All departments are inter-dependent; we are a circle of talent that delivers the final product." "It is important for us to connect with post-production," Moskowitz emphasized, "to avoid that 'What the hell were they thinking?' comeback."
As Millan recalled, "During [director Sam Mendes'] Spectre, we had pre-production meetings with every department head, and went through the script line by line. What sound can we capture? The re-recording stage is too late in the process [to make those decisions]; early is so much better." For writer Aaron Sorkin's upcoming directorial debut film, Molly's Game, scheduled for release in November, Millan recalled that he and his co-mixer Gregg Rudloff had just three and a half weeks to mix the soundtrack for a screening at late September's Toronto International Film Festival. "And this was an intricate Aaron Sorkin script with lots of dialogue!" he said.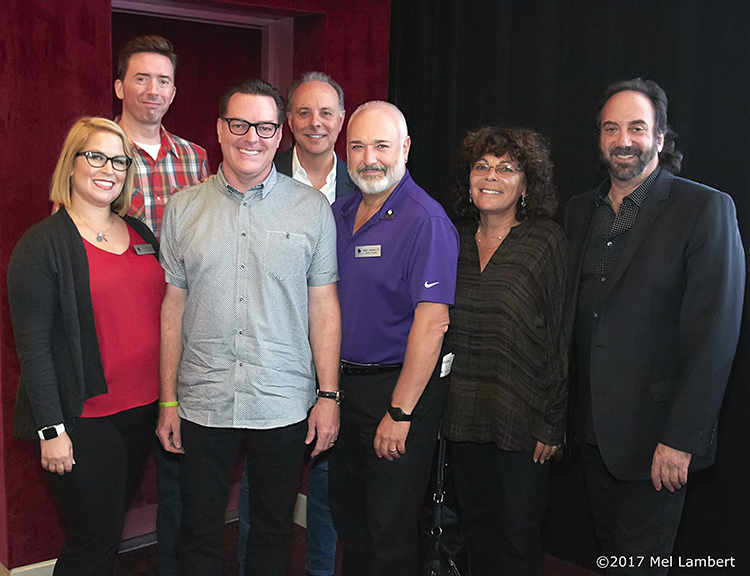 Rivkin added that for co-directors Joachim Rønning and Espen Sandberg's Pirates of the Caribbean: Dead Men Tell No Tales, "We had a 12-week, all-in post schedule. Producers get used to that and now everybody wants to do it the same way. We are being pressured to do more in less time; we do not want to be the person who failed the project. But we need to stand up to producers, to secure more time and more staff."
Millan shared a memory from his work on Road to Perdition, Mendes' second film. After weeks of trying to discover how best to handle one of the last pivotal scenes of the film, involving a majestic gunfight filmed on a rainy street at night, "We had all kinds of great sound effects," Millan recalled. "And we tried every imaginable way of working the content, from very stylized to literal. But Sam was looking for something different." It got late in the day and Millan suggested taking out all the sound, with the exception of Tom Newman's score, and then just use the last fatal Tommy Gun blast. "Sam looked at me like I'd lost my mind," revealed. The film wrapped for the night; very early the next morning, when Millan arrived, Mendes was already waiting on the stage. "He looked at me and said 'do it,' and walked out," Millan said. "The creative process takes time!"
During the Game of Thrones: The Sound of Fire & Ice session, moderated in the Cary Grant Theatre by Ozzie Sutherland, pro-audio solution specialist with Avid (which also sponsored the event), Foley editor Brett Voss, CAS, MPSE, music editor David Klotz, supervising sound editor Tim Kimmel, MPSE, sound designer Paula Fairfield, MPSE, and Foley artist Dylan Tuomy-Wilhoit focused on the show's intricate sound design and editing. The high-action series is re-recorded in 7.1-channel archival format – with a separate pass for 5.1-channel air delivery — and then up-mixed to Dolby Atmos immersive format for Blu-ray release.
As the attendees learned, the sound crew was based at Formosa Group in Hollywood, with mixes completed by re-recording engineers Onnalee Blank and Mathew Waters on a brand-new stage on Seward Street, a mile east of the Group's dub stages and editorial suites at the former Warner Goldwyn lot. "We have a complex post schedule to deliver such a detailed soundtrack," Kimmel revealed, which is realized more like a motion picture release than a traditional TV show.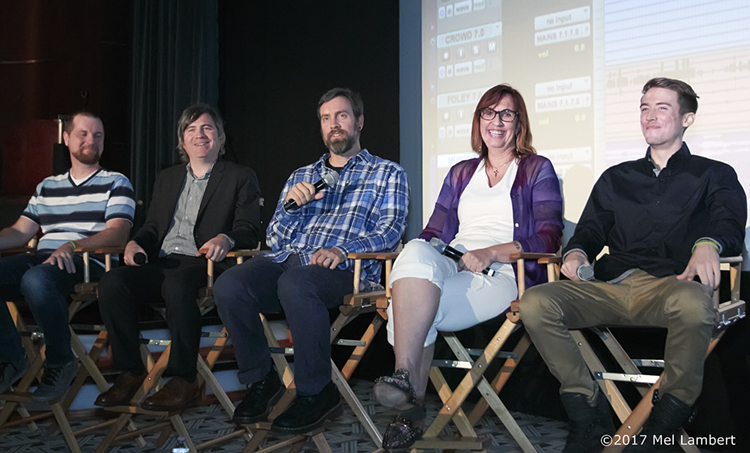 The War for the Planet of the Apes: How Sound Brought Primates to Life session, also sponsored by Avid, focused on the creative work from supervising sound editor/sound designer and effects re–recording mixer Will Files, ape effects editor P.K. Hooker and additional sound designer Dave Grimaldi. The panel was joined via a Skype link from Ireland by sound designer Douglas Higgins. The session opened with the screening of a key scene from the film, during which the orangutan Maurice, played by Karin Konoval, is comforting the child character Nova (Amiah Miller).
"There was a lot of sound detailing during that sequence, including the use of real ape voice recordings," Files explained. "We tried adding more sounds but the track became too cluttered. We rewound everything, aside from the background waves [heard off-camera], which we created with multiple reverb plug-ins to develop convincing ambiences, plus wind noises and room sounds." Higgins added, "For authenticity, we used a combination of the actors' vocalizations with real orangutan sounds. We also needed power and extra low-end to provide that animalistic property for the voice."
"We worked on the soundtrack for 18 months," Files confided. "It was a major challenge to remain focused on the intricate soundtrack. The director, Matt Reeves, liked to build the track and develop sounds early in the post-production process. When we had hundreds of apes in some scenes, our ape effects editor played a key role in wrangling the elements. Our key to success was using great ape-voice speakers. The whispered lines from the Red Donkey gorilla [played by Ty Olsson] were treated with our resonance process to add chestiness to the sound."
Files explained that he delivered a single track for each named ape character to dialogue re-recording mixer Andy Nelson, CAS, so that he could mix them as actors, irrespective of their source, whether voiced by actors or sound-designed. "That way, Andy didn't need to know how the sausage was made!" Files said. "Instead, he could focus on the overall dialogue balance and deliver 'the Nelson Sound' that makes his soundtracks so powerful."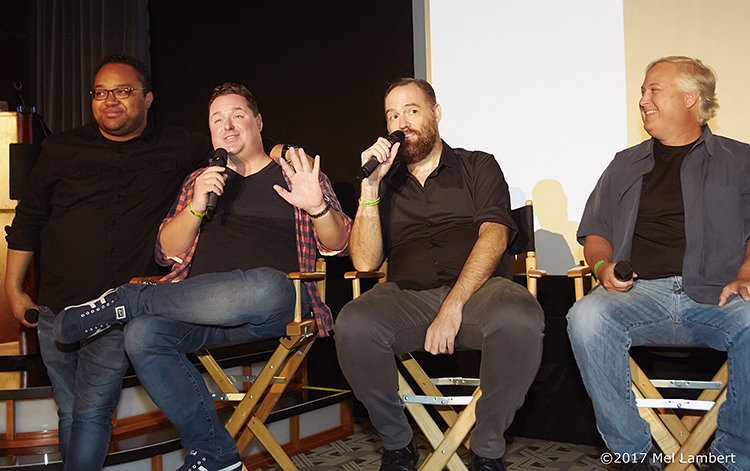 Sponsored by Westlake Pro, a panel entitled The New Audio Workflow: Building a Technology Backbone for Immersive Audio Production and Distribution brought together Bill Johnston, vice president of engineering at Formosa Group, Brian Riordan, CAS, owner of Levels Audio, pro-audio consultant Kurt Howell, Marti Humphrey, CAS, owner/CEO of The Dub Stage, and Dan Sperry, senior manager of Dolby Laboratories' Content Services Group. With immersive sound experiences breaking traditional barriers using Dolby Atmos, DTS:X and Barco Auro3D, the audience learned how content creators can use emerging tools to expand and streamline workflows that meet the demands of multiple delivery formats for professional and consumer markets.
Finally, this year's Sound Reel Showcase, once again presented by Formosa Group, featured 10-minute extracts from award-contending and to-be-released films, with introductions from their sound teams. The large audience within the Dolby Atmos- and Auro 3D-equipped Holden Theatre were first treated to several scenes from Baby Driver, which features an intricate soundtrack from Slater, working at London's Goldcrest films with dialogue/ADR mixer Tim Cavagin and music editor Bradley Farmer.
Other film extracts came from:
Writer/director James Gunn's Guardians of the Galaxy Vol. 2, for which David Acord and Addison Teague served as co-sound designers and co-supervising sound editors, working with re-recording mixers Christopher Boyes and Lora Hirschberg, sound effects editors Lee Gilmore, MPSE, and J.R. Grubbs, and dialogue/ADR editor Brad Semenoff, MPSE.
Spider-Man: Homecoming, with a soundtrack overseen by sound designer/co-supervising sound editor Eric Norris, MPSE, supervising sound editor Steven Ticknor, CAS, MPSE, sound designer/re-recording mixer Tony Lamberti, CAS, re-recording mixer Kevin O'Connell, CAS, dialogue editor James Morioka, and sound effects editors Chris Diebold, Luis Galdames, MPSE, Joe Iemola and Bob Kellough.
War for the Planet of The Apes, with a detailed soundtrack from supervising sound editor/re-recording mixer Will Files, sound designer/re-recording mixer Douglas Murray, MPSE, re-recording mixer Andy Nelson, CAS, additional sound designer David Grimaldi, ape sound effects editor P.K. Hooker, sound effects editors Lindsey Alvarez and Ken McGill, dialogue/ADR editors Jim Brookshire, MPSE, and Laura Graham, and ape dialogue/ADR editor Kim Foscato.
Director Nikolaj Arcel's The Dark Tower, with a soundtrack realized by supervising sound editors Michael Babcock, CAS, and Jeremy Peirson, CAS, re-recording mixers David Giammarco and Marc Fishman, sound effects editors Chris Diebold, Lee Gilmore and Jamey Scott, MPSE, and dialogue editor Ralph Osborn.
With immersive sound experiences breaking traditional barriers using Dolby Atmos, DTS:X and Barco Auro3D, the audience learned how content creators can use emerging tools to expand and streamline workflows that meet the demands of multiple delivery formats for professional and consumer markets.
Director Benny Boom's All Eyez on Me, with a soundtrack developed by supervising sound editor/re-recording mixer Craig Mann, co-supervising sound editor William R. Dean, MPSE, re-recording mixer Laura Wiest, sound effects editor Adam Kopald, and dialogue editor Chase Keehn.
Director F. Gary Gray's The Fate of the Furious, with a soundtrack overseen by supervising sound editors Peter Brown, MPSE, and Mark Stoeckinger, assistant- supervising sound editor Paul Aulicino, MPSE, sound designer Stephen P. Robinson, MPSE, dialogue/ADR editor David V. Butler, and re-recording mixers Frank A. Montaño, Seva Solntsev and Jon Taylor, CAS.
Director David Leitch's Atomic Blonde, with a soundtrack overseen by supervising sound editor/re-recording mixer Nicklas Lindh, supervising sound editor/dialogue editor Thomas Huhn, sound designer/re-recording mixer Jens Johansson, re-recording mixers Chase Everett, Frank A. Montaño, Jon Taylor, CAS, and Martyn Zub, CAS, MPSE, sound effects editor Fredrik Dalenfjäll, MPSE, and sound editor Mattias Eklund.
Director Dean Israelite's Power Rangers, with a soundtrack from supervising sound editor Joe Dzuban, sound designer Eliot Connors, MPSE, re-recording mixers Marc Fishman, Oleg Kulchytskyi and Tony Lamberti, CAS, sound effects editor Luis Galdames, MPSE, and supervising dialogue editor Daniel S. Irwin.
Chad Stahelski's John Wick: Chapter 2 , with a soundtrack realized by supervising sound editor Mark Stoeckinger, re-recording mixers Andy Koyama, CAS, Gabriel Serrano and Martyn Zub, CAS, MPSE, dialogue editor Daniel Saxlid, and sound effects editors Christopher Assells, MPSE, Odin Benitez, MPSE, Luke Gibleon and D. Chris Smith.
Director Martin Campbell's The Foreigner, scheduled for US release October 13, with a soundtrack overseen by supervising sound editor Dave McMoyler, co- supervising sound editor/sound designer Jon Title, MPSE, re-recording mixers Scott Millan, CAS, and Gregg Rudloff, sound effects editor Randy Torres, and dialogue editor Michelle Pazer.