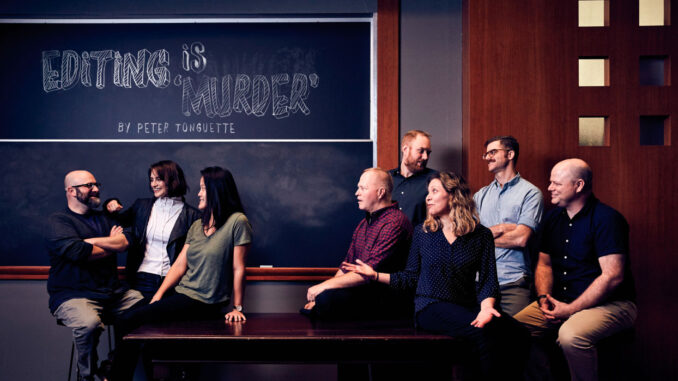 By Peter Tonguette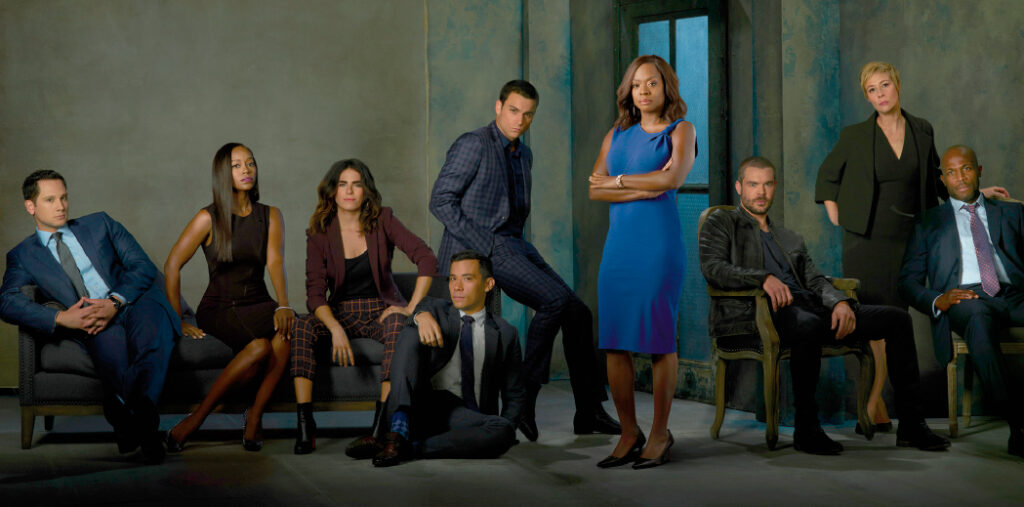 If you are among the millions of view­ers who have followed the twists and turns of the ABC drama "How to Get Away with Murder" during the last six years, you know that it makes for addic­tive viewing.
Just ask Zoe Bower.
When Bower, now an assistant editor, was still a film student at Columbia College Chicago, she made a habit of watching the drama, which made its debut in the fall of 2014.
Acclaimed actress Viola Davis head­lines the show in the role of Annalise Keating, an attorney who has found a second career as a law professor. In what must count as one of the more unusual examples of extra credit in the annals of higher education, the professor and a cadre of her students find themselves with parts to play in actual cases of mur­der — and assorted other scandals.
"The first episode is honestly what caught my attention," Bower said. "The style of how they would fast-forward in time, then go back to present, and then go back in the past. You're trying to keep up with the puzzle of the time-jumps and rewinds."
Bower is far from alone in her enthusi­asm for "How to Get Away with Murder" — the series has consistently drawn de­voted audiences — but few fans can claim to have found themselves in a position to help tell Annalise's story. For the show's sixth and final season, that's just what Bower did: In the fall, the assistant editor began working on the series with editor Chris Lorusso, who — along with editors Michael Hathaway and Jessie Marion — is one of three editors currently under supervising editor Matt Pevic.
"It's totally a special feeling," said Bower of joining the show for its concluding season, which, in its first episode, warned viewers that it would seemingly draw to a close with the death of Annalise. "I've been attached to these characters and watched them really grow."
The editorial team on "How to Get Away with Murder" is an unusually tight-knit group, ranging from veterans who have been with the series since its inception or not long after — such as Lo­russo and Pevic — as well as newcomers who, like Bower, first became familiar with the show as fans. Whether old hands or newbies, though, the editors describe themselves as bound by a collaborative spirit — one necessitated by the unusual demands of the series.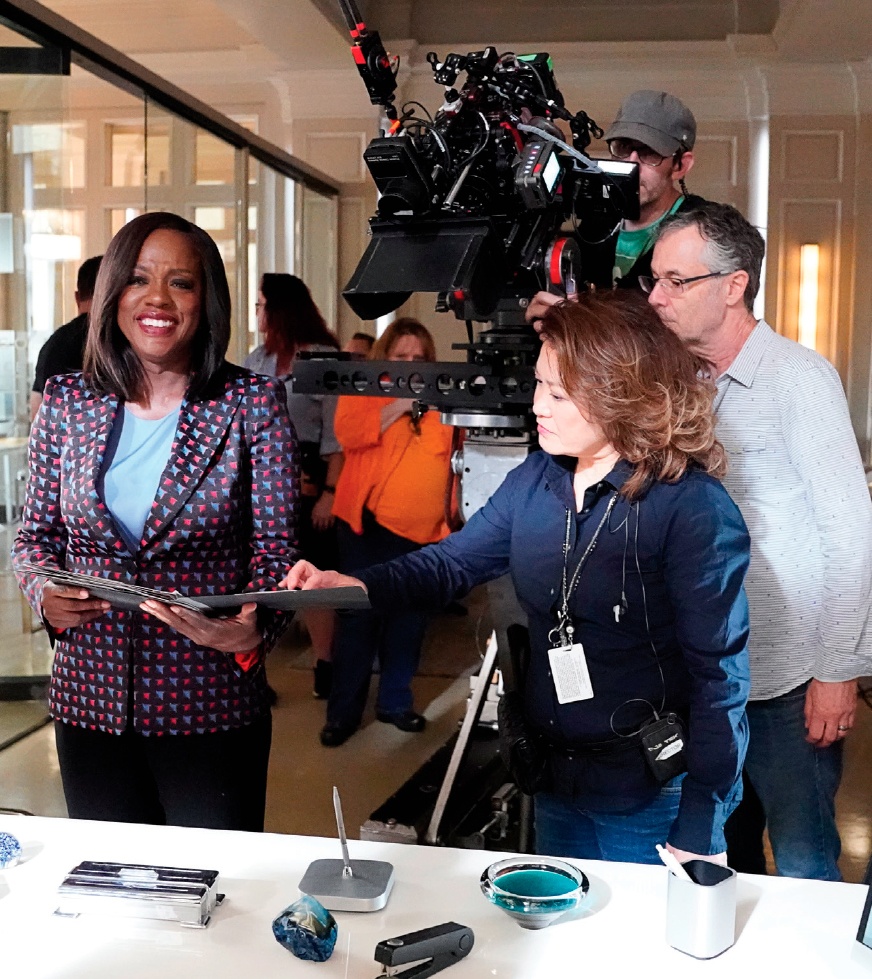 "This show is heavily built in post, which means that every team member of the post team — editors, assistants — is working so hard to make the show work," said creator Peter Nowalk, who also serves as showrunner. "I really rely on my editors to have a story brain and to be co-writers with me in that final part of the process."
Assistant editor Blake Harjes, who joined the series following a career in fea­tures, describes the series as unusually challenging. "It's a lot of work — there's a lot of re-creating the material in the editing room, with Pete, obviously, col­laboratively," Harjes said. "I think that process can be challenging for some peo­ple, and because of that, the people that are left at this point, by the final season, are really battle-tested. We're all pros."
Over the course of the run of the show, editors have often received promotions from within the ranks, including Lorusso, who began as an assistant editor on Sea­son 1 before being bumped up to editor, and Pevic, who was hired as an editor on Season 2 and eventually was given the title of supervising editor. "It's the same with the writing staff," Nowalk said. "It takes a while to learn a language, so the longer someone is here, the more they understand the language."
Annalise Keating has spent six sea­sons attempting to answer the question "how to get away with murder." Another question to ponder is how the postpro­duction crew is able to churn out such a daring and inventive show week after week. As Pevic sees it, audience interest is maintained through story arcs that don't resolve themselves in single epi­sodes but unfold over an entire season.
"You get a nice story-of-the-week every week, and that kind of whets that appetite that you want from a procedur­al," Pevic said. "On top of that, there is a really big mystery that is happening throughout the season that you can't wait to see unfold."
Season-openers, Lorusso said, open with "some sort of gag" that previews a future event, such as a murder or a shooting. "Then we go backwards in time for a few months or just one month . . . and we kind of play up to that moment in our winter finale," Lorusso said. To keep the story firing on all cylinders, and to keep track of the characters' progress from show to show, the entire team must be "talking to each other, watching each other's episodes when we're able to," he said.
In the case of Season 6, audiences were clued in early on to what might be the eventual death of Annalise, whose funeral is glimpsed. "We're working our way towards that," Pevic said. "We know that there is a fireplace poker that has a lot of blood on it, and somehow that is involved in some sort of murder."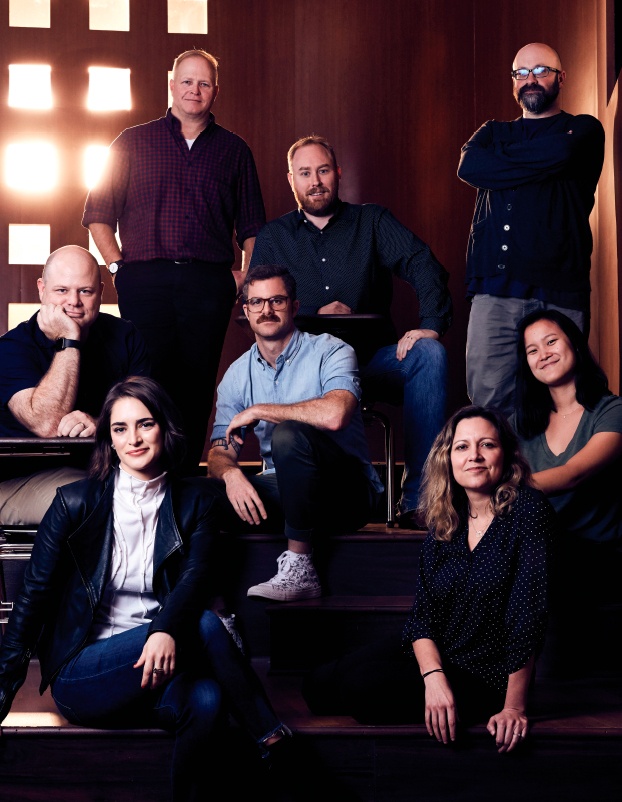 The workflow on "How to Get Away with Murder" is comparable to other television dramas, with editors Hatha­way, Lorusso, and Marion alternating episodes; for this final season, Pevic has stepped in to cut the first and final episodes. Yet, to facilitate the storytell­ing style and manage the grueling pace, editors and assistants are not siloed from each other. "Sometimes in a postpro­duction team, it's very much the editor and their assistant," said Jessie Marion, who joined the show this season. "In this environment, we're all very much all-hands-on-deck. We're all talking all the time, we have lunch together almost every day, and we help each other out in terms of work."
"When we're locking a show, some­times we're under a time crunch and everybody kind of jumps in," said Mi­chael Hathaway, a two-season veteran of the series. "We have all the assistants and other editors involved."
Assistant editor Jonathan Yoni Rus­nak — who, having joined the show in the fall, is its newest initiate — confirmed the commingling of the postproduction team. During his first days on the show, Rusnak was assigned to work with Mari­on, but since she had just completed her most recent episode, the assistant editor was tasked with helping Bower prepare effects and music on another episode. "If you aren't working on something spe­cific for yours, they'll recruit you to help everybody else," Rusnak said. "It keeps it interesting."
Key creative decisions are made at a tone meeting, during which the script for a particular episode is examined one line at a time by the showrunner, writer, director, and editor—and, often, supervising editor Pevic. "Matt will sit in on all the tone meetings also and I'll say, 'Hey Matt, will you show this director that episode where we did this?'" Nowalk said. "He just has, in is brain, the library and can pull that up and show the direc­tor what I want or what style I mean to replicate in their episode."

After the editors assemble and polish an episode, directors and producers are each accorded additional amounts of time to further refine the cut — especially vehicles to do that, whether it's coloring the scenes differently, or sound effects."
To keep the audience oriented, the team turns to its bag of tricks. Music cues can tip viewers that they are about to journey into the past or venture into the future, but the editors have also developed what they call a "poppy-pop." "It's just a really quick — maybe less than six frames — bit of sped-up footage," Pevic said. "It's super-fast, just for like six frames, and it just gives you that jolt: 'Oh, OK. Now I know I'm in a new dimension.'"
Less challenging for the editors is cutting the work of the cast, led by the Golden Globe-nominated and Primetime Emmy-winning Davis and also featuring a group of supporting players that is re­freshed each season. The performances, Marion said, require only the slightest bit of fine-tuning. "You're not having to build a performance as much as just shape the show," Marion said. "Yes, we shape performances a little bit, but it's because they gave us different colors to play with — not because we're making something out of nothing."
"This is what I am going to miss most about this show," Pevic said. "I love the plots, the twists and turns, and all of that stuff, but being able to work on footage that contains Viola Davis and all of her magic [has] been a super-big treat."
In fact, sometimes — as in a Season 4 crossover episode that featured Cicely Tyson and "Scandal" star Kerry Wash­ington — the challenge is what to leave on the cutting-room floor. "You have all these powerhouse actors [and] there are tons of shot choices," said LoRusso, who worked on several scenes in the episode. "It's just taking it and bringing it to its core. This show can only be 42 minutes on-air, so we have to not only tell the story but tell the story at its best possible way."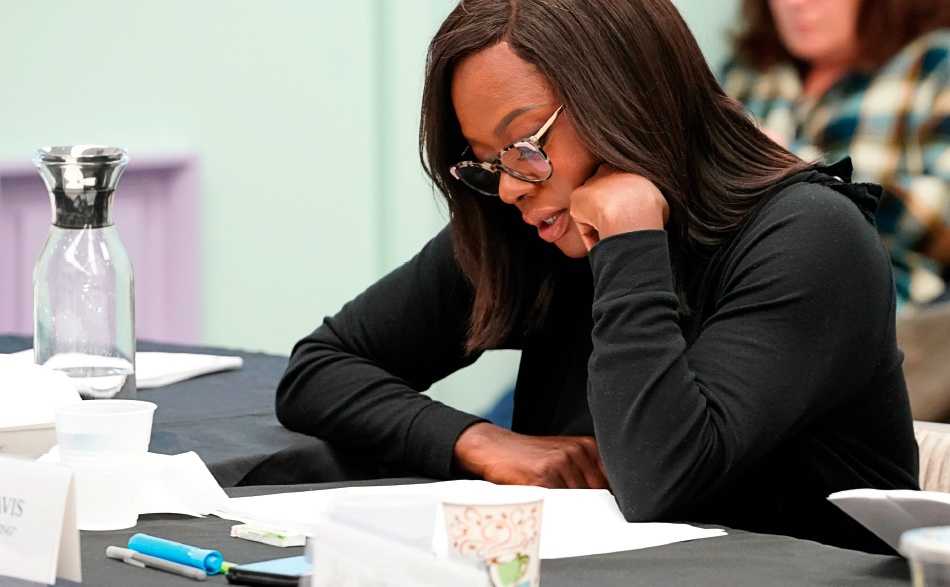 For second-season music editor Britany DuBay, "How to Get Away with Murder" has offered opportunities to tap into her deep well of music knowledge — as well as her passion for opera, fos­tered during her youth in Virginia. The show doesn't feature opera, but, like the ancient art form, it tells its stories in big, bold strokes. "I was a vocalist growing up," DuBay said. "Even during my inter­view, we talked about how this show has an operatic, very dramatic feel."
In contrast to most television music editors, DuBay works on-site, allowing her face-to-face interaction with her colleagues. During a given week, DuBay might add temp music to one episode and scour Spotify or SoundCloud while searching for the perfect song for anoth­er. "Brittany has been amazing," Nowalk said. "I just love to go huge in emotions. We're dealing with life and death here, we're dealing with people's inner trau­ma, so I love a big, sweeping score and so does Brittany."
For an episode last season, Nowalk sought a powerful piece of music for a scene in which the son of one of An­nalise's students, Laurel (Karla Souza), is baptized in a church. After sifting through numerous options, and prepar­ing a list of around 25 possibilities, DuBay happened upon the song "Dear God" by Lawless. "It could not have been any more perfect," she said. "There were choral parts of it. It even sounded like it had been maybe recorded in a big room or possibly even a church."
Crew members are sorry to see the show come to an end, but grateful for being able to end it on their own terms. "It will definitely be hard to say goodbye," Nowalk said. "But we're lucky that we get to at least know we're saying goodbye. So many people, their shows end and you don't know."
The team, then, has graduated — not just from Annalise Keating's course in crime, of course, but also from a singu­larly distinctive television drama. "Just like graduation, I can't wait to see what's next out there," Pevic said. "I'm excited and enthused by that. But, of course, I'm incredibly nostalgic for all that we've done so far."
Peter Tonguette is a freelance writer specializing in film and television.