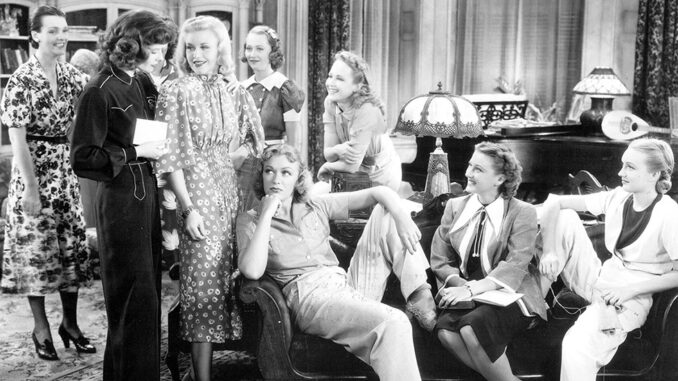 by Edward Landler
Director Gregory La Cava introduced moviegoers to a host of energetic young women living together in a theatrical boarding house, struggling for survival and stardom on the New York stage, when his Stage Door premiered in San Francisco 80 years ago, on October 6, 1937. The next day, its New York opening grossed over $13,000 at the Radio City Music Hall, earning almost $300,000 there in the next three weeks.
Less than a year earlier, on October 22, 1936, the original play, written by Edna Ferber and George S. Kaufman, had opened at Broadway's Music Box Theatre with Margaret Sullavan in the lead, and was hailed by New York Times critic Brooks Atkinson as "a three-act panel of brilliant details." Running for 22 weeks, the moderate stage success was seen by RKO Radio Pictures producer Pandro S. Berman as an ideal property for the studio's great range of contracted woman players, and he bought the rights for $125,000.
Teaming stars Katherine Hepburn and Ginger Rogers with a distinctive ensemble including Lucille Ball, Eve Arden and Ann Miller in their first major supporting roles, Berman gave the project to the improvisational firecracker La Cava, fresh from his screwball comedy hit My Man Godfrey (1936), shot at Universal. Moving from animated films into live-action shorts in 1921, La Cava started directing features in 1924. When sound came in, he made more than 20 fast-paced comedies and dramas for seven of the eight major studios.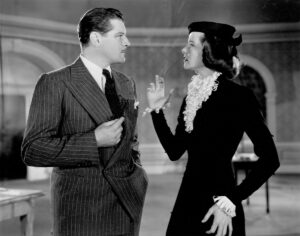 For RKO, along with five writers (three uncredited) and the cast itself, La Cava reshaped his source material extensively. Like Ferber and Kaufman's play, the movie was set in the fictional Footlights Club, based on the actual Rehearsal Club, founded in 1913 as a "residence for professional women of the theatre" on West 53rd Street, just off Broadway. But, building on the ensemble representing a spectrum of social backgrounds and attitudes, the movie tied the women's separate situations in the play into involving, interwoven plots to depict them developing emotional bonds and conflicts with one another.
In doing so, the director, writers and cast created a movie every bit as fresh, funny and deeply moving today as it was in 1937 — and far more engaging than its now-dated source. With characters fuller than their stage originals, the movie Stage Door shines as a comedy/drama of women as individuals defining themselves in an art that is also a business.
Many of Kaufman's plays had been adapted to the screen but, seeing the finished film with almost all of his dialogue missing, he called it "Screen Door." He was also reacting to the movie's elimination of a subplot in the play that chastised Hollywood for luring actors away and compromising their art, as well as losing a leftist writer character, based on Clifford Odets.
While producer Berman did not want the movie business criticized in his picture, he had no problem with portraying the similar commercial demands and compromises in live theatre. Apart from the gripes and groans expressed by the women over the kinds of stage work they take to keep working, how the theatre business works is embodied in a character invented for the film by screenwriter Anthony Veiller — a manipulative producer, played by veteran man-about-town actor Adolphe Menjou, and based on Jed Harris, a prominent Broadway figure of the time.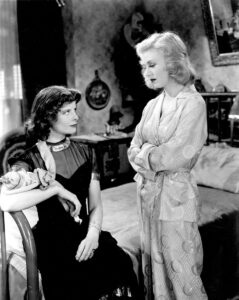 Harris had produced The Lake, the 1933 Broadway flop notorious for Dorothy Parker's review, "…see Katherine Hepburn run the gamut of emotions all the way from A to B." Hepburn stated in her 1991 autobiography, Me: Stories of My Life, that her experience with Harris taught her the importance of taking responsibility for her own career: "…hands down, the most diabolical person I have ever met."
Veiller also used lines from The Lake in "Enchanted April," the play-within-the-movie for which the naïve and rich Terry Randall (Hepburn) is hired as lead player; they pointedly serve the star in depicting her character's inexperience. Hepburn thought it was "a brilliant idea."
When RKO signed her for the movie, Hepburn's career was in a slump after four of her films, all historic costumers, died at the box office. The Independent Theatre Owners Association of New York even sent the studio a telegram protesting her casting. Nevertheless, producer Berman was shrewdly set on pairing the flagging star with studio contract player Rogers, who had already been partnered with Fred Astaire in seven hit musicals.
Then ranked as America's third top female box office attraction (to Hepburn's 17th), Rogers desperately wanted to prove herself as a serious actor who could draw an audience without Astaire. Still, for this picture, Hepburn's salary was about $5,000 more than Rogers'.
For the other residents of the Footlights Club, La Cava cast actors on the basis of how they sounded and interacted. In The Three Phases of Eve, Arden's 1985 autobiography, she notes that the director told her, "I can't offer you a specific part, but I like certain qualities I see in you." She suggested she carry her cat in the movie; on the first day of shooting, she draped the cat around her neck to reach for some pecans in a scene — and 'Henry' stayed through the whole movie.
Coached by Lela Rogers (Ginger's mother) in RKO's Little Theatre acting school, Ball wrote that La Cava cast her in "my first standout part…at Lela's prodding" in her life story, Love, Lucy, not published until 1997. Also, Ball had seen the 14-year-old dancer Miller on stage and urged a screen test for her as the dance routine partner for Rogers' Jean Maitland. Miller got around the child labor laws by providing the studio with fake documents saying she was 18.
For the crucial role of the one-play success unable to find another part, Andrea Leeds was cast on the strength of her performance in Howard Hawks' Come and Get It (1936), based on a Ferber novel. Of Stage Door, she later recalled, "Gregory La Cava had all of us girls come to the studio for two weeks before the shooting started and live as though we were in the lodging house itself. He had a script girl take down our conversations and he would adapt these into the dialogue." During the shoot, the director had the actors wear their own clothing rather than studio wardrobe.
Production started a few days later, on Monday, June 7, the same morning that "Blonde Bombshell" Jean Harlow died at the age of 26. The news spread quickly through Hollywood and was said to have created an even stronger sympathetic cohesion among the women gathered to make a film about their profession.
In a letter to Berman dated May 28, 1937, while the cast was still rehearsing, Joseph Breen, head of the Production Code Administration (PCA), objected to details in the script. The key snag was that Menjou's Powell and Linda Shaw (played by Gail Patrick, who was Carole Lombard's mean sister in My Man Godfrey) "maintain an illicit, immoral, adulterous relationship…not shown with proper compensating moral values."
Beyond that, the letter said, "The entire script is replete with loose and suggestive dialogue and with detailed discussions of sex subjects for purposes of comedy." After a conference with La Cava and Veiller, Breen followed up with a letter on June 2 confirming that "Linda will be a 'gold digger' rather than a 'kept woman,'" and three pages of dialogue would be deleted or changed, including such phrases as "on the make."
Production started a few days later, on Monday, June 7, the same morning that "Blonde Bombshell" Jean Harlow died at the age of 26. The news spread quickly through Hollywood and was said to have created an even stronger sympathetic cohesion among the women gathered to make a film about their profession.
The Director of Photography was Robert De Grasse, ASC, who was later nominated for an Oscar for his work on Vivacious Lady (1938), also starring Rogers. He ended his career in 1950s and '60s television, including stints on I Love Lucy (1951-57), Arden's Our Miss Brooks (1952-56) and The Eve Arden Show (1956-57).
In the film, Menjou's Powell attempts to seduce both Hepburn's and Rogers' characters and, in his 1948 autobiography, It Took Nine Tailors, Menjou recalls that in his first scene with Hepburn, the director kept telling De Grasse to take the light "off Menjou and put it on Hepburn." As a star for almost 20 years, with third billing in the movie, the actor complained to La Cava. The director told him, "Next to all the kids in this picture, your face looks like an aerial shot of the Rocky Mountains."
Script changes continued throughout production. La Cava brought in Godfrey co-writer Morrie Ryskind — who had also written the Marx Brothers' A Night at the Opera (1935) with Stage Door playwright Kaufman — to revise Veiller's screenplay.
Sound recordist John L. Cass spent most of his 20-year career with RKO, working on such films requiring evocative sound as Leo McCarey's Love Affair (1939) and Jacques Tourneur's Cat People (1942). In Stage Door, his meticulous use of mic and boom consistently covers the group scenes in the boarding house sitting room to pick out and focus attention on key lines and phrases among the multiple, overlapping conversations.
Late in the movie, Cass creates a remarkable sound montage for Leeds' last scene as the talented yet forgotten Kay Hamilton. As she walks up the stairs after giving Hepburn advice for her opening night, she hears Hepburn leaving and the others in the sitting room below, the sounds of which are mixed with the echoes of memories of her triumphant opening and the rain coming down outside. This surely contributed to Leeds' Oscar nomination for Best Actress in a Supporting Role.
Script changes continued throughout production. La Cava brought in Godfrey co-writer Morrie Ryskind — who had also written the Marx Brothers' A Night at the Opera (1935) with Stage Door playwright Kaufman — to revise Veiller's screenplay. Day by day, director and writer rewrote each scene as they came to it to ensure the spontaneity La Cava demanded.
Then, night after night, La Cava would consult three uncredited writers for more outlooks to get sparkling, "off-the-cuff" dialogue: Hollywood old-timers S.K. Lauren and William Slavens McNutt, and newcomer George Seaton. Unfortunately, another factor fueling the director's style was his alcoholism, in the form of Earl Grey tea spiked with gin. Producer Berman told Hepburn biographer Charles Higham, "Greg got drunk all through the picture; he fell off the podium of the Biltmore Theatre in downtown Los Angeles while we were shooting a scene."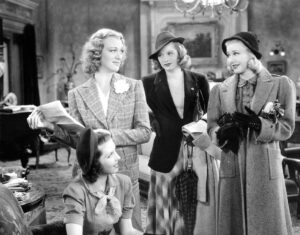 One other uncredited contributor to the movie's stage authenticity was long-time Astaire collaborator Hermes Pan, who choreographed all of the Astaire/Rogers films and much more in a career spanning five decades. He directed Stage Door's dance sequences, including the duets with Rogers and Miller.
An editor since 1923 and with RKO since 1931, William Hamilton cut the picture as the scenes came in. Regularly assigned major projects — from the epic western Cimarron (1931), Morning Glory (1933) with Hepburn in her first Oscar-winning role, and all the Astaire/Rogers pictures, to the 1939 Hunchback of Notre Dame and Hitchcock's Suspicion (1941) — his tight cutting kept viewers attuned to the characters' emotions. Brief rhythmic montages of close-ups and two-shots of specific characters set up early in the story are echoed much later to resonantly convey dramatic shifts in their relationships.
The picture wrapped on July 31 and Hamilton completed a cut within two weeks. After one suggested alteration, the PCA's Breen wrote to Berman on August 17 that after "the elimination of the scene of Miss Rogers changing into her nightclothes, we are pleased to say it is our opinion that the picture now complies with the provisions of the Production Code and should encounter no reasonable censorship difficulties."
With a final budget of about $950,000, the picture grossed more than $1.75 million over the next five years. In addition to Leeds' Oscar nomination, Stage Door was nominated for Best Picture, La Cava for Best Directing, and Ryskind and Veiller for Best Writing, Screenplay. The movie was named one of the Top Ten Films of 1937 by both the National Board of Review and The New York Times, and La Cava Best Director by the New York Film Critics Circle Awards.
Eighty years later, Stage Door lives and breathes outside its own time to be enjoyed as one of the all-time best movies about women, with no qualifiers. Its laughter is unforced and its tears earned honestly.