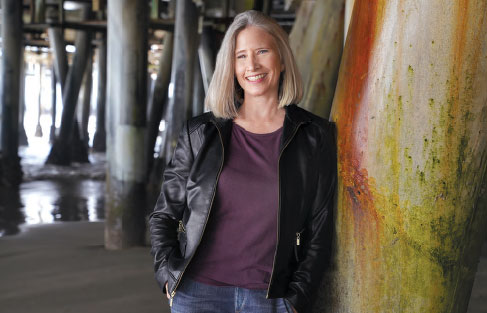 By Peter Tonguette
Photography Martin Cohen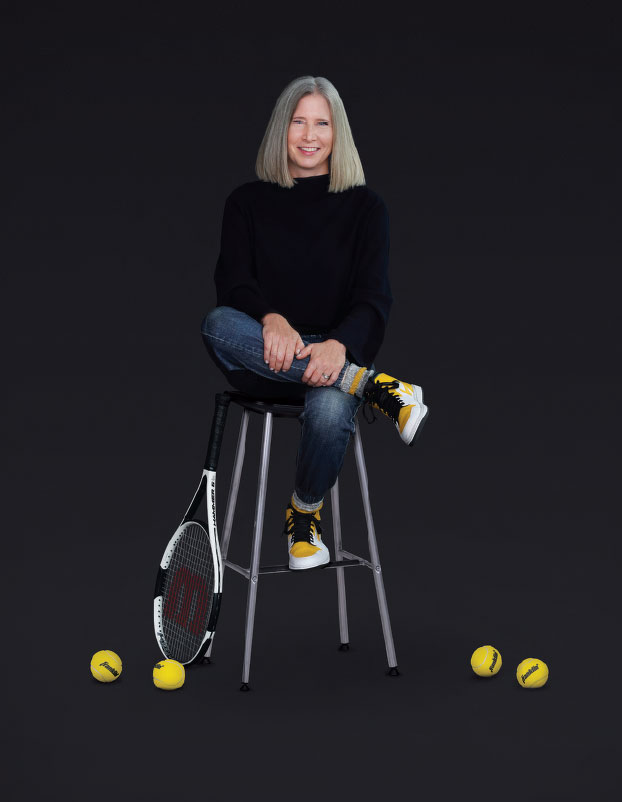 Picture editor Pamela Martin, ACE,  has worked on all manner of movies. For a spell in the 1990s and into the 2000s, Martin was known for cutting dark comedies, including "The House of Yes" (1997), "Slums of Beverly Hills" (1998), and "Little Miss Sunshine" (2006). More recently, she has edited a series of films based on real-life figures, including "Hitchcock" (2012), "Free State of Jones" (2016), and "Seberg" (2019). And through it all, she has toiled in one of the trickiest genres in cinema: the sports movie.

Martin was Oscar-nominated for her work on David O. Russell's true-life boxing drama "The Fighter" (2010), starring Mark Wahlberg as boxer Mickey Ward, and, wanting to work again with "Little Miss Sunshine" directors Jonathan Dayton and Valerie Faris, she edited the filmmakers' ripped-from-the-headlines tennis tale "Battle of the Sexes" (2017), starring Emma Stone as Billie Jean King and Steve Carell as Bobby Riggs.
Following those rewarding but challenging experiences, Martin wasn't necessarily looking for another sports movie.
"Cutting any kind of sport is hard — really hard," Martin said. "You have usually a lot of camera angles, a lot of material that's unusable. You're trying to find the right choreographed pieces, or non-choreographed pieces, to make it look real. That's always a painstaking process."
Then the script for "King Richard" landed on her desk.
Written by Zach Baylin, the Warner Bros. Pictures release stars Will Smith as Richard Williams, the intrepid father of tennis superstars Venus Williams (Saniyya Sidney) and Serena Williams (Demi Singleton). But rather than presenting the sports legends at the pinnacle of their later careers, director Reinaldo Marcus Green backtracks to their youths in Compton, California, where Richard overcomes obstacles and dispenses plenty of wisdom to the up-and-coming athletes. The film co-stars Aunjanue Ellis as Williams's wife and Venus and Serena's mother, Oracene Price; and Mikayla Lashae Bartholomew, Daniele Lawson, and Layla Crawford as their half-siblings, Yetunde, Isha, and Lyndrea Price, respectively. Among the executive producers of the project are Venus Williams, Serena Williams, and Isha Price.
YOU HAVE TO WORK HARD, BUT YOU STILL HAVE TO BE A KID. YOU HAVE TO BE A WELL-ROUNDED PERSON.
"Of course, there was a part of me that thought, 'OK, another tennis movie — can I do this?'" Martin said. "I just know it's a mountain of work, so you just have to kind of psych yourself up for it." But she saw human qualities in the material beyond the tennis balls and rackets. "I'm a parent," she said. "So much of it I could relate to in terms of being a parent."
"King Richard," then, is something of a family drama that happens to be set some of the time on tennis courts and during tennis matches.
"I really loved the struggle of where [the sisters] started and where they ended up, and the messages that the parents are trying to get through to them: 'Yes, you have to work hard, but you still have to be a kid. You have to be a well-rounded person. You have to find longevity in what you're doing,'" Martin said. "There was a lot that I liked, and I decided that I was going to say, 'OK, I'm going to try this.'"
Another big attraction in taking the assignment: Martin had already known director Green. Several years ago, when Martin was serving as a creative advisor at a Sundance Institute lab, Green was there workshopping what became his debut feature, "Monsters and Men," a 2018 police drama starring John David Washington. Based on that experience, as well as the quality of the script, she was interested in "King Richard." "Of course, I'm always like, 'Oh my God — it's a younger filmmaker, a less experienced filmmaker,' and you have to take a leap of faith," Martin said of the decision to collaborate with directors early in their career. "But I didn't have to take too big a leap of faith because I got to watch 'Monsters and Men.' And the movie is beautiful."
As production got underway early in 2020, things were shaping up beautifully for "King Richard," too. Three weeks into filming, however, the coronavirus pandemic hit. "[The studio] decided to shut down right when it was announced in L.A. that all the businesses were going to have to shut down," Martin said. "I stayed on for the rest of the week, just putting the rest of the material together so we at least had everything archived — a version of everything. We thought we were just going to walk away for two or three weeks."
Two or three weeks ultimately turned into multiple months. Production did not resume until the fall of 2020, but during the interim, Martin and Green had the time to digest what had already been shot. "I went in and looked at the cut scenes after a month, and I was just so struck by how the family unit [in the film] was just jiving so well. I loved those five sisters," said Martin, who had been concerned that the script was too studded with "life lessons" from the opinionated, resolute Richard. But after she had a chance to live with the footage, she realized the story was clicking. "I never felt like I was getting spoon-fed these little speeches," she said. "They just worked so elegantly in the course of the story."
There was another benefit to the long layoff: Playing Venus and Serena, actresses Sidney and Singleton had to age from 10 to 14 and 9 to 13, respectively, and the young performers grew up a bit in real life. "They matured," Martin said. "Especially Saniyya, who turned into a little young woman teenager. . . . She grew four inches." All of the actors, Martin said, "brought their A game."
From a postproduction perspective, the break — as well as a subsequent shutdown for one week after filming had resumed because of what turned out to be false-positive coronavirus tests — afforded Martin the opportunity to stay ahead of the game. "When they shut down for a week, I kept working because I had so much footage and I just had to do my best to catch up," she said. "Rei said, 'This is kind of amazing. I wish that all films would be filmed where you could shoot a few weeks and then have a week or two off, and then go back and shoot more.'"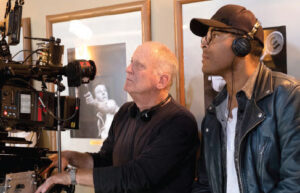 As Martin settled in to complete the first cut, some problems were solved quickly. For example, she had long been concerned about how best to begin the film. "We kind of knew while we were shooting that we didn't quite have the opening to the film," she said. "In the script, the opening is Richard collecting balls. . . . He's just driving around, going from place to place, collecting used tennis balls from different tennis pros, and then he goes home into Compton and we meet the girls." But when the cut was constructed this way, something wasn't quite clicking.
THEN COVID HIT. 'WE THOUGHT IT WOULD BE JUST TWO OR THREE WEEKS.'
A variety of alternative approaches were tried, but then Martin and Green came up with the idea of shortening the material showing Richard gathering up the tennis balls and combining it with a sequence that originally was placed a bit later in the film of Richard seeking a coach for his daughters. Then the film continues with Richard, having finished an afternoon session with Venus and Serena on the courts, starting work at his night job and, while there, poring over tennis magazines on the lookout for good coaches.
"What that did was . . . totally introduce Richard," Martin said. "You got that he was a salesman, that he was trying very hard to get something done for his daughters, and he kept getting rejected. . . . Then he works out all afternoon with his girls. Then he goes home, and he doesn't even stay for dinner. He goes to his night job, and by the time he gets to the night job, you think, 'Oh my God, this guy is so tired.' And what does he do? He opens up the tennis magazines and starts making more calls."
Somehow, by combining the scenes and without the need to shoot a frame of additional footage, Martin had found a compelling way to kick off the picture. "You really felt the struggle so much more through his point of view from the very beginning," she said.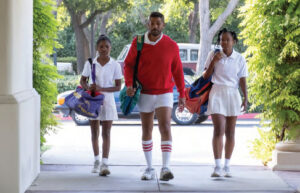 In fact, from beginning to end, the making of "King Richard" benefited from a degree of serendipity. Because of a rushed shooting day, one key scene didn't quite make it over the net: Richard, while acknowledging Venus's talent, tells a slightly jealous Serena that she will be the greatest tennis player of all time. "When they filmed it, they were running out of time, so they just did it in the stairway of the [Williams] house," Martin said. "It did not work at all. It was shot too quickly. The angles weren't great." Martin communicated her concerns to the filmmakers and eventually had discussions with screenwriter Baylin. By this time, the production had moved to a stadium where a key tennis match with Venus was to take place. The idea emerged to reshoot the scene with Serena and her dad in the new location with the idea of placing it in an entirely different spot in the storyline. "That scene is magic in that spot," Martin said. "It was not in the right spot before. It was lucky they botched it!"
'YOU HAVE TO LOOK AT EVERYTHING REALLY CAREFULLY AND ONLY PICK THE STUFF THAT LOOKS REAL.'
The actual tennis scenes were as grueling to cut as Martin had assumed. "You have to look at everything really carefully and only pick the stuff that looks real, like professional-level," said Martin, who, as a tennis fan and someone who has played tennis herself, knew what would go in and what would be kept out. It was still a lot of work, but her instinct that "King Richard" was a story about people, not a story about a sport, proved accurate. "I'm drawn to these stories of real people," she said.
The next time a director approaches Martin with a so-called sports movie, she just might agree once again to play the game. "Honestly, I love dramas," Martin said. "Sports or no sports, I love dramas."