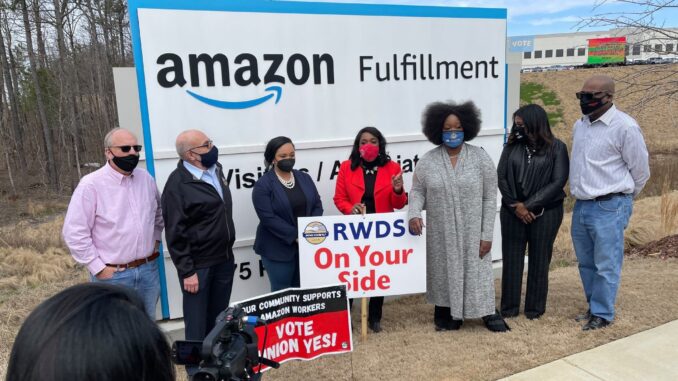 Reprinted from The Wall Street Journal by Sebastian Herrera on April 8, 2021.
Federal labor officials are expected to begin counting the votes Thursday or Friday in a closely watched union election by Amazon.com Inc. workers in Bessemer, Alabama, who are seeking to become the first company employees in the US to gain union representation.
Since the voting concluded on March 29, the National Labor Relations Board has been processing ballots to ensure they are valid and allow both parties an opportunity to contest the eligibility of each one. The number of ballots cast totaled 3,215, according to the Retail, Wholesale and Department Store Union, which would represent the Bessemer workers if they vote to unionize. The union said there were hundreds of ballots challenged over voter eligibility during the processing of ballots. The labor board hasn't yet provided a tally of votes.
The election has drawn national attention because a vote to unionize in Bessemer could fuel other unionization attempts throughout the company, which employs roughly 950,000 people in the US, most at its hundreds of warehouses. …
Amazon Challenges Hundreds of Ballots in Alabama Workers' Union Drive
Reprinted from The Guardian UK by Michael Sainato on April 8, 2021.
Amazon has challenged hundreds of ballots in a vote to form a union at one of its warehouses in Alabama in a unionization drive seen as one of the most important labor fights in recent American history.
The National Labor Relations Board on Thursday began to open the ballots and start tabulating votes in the election in Bessemer, Alabama.
Some 3,215 votes were cast in the election out of more than 5,800 eligible employees. The election will determine if workers in Bessemer will form the first labor union at an Amazon warehouse in the US.
According to the Retail, Wholesale and Department Store Union, hundreds of ballots were challenged, mostly by Amazon. …
AFL-CIO: 77% of Americans Support Amazon Union Drive
Reprinted from an AFL-CIO press release on April 5, 2021. 
On Monday, the AFL-CIO and GBAO released a nationwide poll of registered voters that found more than three-quarters of Americans support workers' efforts to organize a union at the Amazon warehouse in Bessemer, Alabama.
The findings come days after voting closed in the organizing drive and demonstrate a significant rise in public support. In February, Data for Progress found that 69% of likely voters supported the unionization effort.
"In every corner of the country, working people are crying out for change," said AFL-CIO President Richard Trumka. "We aren't just bearing the brunt of this pandemic. For decades, we've been bled dry by a rigged, corporate-first economy. Amazon workers in Bessemer are tearing down that system, and America is standing with them." …