by François Duhamel
Happy 50th anniversary, James Bond; it's time for your existential crisis. That's what the 23rd Bond film, Skyfall, which opens November 9 through Columbia Pictures, is all about: 007 taking a fall (he's accidentally shot in the pre-credit sequence and presumed dead) and enduring his deadliest mission yet. So the Chicken Little metaphor is an apt one for this resurrection story in which Bond comes to the aid of Judi Dench's M, whose mysterious past comes back to haunt her in the form of bad guy Silva (a white-haired Javier Bardem). But getting more serious and personal doesn't mean that actor Daniel Craig's third outing as the world's greatest superspy is treading too deeply into John Le Carre territory or trying to out-Bourne the rival franchise.
According to editor Stuart Baird, A.C.E., who previously worked on the 2006 Casino Royale origin story that introduced Craig as 007, it's all about balance — creating more of a relevant thriller but, at the same time, throwing in the familiar glam and action and re-introducing a few gadgets (including a customized Walther PPK weapon) in honor of the golden anniversary.
"It's a very, very different picture," the British-born Baird confirms by phone from London, where he was finishing dubbing the film in late September. "I'm not an aficionado of the Bonds at all; I saw a few when I was very young, and then I missed out on all the others until I worked with director Martin Campbell on Casino Royale. But this is very much a strong story about relationships and one particular relationship, and there's a moment when Bond feels his life is falling apart and then he comes back out of that and does what he can do. It's a darker story."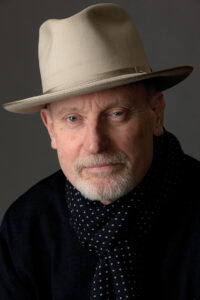 It's just what appealed to Skyfall's Oscar-winning director Sam Mendes (American Beauty), who's known more for his prestigious dramas and theatrical productions. Mendes has let it be known that he didn't want to reinvent Bond but continue along the path that was started in Casino Royale, only adding more of a classical touch from the early 1960s, while pushing Craig's Bond over the edge emotionally.
In other words, the latest Bond film is a nice blend of the old and the new. We're back in Istanbul for an action-packed opening (shades of From Russia with Love and The World Is Not Enough) that culminates with Bond fighting atop a train, and venture to Shanghai and Glencoe, Scotland (Bond's ancestral home), for the first time. There's also more of modern London depicted (including the Whitehall district of political power and a bombing in an Underground Tube station).
We additionally have the return of the famed Aston Martin DB5 — although we'll have to wait and see how tricked out it is this go-round — and the re-introduction of Q, the gadget master, who's now played by a much younger and nerdy Ben Whishaw. And there's a bit more humor along the lines of the meet-cute banter between Bond and Q in a gallery.
As for the Bond girls, there are two: rough-and-tumble MI6 field agent Eve (Naomie Harris) and sultry villainess Severine (Bérénice Marlohe). Meanwhile, this is the first digital Bond, with acclaimed cinematographer Roger Deakins, ASC, using the Alexa camera, but the footage all went smoothly into the Avid.
Skyfall is a far cry from the earlier Bonds — even Casino Royale, which set not only a new franchise box office record, but also a new dramatic standard. "I think the intention with Casino Royale was not quite as kinetic in all its clip- on goodies and explosions and stuff," Baird recalls. "We didn't rely as much on the set pieces, although we did have the opening foot chase, and I know Martin's intention was to have a consequence for every physical confrontation for Bond. He wouldn't be Superman. You feel every blow right along with him. Sean Connery gave a different beat to it. But then those were different times.
"This has more of a thriller aspect to it than a straight action picture," Baird continues, "and so there is more set-piece dialogue scenes, which have their own dynamics. But you want to keep the pace going. When it came to action, the Bourne films were the anathema — the opposite of what the producers wanted. And I don't cut pictures like that. So it is much more classical action, but very exciting and fast. But once again, the style is for the audience to understand what's going on: the geography, the intent, the threat and the consequences of that threat."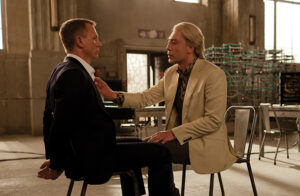 Indeed, there's a lot more explosive action in Skyfall. "There's an action set piece in the middle, and I surprised special effects supervisor Chris Corbould with the way I cut it because I made it seem twice as big as he expected it to be," Baird recollects. "It's a good moment and it has humor in it as well, because Javier is doing his thing."
In fact, Baird believes he was hired by Mendes, who's never done a tentpole film before, because of his action expertise. "I've cut all sorts of pictures for about 14 years, and what I try to do is bring the best out of the material — not necessarily the fastest cut, and not necessarily the slow English style, which we don't want," Baird says. "I want it to have an edge to it all the time and I hope that's what I've brought to scenes for Sam."
When Baird and Mendes first met, the editor explained the way he works, which is not having the director with him except in the screening room. "I have a 12-foot screen in my editing suite, but basically I like to cut it without any interference," Baird reveals. "Except that Sam will mark his favorite takes. He's very much an actor's director and will go for a complete performance; he won't do pick-ups generally. He prefers the actors to get the flow of it. We didn't talk formally about it. I critiqued the script, gave him my notes and timed the script.
"Of course, Sam was used to almost finishing the film and then cutting the picture," he continues. "But we didn't have time for that. I had to pretty much deliver the film a week after we finished shooting. That's not to say it's a final cut, but it was in a good enough shape where we could sit down and decide what we were going to take out. The big issue was: What isn't working or what we don't need? And then we refined the scenes."
Baird worked on getting the film into the tightest shape he could. "The last scene we filmed was the big opening action sequence, which was in Turkey," he says. "I always go on location with the director. For this one, it was mostly in Pinewood. We had second unit do a tiny bit in China and Scotland, but basically it was a studio picture and we were always together — but we didn't even see rushes together. I'd see the rushes and I'd send him my cuts. He'd have a look at it and when we finished, we cut about half an hour of little indulgent bits and pieces."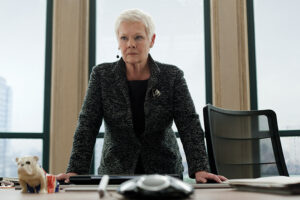 Even so, Skyfall clocks in at around 142 minutes with its two mandatory credit sequences, which would make it the second-longest Bond in history behind Casino Royale, which runs 144 minutes. However, the emphasis on characterization posed new editorial challenges. Baird terms this a rite of passage, very different from Casino Royale. This is our first glimpse of Craig's fully formed Bond, and his character arc is existentially akin to the more serious spy movies of the 1960s, like The Spy Who Came in from the Cold and The Ipcress File.
Baird characterizes Craig's Bond as more stoic. "He starts off incredibly confident, but things occur that make him lose that confidence, that sense of integrity," he says. "He feels he's been let down or double- crossed in some way. And so the whole premise of doing what he does has been thrown into doubt in his mind, and he has a sort of mid-life crisis. But he regains his confidence and his mission. By the time the movie ends, we have Bond back and ready for business again. It's got plenty of tension in it; we're not killing so many people all over the place."
The editor continues: "In a sense, he was still a boy in Casino Royale, but now he's grown up and is a much more substantial man. As they say, if I have the first seven years of the boy, then I have the man. I'm sure the rest of the films will have that consequence of what his childhood was and what happened to him in this picture."
One of Baird's favorite moments in Skyfall is Bond's "resurrection" and reunion with M. "There's a scene between M and Bond after he's gone through his little crisis that is dramatically effective," he says. "It's what Sam does best. Without explaining it all, the dynamics show that they have a history and a relationship, which is far deeper than just boss, and obviously not just a mother. They respect each other for doing the job the best they can."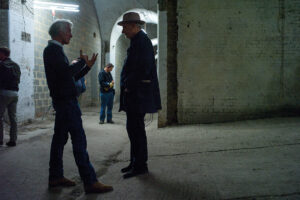 Bardem's Silva, on the other hand, partly represents a different kind of Bond villain than we're used to; his motivation is more personal. For the first time, Bond has truly met his evil twin. "Javier, who has a fantastic personality, is really harkening back to the famous Bond personalities in the earlier days," Baird explains. "Very flamboyant, quirky, very strange. But he's not trying to take the world over. And it's not the fight to save the world. So it's more grounded.
"And there's a wonderful scene where we're introduced to Silva," the editor continues. "He had to make a really broad character out of this guy. When he comes on screen, he commands attention. I think Daniel was a bit nervous of that because Javier has this killer smile worth a thousand words, and Daniel is not comfortable smiling." Still, Baird says part of his job was to present Craig at his best.
Baird's relationship with Mendes was to remind him that this was a Bond film and not to tilt it too far dramatically. "We had our moments, of course," the editor admits. "It's a question of how long a dialogue scene should last. How much emphasis do we need in that scene? Are we overplaying our hand there? Is that relationship playing through till the end?
"The calculation is: Is this too serious for a general audience? That's the balance. And is there enough action? Is there enough humor? Is there enough spectacle? The audience expects that, so we'll see," Baird continues in conclusion.
"But I think Skyfall is really a springboard for what's to come."