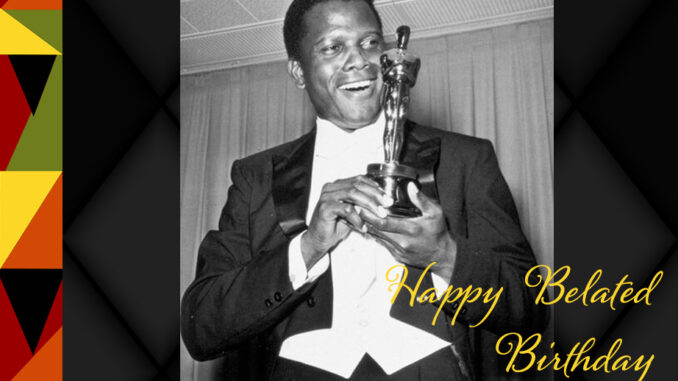 For each day in the month of February, the Committee will be highlighting African-American members, both past and present, and their accomplishments. We look forward to showing the contributions and influences African-Americans have had on the industry.
---
Sidney Poitier, Actor, Director, and Activist
"The best place to learn about filmmaking is in the editing room."
– Sidney Poitier  "The Measure of a Man"
On February 20, 1927, noted actor, director, and activist Sidney Poitier was born, unexpectedly, in Miami while on a family trip. His parents were natives of the Bahamas where they owned a farm, and Poitier grew up there until the age of 15 when he moved to the United States.
He worked as a dishwasher in New York City, while he tried to land journeyman work as a stage actor. He was the lead actor in a play that ran for four performances, the understudy for another play, before ultimately joining the original cast of "A Raisin In the Sun." But Poitier's destiny lay in Hollywood. In 1964, Poitier won the Academy Award for Best Actor for his work in "Lilies of the Field," becoming the first African American male to win that award. (Hattie McDaniel won the Academy Award for Best Supporting Actress in 1939 for "Gone With the Wind," becoming the first African American to win an Oscar.)
Poitier is currently the oldest living and earliest surviving Best Actor Academy Award winner. He came of age in a time when America began to accept strong, confident Black characters, moving away from the inaccurate, manufactured stereotypes of bumbling, so-called comic characters from earlier years. Many of his early roles reflected this change- "Cry the Beloved Country", "The Blackboard Jungle," "Edge of the City," "The Defiant Ones," which was his first Oscar nomination, and "In the Heat of the Night," for which he was nominated for a Golden Globe and a British Academy Film Award. Other prominent performances were in the big-screen adaptations of "A Raisin In the Sun," "Porgy and Bess," and "A Patch of Blue."
Sidney Poitier was also a strong supporter of the Civil Rights Movement, and one of their reliable sources of financial support, along with his friend and fellow actor/activist Harry Belafonte.
Poitier made his feature film directorial debut in 1972, starring with his friend Harry Belafonte in the western "Buck and the Preacher." He subsequently directed several feature films- a romantic drama, and four comedies, the most successful of which is "Stir Crazy," starring Gene Wilder and Richard Pryor.
In 2002 when Poitier received his second Academy Award, an honorary one, in recognition of his "remarkable accomplishments as an artist and as a human being," Denzel Washington became the second African American man to receive a Best Actor Oscar for his work in "Training Day." Denzel spoke to Poitier directly in his acceptance speech. "I'll always be chasing you, Sidney. I'll always be following in your footsteps. There's nothing I would rather do, sir."
In January of 2021 Arizona State University named its film school after this farmer's son, screen legend Sidney Poitier.
We here at the AASC salute the vast talent of Sidney Poitier, and his gift to this industry and this country.
Written by Lillian E. Benson, ACE