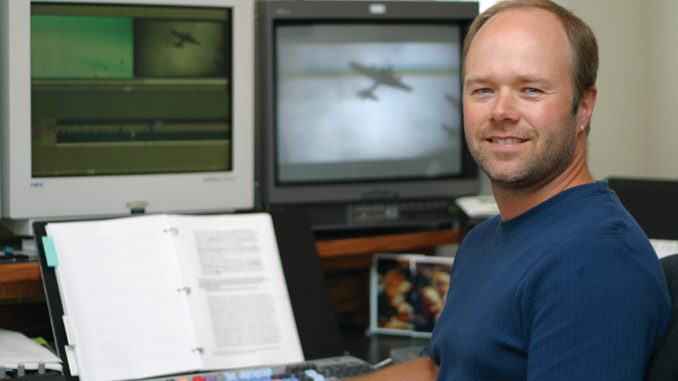 by Kevin Lewis
Picture editors Erik Ewers and Tricia Reidy are an integral part of Florentine Films' post-production team. Both started with the company as interns––Ewers over a decade ago, and Reidy in 1985 on The Statue of Liberty, which was also supervising editor Paul Barnes' first film for Florentine––and worked their way up to full editors.
With a particular interest in sound, Ewers works closely with the sound editing and re-recording mixing teams, often serving as sound editor on Florentine projects. He has been nominated for the American Cinema Editor's (ACE) Eddie Award for Lewis and Clark (1997) and for an Emmy Award for Jazz (2001) and Unforgivable Blackness: The Rise and Fall of Jack Johnson(2004).
Ewers, who calls The War (for which he edited three episodes) his most challenging assignment, discusses his work on the project:
"We wanted to capture the human experience of World War II. The B17 bomber scene was a highlight for me; I wanted to put you, the viewer, in the plane. Assistant editor Ryan Gifford and I started cutting a dynamic and frantic battle experience, with planes coming out of everywhere. I asked Ryan to create some sound effects in our first screening of the film with the sound design temp dub. I had noticed Ken Burns cuts down a scene if there are no effects and it is dead silent, so that by adding sound effects early on, it would give him a better sense of how long the scene could sustain itself.
"On that first screening, we created this terrifying, in-your-face sound effects design. When the screening was over, everyone there felt that they had just experienced a battle. Ken asked us to include the same sound effects design on all of our battle scenes.
"The next phase was the actual sound editing after Ken, Ryan and I had set the precedent for the sound design. Ken wanted our sound editors Marlena Grzas-lewicz, Ira Spiegel and Mariusz Glabinski to hit the ground running based on that, which they did beautifully. I used the German voice of Ira and the voices of Fall Mountain Regional High school for the voices of battle. This was wild sound; we used a DAT recorder to record screams and generic terms like 'Medic!' and 'Take cover!' It was used throughout the entire film.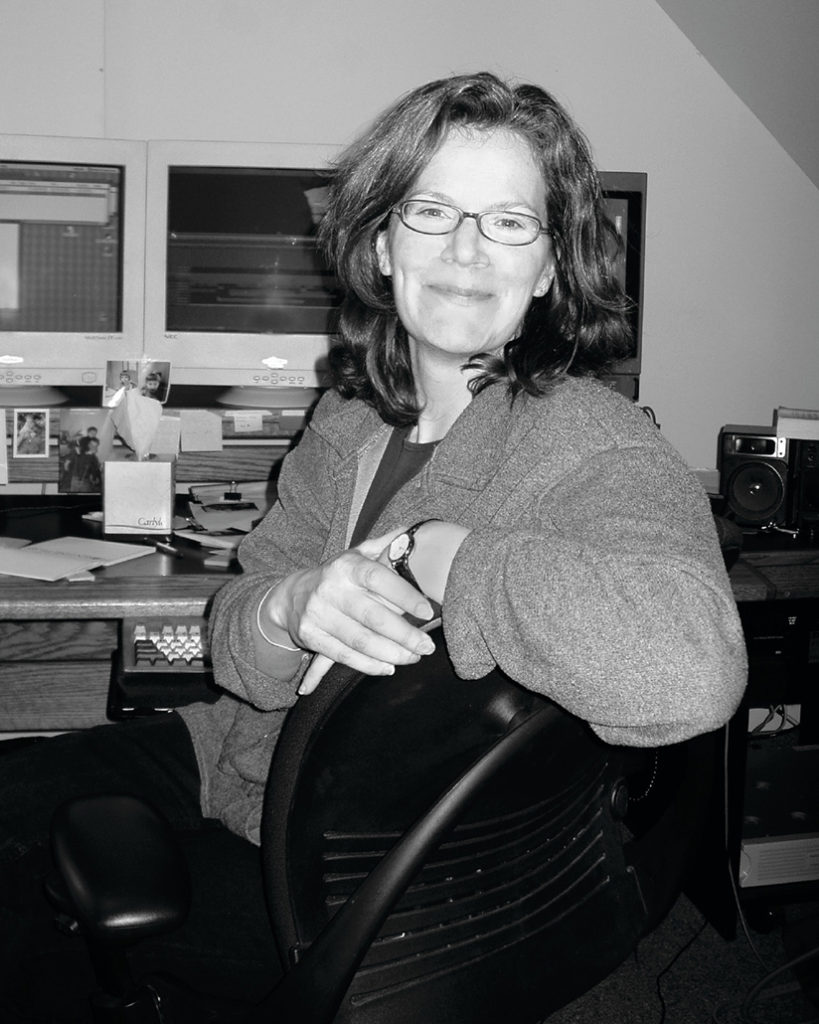 "We designed the sound in ProTools, and re-recording mixer Dominick Tavella mixed it in 5.1 surround. He brought an artistic touch to the sound design, intuitively taking these effects and making them work in surround for the battles. He was able to work with our smaller timetable and still produce pure art with his work.
"This whole film is an extremely personal experience for the viewer. You're witnessing the people of four towns and their experiences. Everything is extremely accurate. Every veteran who has seen it says, 'Don't change it.' It was a truly collaborative effort and we all learned from each other, both sound and picture."
Reidy, who also edits films for other producers, is nonetheless considered a Florentine family member respected by both Burns and Barnes for her unerring taste and known for her feisty but friendly debates with Burns over editorial decisions.
She was nominated for an Emmy Award for co-editing of The Civil War (1990) and for an ACE Eddie for Frank Lloyd Wright(1998). Reidy cut two episodes of The War, including the finale, and talks about the music she used:
"In Episode Seven, I show the injured soldiers looking out at the Statue of Liberty for the homecoming. For that, I decided to reprise the music from Episode Four, which was 'It's Been a Long, Long Time,' as sung by Bing Crosby.
"I've never seen The Best Years of Our Lives, but sound editor Marlena Grzaslewicz told me when we were editing The War that some of the music reminded her of the music [by Hugo Friedhofer] in that film. Actually, we used 'Clarinet Concerto' by Aaron Copland.
"The music is put in very early in the production. It shocks people when they learn that. Basically, when writer Geoffrey C. Ward delivers the first draft of the script, he, Ken and producer Lynn Novick will line up the talking heads, and then the narration. It's a little loose at first and they continue to interview other people on film. It is at this point, without any visuals, that a rewrite and restructure happens so that we all know where the show is going. And it is only then that we really start to edit.
"Except for Frank Lloyd Wright, I tend to work on the multiple-episode series: The Civil War, Jazz, Baseball, The War. Ken doesn't want to tell just one story. He wants a thematic line with various strains, which he can achieve in an episodic series. His series are successful because of the things he is interested in telling.
"And contrary to what you may have heard, Paul is the one who has the most influence on Ken's decision making, not me! But I must say that Ken was very open to making some extreme cuts on The War."