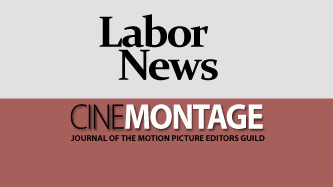 Reprinted from Deadline Hollywood by David Robb on October 28, 2020.
The IATSE legal department is blasting Senate Republicans for rushing through the confirmation of Supreme Court Justice Amy Coney Barrett while refusing to take action to help struggling workers during the coronavirus pandemic.
"It apparently was far more important to rush through a Supreme Court nomination than it is to tend to the needs of working families, particularly IATSE members," the union's legal department said in a statement Wednesday.
"In a mere thirty days, the Senate, under the leadership of Mitch McConnell, confirmed Amy Coney Barrett's nomination to the United States Supreme Court," the statement says. "Justice Barrett is the first Supreme Court Justice to be confirmed to the Court without bipartisan support since 1869. As a member of the Court, Justice Barrett will serve for life or until she chooses to retire. The speed with which this judicial vacancy was filled is nearly unprecedented. That it occurred during the pendency of a presidential election with over 50 million votes having been cast so far in early voting with a week remaining in the voting period is without parallel. With the confirmation of Justice Barrett, there are no vacancies on federal appellate courts. All vacancies on the Supreme Court and in all eleven federal circuit courts of appeals are filled. …