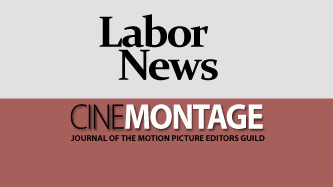 Reprinted from The Los Angeles Times by Anousha Sakoui on July 17, 2020.
The Bold and the Beautiful had been on the air 33 years without a break until the COVID-19 pandemic forced a shutdown across Hollywood in March. After local health officials and unions permitted filming to restart June 17, the show hit another roadblock.
Producers of the soap opera took multiple precautions: They used dolls and actors' real-life partners as "stunt kissers," cut the crew by about 20% and separated directors with Plexiglas at Television City studios in Los Angeles. But conducting 200 coronavirus tests weekly proved daunting. The first round yielded too many inconclusive results, making producers nervous about an outbreak.
So they shut down again while testing moved to a new lab, which was able to deliver more reliable results, and production resumed two days later.
"It's been a financial strain," said the show's executive producer and head writer, Bradley Bell. "We are doing everything we can and sparing no expense to make sure we are working in a safe environment."
Four months since the COVID-19 pandemic halted film and TV shoots, Hollywood has struggled to get back to business. Film sets, known for being crowded and often unclean, have faced a raft of challenges, including complying with testing and other rigorous health-and-safety rules intended to curb new outbreaks, dealing with unwelcoming neighborhoods and extra scrutiny by unions.
So far, most of the filming activity has been confined to small commercials and music videos. But the problems are expected to intensify as 100-plus teams for major movies and TV series resume filming on the streets of L.A.
"A lot of people imagined that this was going to be like flipping a light switch and everything was just going to turn back on, and it's proving not to be quite like that," said Duncan Crabtree-Ireland, SAG-AFTRA chief operating officer and general counsel. "But we are seeing the pace getting quicker, especially for shorter duration productions like commercials, music videos and other productions that need just a few days."
In recent months, unions and an alliance of major Hollywood studios have collaborated with L.A. County health officials to create safety guidelines that would avoid outbreaks on film sets. …