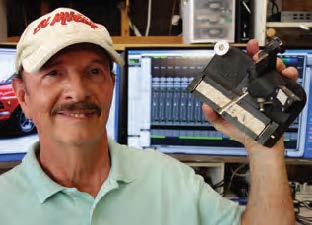 By Frank Smathers
It all started in 1955, when my Mom took my sister Joy and me to see a kiddie matinee. I had never seen a movie and this was before our family owned a TV. When the theater went dark, we were transported by the magic of cinema to the Land of Oz. One hour and forty two minutes later—as the movie ended—I distinctly remember the shock of leaving Oz and returning to the world outside the theater.
Fast forward to 1969, when a friend told me to see a cool new movie with hippies riding Harleys. I didn't know at the time that "Easy Rider" would change my life.
A month after I saw "Easy Rider," I was drafted, did two years in the Army at Fort Carson, Colorado, and then went back to college. I graduated with a master's degree in English Literature, which I soon found out was useless. I ended up working as an auto mechanic. One day, through the grace of the universe, I received a flyer from a Buddhist school opening in Colorado: Naropa University. I wasn't too interested in Buddhism but I noticed that they offered a filmmaking class taught by cinematographer Baird Bryant, who had been a cameraman on "Easy Rider" and "Jimi Plays Berkeley." To a skinny hippie from Florida, the idea of hanging with a guy who worked with Peter Fonda, Dennis Hopper, and Jimi Hendrix was a mind-blower. So I packed up my Corvair and took off for Boulder.
Bryant was a great teacher. He had a 16mm Moviola, sound transfer gear, and a gaggle of old 16mm wind-up cameras. I made a short student film about spiritual images in everyday life. Bryant encouraged me to go into film, so I enrolled in the University of Miami's Cinema Department. At the end of the semester, two guys, Reuben Trane and Ken Wiederhorn, came to our class looking for interns to work on a horror film about Nazi zombies.
I soon found myself in charge of coffee, donuts and the Winnebago dressing room for "Shock Waves," starring John Carradine, Peter Cushing, and Luke Halpin. We filmed the whole summer of 1975 in the mangroves of Miami. I was never paid a penny but I have never had so much fun in my life.
One day in 1977, I met a young editor, Raul Davalos, who became a lifelong friend. We were huge fans of "Star Wars" and dreamed of what it would be like to work on a real Hollywood movie. Davalos followed his dream and moved to Los Angeles and eventually I followed him there. After one year of peanut butter sandwiches and selling cable TV door to door, I got an assistant editor job at Filmcore.
My editor, Charlie Chuback, was a very busy guy so he gave me the job of editing simple soundtracks on the commercials he cut. I often went to Todd-AO to cover the sound mixes. One of the commercials I cut sound for was, "Man Was Not Meant To Fly," a Nike spot where Michael Jordan flew off the basketball court with jet sound effects and slamdunked the ball with explosive force. The commercial won a Clio Award and I began to realize that my skillset was more attuned to sound editing than to picture editing.
Eventually, I was offered an editing job at David Yewdall's Superior Sound, where I cut dialogue on Oliver Stone's "Salvador." I was new at dialogue editing so I'd be there until 2:00 a.m. every workday, searching through the dailies for alternates, creating fill loops, etc. Yewdall's shop was union and with my prior non-union work hours, I was able to join IATSE Local 700.
In 1987, I saw the DAWN digital audio editing system, and that was the beginning of the long and treacherous transition from analog to digital film-making. At Paramount Pictures, I helped a bit on the development of Avid's OMF digital sharing software (now called AAF) and survived the times when systems crashed every day and a 9GB hard drive cost $2000. With a little help from my friends, I have been a union man for 34 years. I'm currently working with a great crew at Universal Studios, cutting sound on "Chicago Fire." As the years have passed, I have come to understand just how much a good union leads to a good life.
Frank Smathers is a sound editor. He can be reached at: conelrad47@gmail.com.