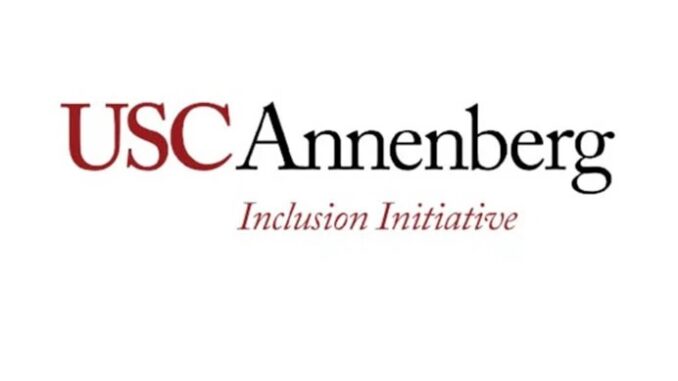 Reprinted from a USC Annenberg School press release by its Communication and Marketing Staff on February 26, 2021.
The Annenberg Inclusion Initiative in collaboration with Netflix released its newest study [on Friday], a first-of-its-kind look at inclusion across Netflix scripted series and films. The Initiative analyzed Netflix's US original live-action films (126) and series (180) released in 2018 and 2019. The study examined on-screen inclusion across gender, race/ethnicity, LGBTQ+ and disability. Behind the camera, gender and race/ethnicity of key personnel were assessed, as well.
[Editing was not included.]
The study, commissioned by Netflix, provides a thorough review of US original fictional content on the service from the years studied. Through this content audit, the Initiative was able to identify the areas where Netflix has been most inclusive, and where progress is needed.
"Our team at the USC Annenberg Inclusion Initiative has brought our extensive expertise, including our precise methodology, to examine content with an extraordinary degree of nuance for a variety of identity groups," said Stacy Smith, Initiative founder and associate professor of communication at the USC Annenberg School for Communication and Journalism. "We have always ascribed to the highest standard for how research should be conducted, and this investigation is no exception. Netflix has taken a leadership role by examining its own content and sharing the results transparently. This study sets a high bar for the wider industry and demonstrates how an internal audit is a critical first step toward inclusive change."  …
Overall, 52% of all leads and co-leads across film and series were girls and women. 48.4% of all the films evaluated and 54.5% of series were driven by female-identified leads/co-leads.
One of the major reasons for these strong numbers is that women were hired behind the camera. In film, Netflix outpaced the broader industry as 23% of all directors were women (vs. 7.6% of top-grossing films), 25.2% of writers (vs. 16.7%), and 29% of producers (vs. 19%). In series, women were more likely to be series creators and writers in comparison to broader industry statistics. …
USC Annenberg press release 2/26
Netflix Taps Annenberg Inclusion Initiative for Deep Dive Into Its Own Content
Reprinted from The Hollywood Reporter by Rebecca Sun on February 27, 2021.
Last month, Netflix unveiled its first-ever inclusion report, a qualitative summary of what the company is doing to diversify its workforce and create a more inclusive workplace culture. Now the streamer has extended its commitment of inclusion—and transparency—by analyzing the diversity of its content, and making those results public. …
The AII researchers noted that projects led by Black creatives were much more likely to yield more Black leads and other characters. Presumably, the dearth of key behind-the-scenes Latino, Asian, MENA, Native and NHPI creators can be tied to their respective underrepresentation onscreen.
"When you have people of color in the room voicing their opinions, objecting, complaining and celebrating, it changes the texture of what you see [onscreen]," said George Wolfe, director of the Netflix feature Ma Rainey's Black Bottom, at the symposium. "Diversity has to be a holistic assault. Without it, people are scared of making decisions because they don't want to make wrong ones, so they end up making no decisions." …