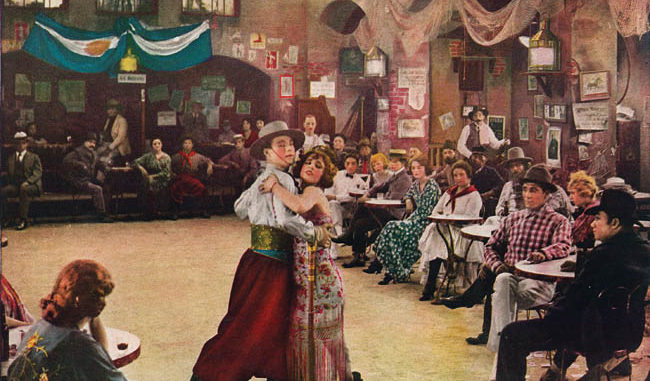 by Kevin Lewis
When Kevin Brownlow accepted his well-deserved Honorary Academy Award this past November for his lifetime achievement in film preservation and documentaries on Hollywood, he generously shared the honor with fellow film collectors, preservationists and historians who rescued movies from the silent film era.  He then used the occasion to chastise the Hollywood studios of the past for criminalizing film preservationists like himself and Roddy McDowell, and having some of them threatened by the FBI in the 1970s.  Those studios would rather bury, burn or let films rot than distribute them––until Brownlow and his ilk made them see that people would pay to see them.  "I hope you have learned that we were not your enemies," Brownlow said.
Because of Brownlow, the films of Rex Ingram and others were rediscovered and re-presented in glorious restored prints, accompanied by orchestras.  In 1993, Brownlow restored Ingram's The Four Horsemen of the Apocalypse, which astounded audiences when it premiered 90 years ago on March 6, 1921.  Ingram, who directed in the short period between 1916 and 1931, probably influenced more mainstream directors than D.W. Griffith–– who was his influence.
A highly visionary and independent native Irishman, Ingram created exotic epics with magnificent compositions.  As a producer, he probably inspired David O. Selznick, who remade two of Ingram's silent masterworks (The Prisoner of Zenda, 1922; and The Garden of Allah, 1927) into sound films.  Certainly Selznick shared Ingram's relentless attention to detail, casting, art direction, cinematography and costume.  As directors, David Lean and Michael Powell––the latter who worked for Ingram in France––would be the closest sound-era equivalents.  Even Bernardo Bertolucci's The Last Emperor (1987) would have been an Ingram subject.  Ingram's forte was an unbeatable combination of sex in luxurious and exotic locales, beautiful people, mystical forces controlling the characters, and revolution.  And he did it better than Aaron Spelling.
Ingram put what became MGM on the map, but ironically, the studio he helped to create was also his undoing.  Metro Pictures was floundering in 1920 when it was bought by Marcus Loew, who wanted a studio to produce a steady stream of films for his Loew's theatre chain.  The studio's production chief Maxwell Karger, scenario department head June Mathis and president Richard Rowland were the forces behind The Four Horsemen of the Apocalypse––the Gone with the Wind of its day––because they needed a blockbuster to save the studio.  They also needed Loew's money to finance it.
Rex Ingram had a genius of continuity and storytelling in his editor Grant Whytock, who was one of the first film editors to make editing decisions independent of the director––with approval of the studio.
Because of the success of this film, and others by Ingram, Loew bought the almost bankrupt Goldwyn Pictures studio in 1924 for its Culver City studio, and installed Louis B. Mayer as production chief, creating Metro-Goldwyn-Mayer.  However, Ingram despised Mayer so much that he transferred his production unit to France in 1925 and within a decade was out of the business.
But it was Mathis, one of the most respected and powerful figures in the early film industry, who put all the elements for The Four Horsemen together.  She was implacable in her decision to cast then-bit player Valentino and have Ingram, still a minor film director, helm the project.
Thanks to his star turn in the film, Valentino––with his chiseled face and what came to be known as "bedroom eyes"–– became the sensation of the 1920s until his death in 1926.  He was the prototype of the male sex symbol, the first Latin Lover.  He was also a tango dancer in New York with Clifton Webb's ex-partner Bonnie Glass, and the tango sequence in the film is one of the most famous sequences in dance-on-film history.
But Mathis faced much opposition.  Even though the character was half-Argentine, the Italian-born Valentino was repeatedly bypassed for the role because his Latin features typecast him as a villain or shady seducer.  By creating the Latin Lover, and later the Sheik, he transformed the idea of the male film star from an Arrow-collar type, and is arguably the most influential male star in the history of cinema.  There is a straight line from Valentino to Clark Gable to Gary Cooper to Tyrone Power to Leonardo Di Caprio.
The novel on which the film is based, Los Cuatro Jinetes del Apocalipsis (1916), is a massive, sprawling best-selling epic by Vicente Blasco Ibanez that traces the German and French branches of a family who amassed millions in the cattle business in Argentina but experienced the Biblical horsemen of war, pestilence, famine and conquest during World War I.  The main character is the dissolute French-Argentine playboy Julio Desnoyers (Valentino), who seduces the wife of his father's friend in Paris and redeems himself in death as a French soldier in the war.
According to the premiere programme, over 500,000 feet of raw film was shot, which Whytock whittled down to 12,000 feet.
Ingram achieved his vision through John Seitz, his cinematographer who became one of the great cinematographers in Hollywood, most notably with Sunset Boulevard (1950).  According to the premiere programme, Seitz had 12 cameramen shooting The Four Horsemen's big battle scenes from every angle.  Ingram had 14 assistant directors stationed over several miles of terrain with whom he communicated by telephone.
He had a genius of continuity and storytelling in his editor Grant Whytock, who was one of the first film editors to make editing decisions independent of the director––with approval of the studio.  He certainly was a template for later gifted film editors, including his assistant and protégée Barbara McLean, who became Darryl F. Zanuck's most trusted associate and later supervising editor at Twentieth Century-Fox.
According to Liam O'Leary in his monograph Rex Ingram: Master of the Silent Cinema (1994), Whytock and Ingram had a highly cooperative working arrangement because Ingram understood the editing process and shot extensive coverage.  A great deal of footage was discarded and sequences on which the director had worked very hard were often removed to make for a more fluid and perfect storyline.  According to the premiere programme, over 500,000 feet of raw film was shot, which Whytock whittled down to 12,000 feet.
Explaining Ingram's main problem with his editing, Whytock related to O'Leary, "Mostly he'd say, 'Tell me; give me a warning of what you're going to take out.' He'd say, 'I don't like this big surprise.'  At first I'd say, 'Well, let me take it down a little way, and if you don't like it, we'll put it back."  But Ingram would be shocked to see whole sequences deleted.  Echoing later generations of editors, Whytock told O'Leary, "I guess it would be a great shock to a director to go in and suddenly see a whole piece missing that he had taken a week and a half to direct, or even two weeks."  He was the ideal editor to cut Erich von Stroheim's Greed (1924) down from six hours to four hours––and still leave a masterpiece.
However, according to Whytock, if he told Ingram that the footage could not be edited smoothly, the director would re-shoot without any complaint because he was a perfectionist.  "Everything had to make a composition to him," Whytock said.
In the twilight of MGM in the 1950s, the studio tried to reverse its fortunes by remaking its silent film blockbusters.  It succeeded with Ben Hur (1959) but flopped when the remake of The Four Horsemen of the Apocalypse (1962), with its number-one star Glenn Ford and its Oscar-winning director Vincente Minnelli, opened.  What originally had been nurtured with love, artistry and a purpose could not strike gold twice as a mere commodity.