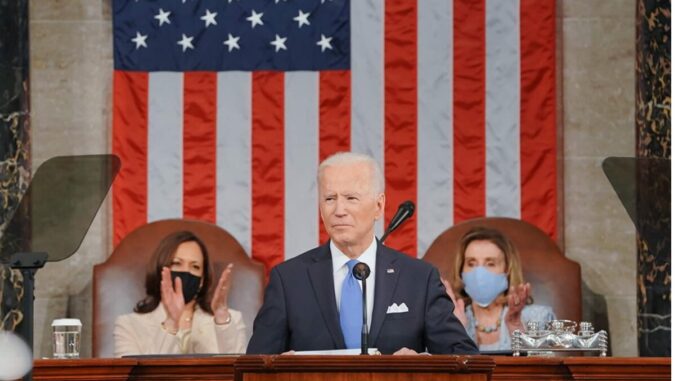 Reprinted from The Hill by Alex Gangitano on April 28, 2021.
President Biden on Wednesday called for the passage of the PRO Act and for a $15 federal minimum wage during his first address before a joint session of Congress.
The PRO Act, a sweeping pro-union bill, passed the House in March. The legislation, which is the top priority of labor unions, remains stalled in the Senate.
"The American Jobs Plan is a blue-collar blueprint to build America, that's what it says. And, it recognizes something I've always said. The guys and women on Wall Street, Wall Street didn't build this country. The middle class built this country. And unions build the middle class," Biden said. …
EPI: 
The Biden-Harris Administration's First 100 Days
Reprinted from The Economic Policy Institute by Josh Bivens on April 28, 2021.
"In the first 100 days, the Biden-Harris administration has taken a number of promising steps toward crafting an economic policy approach that would boost living standards and security for all US families," writes Josh Bivens for EPI. "But much remains to be done.
"In this post, we highlight—in very broad strokes—what is needed to build an economy that generates faster, more sustainable, and more equitably distributed growth. We then identify where the administration has made progress in the first 100 days and where more forceful action is needed.
"Building an economy that works for everyone requires the following:
"Pursuing a 'go-for-growth' approach to macroeconomics that aims for labor markets where jobs are plentiful and employers have to work hard (including offering higher wages) to attract workers, so-called "high-pressure" labor markets. …