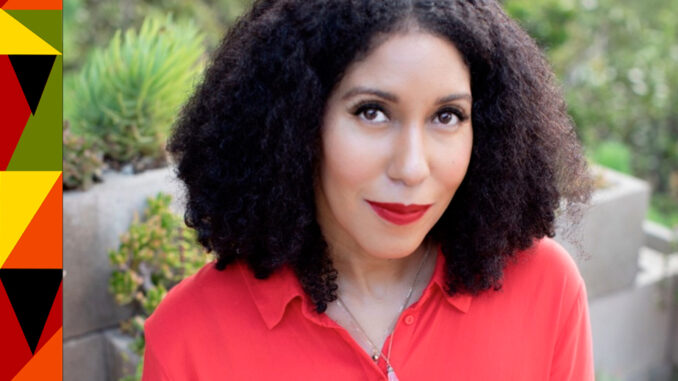 For each day in the month of February, the African American Steering Committee will be highlighting Local 700's African American members, both past and present, and their accomplishments. We look forward to showing the contributions and influences African Americans have had on the industry.
---
Name: Aimee Jennings
What's your job? Picture Editor
List the credits you're most proud of. I am the most proud of "So," my independent experimental short film. I traveled around Australia alone for over a month collecting images. When I got back home I started working with the footage. I really found the film in the edit and I am tremendously proud of the little film I made. It even premiered at the Tribeca Film Festival. But for something that people actually saw, I'd have to say "Grown-ish" season 4. I was already a fan of the show so being a part of it was a big deal to me. Also, that season had all female editors and that was a first for me.
What are you working on right now? I'm currently working on a new horror/ comedy airing on Hulu this Spring entitled "The Other Black Girl" based on the novel of the same name by Zakiya Dalila Harris. I love horror and comedy sot it's great to be able to work on both genre's at the same time.
Who and what are your influences and/or mentors? My biggest career influence and unofficial mentor is Craig Dewey. I worked as his assistant editor on "Bull" seasons 2-4. From day one he encouraged me to edit. He took the time to watch my cuts and explain what worked and what didn't. Also, he wanted my feedback on his cuts. He made the editor/assistant editor relationship a collaboration and I follow that working philosophy to this day.
What books are you reading, shows are you watching and/or movies you're excited about? Last year I made the conscious decision to read more, so I started with some classics and popular titles. I'm currently reading "The Alchemist." As far as movies, I know I'm late to the game but "Nope" was my favorite movie of 2022. I watched it 3 times in a row. I can't stop thinking about it. "After Yang" was also a favorite from last year. It has the best opening credits sequence in a movie I've seen in a long long time. On the TV side, I just started watching "The Resort" on Peacock. It's a very interesting mystery about time and place.
What are your black history month memories and any cultural or historical impacts on your life? President Barack Obama's first inauguration deeply impacted me. I was here living and working in Los Angeles but flew back home to Maryland and my whole family went to see the speech. It was freezing but that didn't matter. Everyone was so excited and hopeful for our futures. It was a moment I hope will happen again in this country.
What's the best piece of advice you've been given? When I was trying to make the move from unscripted to scripted programs I was going back and forth between assisting and editing. I was assisting on unscripted union shows and editing non union short form internet content. Once in a while, I got to shadow an assistant editor on scripted show. Rob Burnett was one of the editors on "The Mindy Project" at the time. He had made that move and recommended that If I want to edit in scripted, I should not edit in unscripted. He saw too many people get stuck and not work as hard to make that switch because they got comfortable in unscripted. I've never forgotten that I recommend the same.
If you could time travel, when would you go and why? If I could time travel I would go back to before the time of humans. I'd love to see real dinosaurs in person and see the geography of this planet before human interference.
What's a little known fact about you? What are your hidden (or not so hidden) talents? I don't think a lot of people know that I have a twin brother. He's four minutes older than I am. Also, our mother has twin brother, who is eight minutes older than she. A hidden talent of mine is that I'm a classically trained double bass player.
What's your favorite (Black) television/movie moment? I don't have one moment but Robert Townsend's "Hollywood Shuffle" is one of the most underrated films about Hollywood. It is a great 80's comedy about the Hollywood system from a black point of view. The movie is filled with humor and heart. It taught me what to expect as a black woman in Hollywood and how to hold onto your dreams and persevere despite all the nonsense.
Was there a television show/movie that inspired you to pursue your career? I can't recall just one but summer blockbusters like the Indiana Jones trilogy and the Back to the Future movies were times when my whole family went to the movies together and I really loved that. The power of movies and TV to entertain and educate made me want to be a part of this industry. Coming up with alternate storylines or endings that I preferred to popular shows and movies was my favorite thing to do as a kid. Thankfully, my family never discouraged me from pursuing a career in entertainment. No-one said I couldn't so I never doubted that I could.
What's your personal/professional mantra? I've always loved the mantra 'dress for the job you want, not the job you have'. I really took that to heart as a PA and an AE. I liked to dress a little nicer than usual and that helped people see me as more than an underling. I never considered myself less than so why would I want other to think that of me. As an editor, I still liked to dress a little more professionally when we were all in person. Since I've been working at home, of course, that has all gone out the window.
What's the last show/movie that left you speechless? I don't know about speechless but I will say that the 2020 film "Wendy" left me in tears for days. I wouldn't shut up about it for weeks. That film was simultaneously heartbreaking, heartwarming and life affirming. I dare anyone to not want to hug their mother after watching it.
What would be your dream project to work on? That's a tough one. I have a few screenplay ideas and I aspire to direct. So I'd have to say my dream project is any film I can manage to finish writing and direct myself.