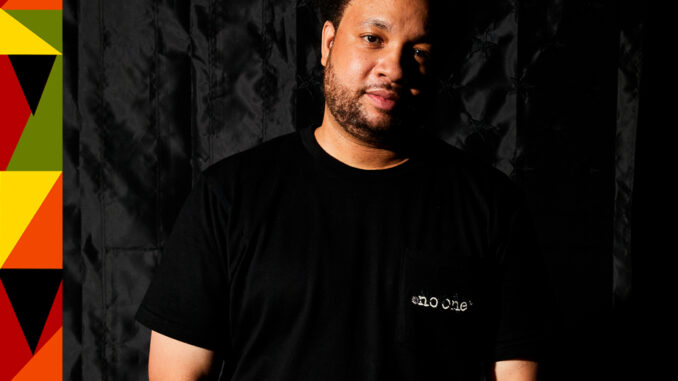 For each day in the month of February, the African American Steering Committee will be highlighting Local 700's African American members, both past and present, and their accomplishments. We look forward to showing the contributions and influences African Americans have had on the industry.
---
Name: Saleem Aziz
What's your job? Picture Editor
On what show were you able to move up to a new position? The series "Tom Swift."
What are you working on right now? I'm currently working alongside Debbie Allen on her new project.
How did you prepare for the new position? Dedicating myself to the craft, getting out of my own way, and listening to the amazing mentors I'm blessed to have.
Who or what helped you on this journey? I began by constantly editing whatever genre would hire me whether unscripted, documentary or fiction. People like Jacques Gravett walked me through the fire like training wheels, but knew when to let go and let me ride on my own. Also, Lillian Benson and Maysie Hoy, helped keep me sharp with great advice, encouragement, and great friendship.
What's the best piece of advice you've been given? This one is hard; I've been given a lot of gems my whole life, but I think "just listen." Sounds basic, but I find listening to be the best practice of editing. Listening to a scene, not just the dialog, helps me find the rhythm and connection between the characters and the story we are trying to tell.
What are your black history month memories and any cultural or historical impacts on your life? Most people who know me know I'm originally from NYC, but I also grew up in a few other areas too. One of which was an all black town in South Jersey that was literally a stop along the Underground Railroad where Harriet Tubman would have meetings. There is a preserved home that has hidden doors in the floors to hide runaway slaves from slave catchers. With the current state of politics these days trying to revise history or pretend like this never happened, it was extremely surreal and grounding to be able to walk into a home that helped people like my ancestors escape the unfortunate "legal" yet immoral institution of human ownership. It propelled me to dream and push for those dreams.
Was there a television show/movie that inspired you to pursue your career? I can't pinpoint to something to say this was the show or movie that made me want to get into this industry; for me it's always been about the fascination with storytelling.
What's your personal/professional mantra? Once you step outside, it's not all about you anymore. It's about the community of people and living things that make up this world. No one or no one thing is greater than the total sum, so try to treat everyone and everything like the balance of life depends on it.
What's the last show/movie that left you speechless? This is a tall order question right here…let's go with "The Silent Sea" (Netflix) for TV and "The Woman King" for movie.
What would be your dream project to work on? My dream project will always be helping to tell a great story no matter the genre.