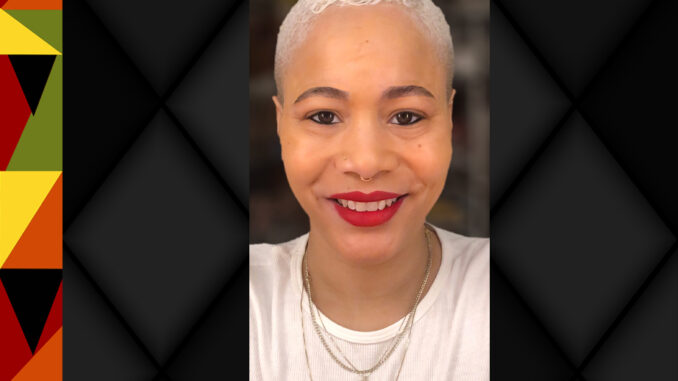 For each day in the month of February, the Committee will be highlighting African-American members, both past and present, and their accomplishments. We look forward to showing the contributions and influences African-Americans have had on the industry.
---
Name: Kristin Valentine
What's your job? Assistant Picture Editor
List the credits you're most proud of. "What's My Name: Muhammad Ali," "Euphoria," "Dune"
What are you working on right now? Indie Comedy Feature written and directed by Lena Dunham
Who and what are your influences and/or mentors? My parents are my biggest inspirations and influences. Aziza Ngozi and Joi McMillon, ACE are my mentors and biggest supporters. Both are women whose professional and personal successes and overall character I aspire to.
What books are you reading, shows are you watching and/or movies you're excited about? I'm reading "Peace Is Every Step: The Path of Mindfulness in Everyday Life" and "The Autobiography of Malcolm X" (for the first time!). I'm excited about "Snowfall," love "The Crown," obsessed with "Succession" and dying to see "Judas and the Black Messiah!"
What would be your superhero name? Math Maniac lol
What are your Black History Month memories and any cultural or historical impacts on your life? I did a presentation on Angela Davis and her book "Women, Race and Class" during black history month in high school. It was my first introduction to intersectionality and how blackness and gender equally contributed to my experience in the world.
What's the best piece of advice you've been given? Don't let the bad in the world compromise the good in you.
If you could time travel, when would you go and why? I'd travel to the 70s for the fashion, to party with my parents, and see the hype around Studio 54 and Woodstock lol.
What's a little known fact about you? What are your hidden (or not so hidden) talents? I worked for the Department of Defense, love math and can talk like Donald Duck lol.
What's your favorite (Black) television/movie moment? Martin proposing to Gina with Brian McKnight #Swoon.
What's your personal/professional mantra? Pursue your interests, but only commit to what you love
What's the last show/movie that left you speechless? What would be your dream project to work on? "Uncut Gems! I think my heart is still racing lol. My dream projects are authentic dramatic narratives with unconventional story elements. Specifically, magical realism. "Beasts of the Southern Wild" is my ultimate dream project.