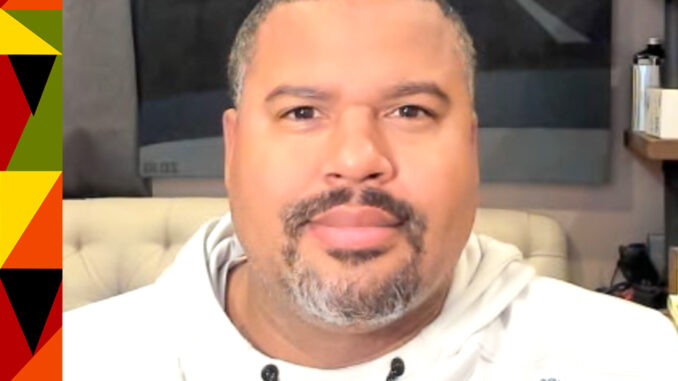 For each day in the month of February, the African American Steering Committee will be highlighting Local 700's African American members, both past and present, and their accomplishments. We look forward to showing the contributions and influences African Americans have had on the industry.
---
Name: Patrick J. Smith
What's your job/classification? Picture Editor
List the credits you're most proud of. I am proud of ALL of my credits—big and small. They all taught me lessons that challenge me to keep learning, improving.
What are you working on right now? I am finishing a horror adventure film for Lionsgate and Suretone Pictures entitled "Do Not Enter.
What's the best piece of advice you've been given? Make yourself invaluable.
What's your favorite (Black) television/movie moment? There are a few moments:
Apollo Creed – I loved the "Rocky" movies when I was a kid—especially the ones with Apollo Creed. While Apollo is the "bad guy" in "Rocky," he is a role model: successful, business-savvy, highly intelligent, graceful, and a world class athlete.
Apollo never kowtows. He speaks his mind empirically. His is flawed with overconfidence. He is dapper and elegant, but he will fight the ugly fight. He is a round character. Carl Weathers is brilliant.
Apollo's arc in the "Rocky" movies is arguably the fulcrum of the entire series: he goes from Golden Ticket to claim, to Goliath to defeat, to the brother in arms to compete with, to the trainer to learn from, and finally to the inspiration to avenge. An inspiration that ultimately begets the "Creed" films.
While introduced in a time when proper representation was slimmer with less dimension, Apollo Creed ages well. It inspires me to see how Carl Weathers carried himself in those films, how the filmmakers respected his character as a complete man.
GLORY – The Civil War drama, "Glory," was another highlight and strong cinematic influence from my youth—watching Denzel Washington use his superpowers… His character's transformation. His tears. His speech around the campfire the night before they go into battle. He hits all of the gears flawlessly—once again a wonderfully round and inspirational character. An unapologetic black man.
Eddie Murphy – Chris Rock once said that, while people never really acknowledge it, Eddie Murphy changed acting. I would humbly agree. Before Eddie Murphy, most characters of color in Hollywood had to be a relatively flat counterpoint to popular culture. More arch. You were either the cleanest, nicest person—perfectly safe, or you were the worst of the worst—unredeemable. There was oftentimes no in between.
Enter Reggie Hammond (in "48 Hrs."), Billy Ray Valentine (in "Trading Places"), and Axel Foley (in "Beverly Hills Cop"). All wonderfully flawed, ironic heroes with edge. None of them perfect, all of them perfectly rounded humans.
Eddie Murphy's star power and talent widened our imaginations of the roles people of color should have in this industry, and in turn we were treated to a true superstar with the power to weave comedy and tragedy in a more realistic way. Major contributions.
Side note: Eddie Murphy's Directorial debut, "Harlem Nights," is wildly underrated and overlooked!!!
What's your personal/professional mantra? – You can either win or you can be right…
Self-righteousness can be one of the pitfalls of collaboration. Knowing (or at least feeling) you are right is not always enough. Collaborators all come to answers in different ways, so you have to be able to get out of your own head.
It is easy to dig in, to think you are right, or to say, "I told you so," but the efficacy of sidestepping pride in the name of progress is a powerful agent. That is a WIN for all.
The shape of that progress will not always be linear, but neither is editing nowadays! You will have to try different things. You will sometimes be pleasantly surprised to be wrong, finding a new approach. There is a WIN in that lesson.
You will sometimes make your way back to square one—where you personally thought the answer was the whole time. That is still a WIN—even if deferred. Just make sure not to say, "I told you so!"
What's the last show/movie that left you speechless? "Everything Everywhere All At Once" is a perfect re-rendering of "It's A Wonderful Life."
The ideas of sacrifice, family and second-guessing the sometimes-unflattering shape of one's life all resonated heavily with me as someone born to young parents that eventually became a young parent myself. Being young and relatively unformed with great responsibility very easily lends itself to the constant contortion of one's dreams against one's love and duties in the universal struggle to which many of us are bound—no matter the skin of the thing, no matter the genre.
I sat down for a wild ride with kung-fu, sci-fi, action and laughs, and while it delivered keenly on those promises, the emotional underpinnings were more spectacular than any stunt. I had to sit through the credits and absorb that one; it resonated with me.
What would be your dream project to work on? – I'd be very interested to work on any Ryan Coogler film. His films are authentically human, stylistically astute and always fresh. And with so much heart.
The same goes for Donald Glover. "Atlanta" is the project I ALWAYS wanted to create or consume, but never knew how to explain it. Glover did by showing his ability to take slice of life, Black American moments and masterfully infuse them with the surrealism and cultural insight. Outstanding.
I am terribly proud of both filmmakers and immensely inspired.