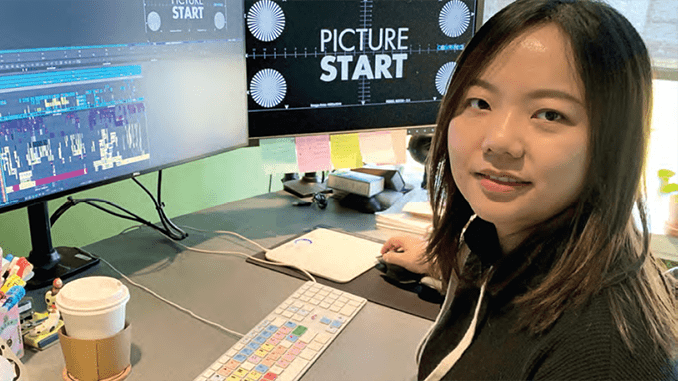 Q: Where are you currently employed?
I'm currently working for Netflix.
Q: Current projects?
"Rebel Moon."
Q: Describe your job.
As an assistant editor, my responsibilities include various aspects, from creative to technical and anything in between. The goal is to maintain a well-organized and technically precise editing project with creative integrity throughout the production and post-production processes. The job usually begins before the shooting starts. We start by testing out the hardware and software on the editing systems, making sure everything in the cutting rooms supports the project requirements. And we anticipate sound and music needs, such as building a sound effects library in Avid for special sound effects, and collecting and organizing music in advance. During production, the priority is compiling dailies, where clear and organized media management is the key. I also get opportunities to cut scenes and get feedback from the editor. We talk about character motivations and the meanings behind each cut as we work on the scenes together, which is a very collaborative and invaluable experience for me. While scenes are being cut, we start cleaning up production sound, designing sound effects, and adding/editing temp music, as well as creating temp visual effects. As the cut becomes more refined, we continue to refine all the other things I just mentioned until they're in their best form. From there, we send the turnover to different vendors (sound, music, visual effects, digital intermediate [DI]) for a finer polish. During the whole process, we are in constant communication with all the other departments (such as camera, playback, sound, DI, etc.) to provide what they need, and we take part in technical troubleshooting.
Q: How did you first become interested in this line of work?
My dad had a large collection of DVDs when I was young, and our family would always watch something together during weekends. I started to get obsessed with immersing myself in movies, and the idea of being a filmmaker began to grow. With that in mind, I went to film school after college. The next thing I knew, I found myself spending countless hours in the cutting rooms. I realized editing is my favorite part of the filmmaking process, so I decided to pursue it as my career.
Q: Who gave you your first break?
Dorian Harris, ACE. I had the great pleasure to meet Dorian when I was working non-union in a local post house in 2019. I was her assistant on "Maximum Truth," a mockumentary feature directed by David Stassen. We had a blast working together, and I ended up co-editing the movie with her. She is my first mentor and also the one who helped me get into the union.
Q: What was your first union job?
It was a Showtime pilot called "Coercion," directed by Susannah Grant and edited by Dody Dorn, ACE. I was introduced to Dody by Dorian, who was then looking for a tech-savvy assistant editor who knew Avid Media Composer 2021 well. I think my experience in the post house also helped me get the job. Because it was a pilot, we didn't have enough time for the vendors to finalize everything before we screened the cut for the studio. So I was able to make some extra changes to color and visual effects using different tools, such as DaVinci Resolve and After Effects. I'm grateful to Dody for taking a chance on me, and I learned a great deal from her on that show.
Q: What credits or projects are you proudest of, and why?
I'm proud of each project I've worked on because I love all of them and I always learn a lot from each experience. But I would say the project I'm proudest of is "Rebel Moon," which I'm currently working on. It's not only the biggest movie I've worked on but also the most challenging. Every day, I learn something new from the talented people I work with. I find myself pushing my limits to excel at my craft, and I'm proud to say that "Rebel Moon" will be an unforgettable project in my career. I can't wait to see the finished movie!
Q: What was your biggest challenge in your job (or on a particular project) and how did you overcome/solve it?
Working on "Rebel Moon," my biggest challenge was sound design. I was in charge of sound design for several complicated MOS sequences. Without production sound (recorded in sync with the camera), everything is dauntingly silent. It was very difficult to start painting an empty sound canvas where crazy sci-fi elements, slow-motion fighting, or even monsters are all involved. I learned it's best to start small, so I began by breaking down the characters and scenes while considering emotions and themes. Then I dug deep into sound libraries to collect and try different effects until I found the best ones. Sometimes, I built new effects if I needed something unusual. I find the story is a great anchor for everything; the emotions drive what the story needs, and then you add the elements, layer by layer. Even though your sound design may not survive the final mix, you still always try your best to serve the story as much as you can. It's a challenge, but a very satisfying one.
Q: What was the most fun you've had at work?
I enjoy having Friday treats with my coworkers. We started the Friday afternoon treat time in the first month when our project began. Every Friday, we'll order something sweet, sit around the lunch table, and have fun conversations. Once, we also printed out miniatures of one of the characters from the movie and hid those in each person's room. Then we had a contest to see who could find the most miniatures. It was fun!
Q: Jobwise, what do you hope to be doing five years from now?
To work on more projects that I can be proud of!
Q: What are your outside activities, hobbies, passions?
I like photography and camping. When you work in post, you spend way too much time in dark editing rooms, so I cherish the moments when I can take the time to walk outside, explore the city, or enjoy nature. Q: Favorite movie(s)? Why? "Eternal Sunshine of the Spotless Mind" is for sure one of my favorites, the innovative and unique storytelling blew my mind when I first saw it. And "Chungking Express" — I like Kar Wai Wong's movies because he's so great at conveying emotions through subtle details. I also enjoy his visual styles a lot. "La Ciénaga" is another movie I love so much. It's so beautiful and realistic, and the director, Lucrecia Martel, is one of my favorite female directors.
Q: Favorite TV program(s)? Why?
"Euphoria," "Succession," and "White Lotus" are definitely the tops on my list. The story, performance, editing, cinematography, music… Everything works perfectly. Watching shows like these is pure joy! "The Rehearsal" and "How To with John Wilson" are docuseries that I really enjoyed watching. The creators and their ideas are so brilliant! And "Breaking Bad"— it's always my top pick.
Q: Do you have an industry mentor?
Dorian Harris. She always supports me and encourages me. She makes me believe I can accomplish more. And she's someone I can always come to with questions or concerns. And Dody Dorn. She gave me the best assistant editing training. I continue to learn from her on everything we've worked on together, from "Coercion" to "Rebel Moon." I've been learning so much about editing, storytelling, and the politics of the industry. I am very grateful for their guidance and wisdom.
Q: What advice would you offer to someone interested in pursuing your line of work?
Be kind, work hard, always be eager to learn, and make the most of every opportunity you get.
Q: Was there ever a circumstance when you had to rely on the Guild for help or assistance?
On one of the shows I worked on, I was having trouble getting my timecards and MPI hours updated. I reached out to my field representative and he was super helpful. The production company wasn't very cooperative, but he chased them down and solved my problem. I'm very thankful for the Guild's help. Q: Is there anything you'd like to say to your fellow Guild members, some words of encouragement? It's awesome to be part of the Guild. I've met so many nice, talented people here who are always willing to help others, for which I'm very grateful. I've also learned to help people as much as I can so we can support one another and keep building a better community.
Compiled by David Bruskin.