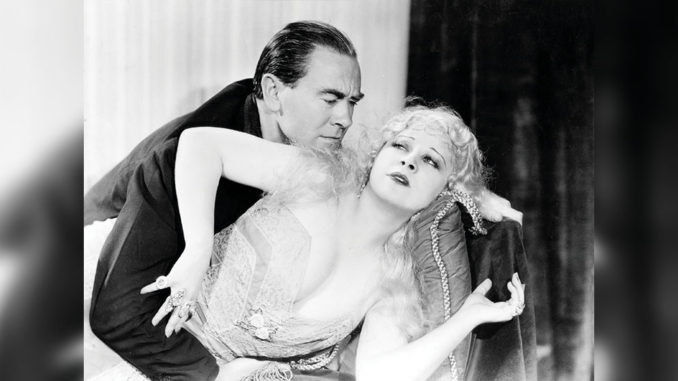 by Kevin Lewis
Mae West has become a folklore icon as well as a movie star. Anecdotes abound about her on- and off-screen behavior, and her quips fill an entire page in most books of famous quotations. But she has never really been accepted as a serious cultural figure. During her lifetime — which lasted until 1980, decades after her significant contributions — she received no honorary Oscar, no Kennedy Center honor and no Smithsonian medal. No American Masters or American Experience documentary was produced, despite the fact that her American experience was instrumental in transforming our American experience.
West is one of the few stars from the 1930s who still has a cult following because she was a pioneer who treated sex with humor. She had no sentimentality about love-making, was never emotionally dependent on a man and became a very rich woman through her own initiative. She died unrepentant at 87 years old, which is probably the reason a puritanical and hypocritical America still regards her as a dirty joke.
She inspired Salvador Dali, who represented the face of West as an apartment interior in a painting from 1934. Her full lips became a couch. Her nose became a fireplace, her eyes became paintings and her golden hair represented the framing curtains. Andy Warhol also was obsessed with the icon, and his Superstars owe much to her.
Mary Jane West was born in Brooklyn in 1893, the daughter of heavyweight boxer John West, whom she despised as a brute. She had been a controversial vaudeville and Broadway star for over 20 years when she was signed by Paramount, and was almost 40 when she made her first movie — unheard of for a sex symbol. She was a playwright as well as a singer-comedienne, and several of her plays were so far ahead of their time that it wasn't until the 1960s that playwrights like Tom Eyen followed in her tradition.
Stage productions such as The Pleasure Man (1928) and The Drag (1927) featured drag queens and homosexuals as characters, and Sex (1926) confronted the hypocrisy surrounding sex acts in middle-class America. During the run of Sex, West was arrested and sentenced to 10 days in jail. The cast of Pleasure Man was arrested in a New York City police raid, and West had to bail them out. A decade later, she was banned for many years from commercial radio for risqué remarks during an Adam and Eve skit with Don Ameche on The Chase and Sanborn Hour.
West was truly unique in both theatre and cinema history. She was a sex symbol without any public romances, though she enjoyed relationships with many men. No one could copy her or re-create her personality.
Paramount was the only major movie studio with studio facilities in New York, located in Astoria, Queens. (Today, the facility is still functioning as the Kaufman Astoria Studios.) When talkies were produced, and Hollywood needed stars who could "talk," Paramount signed theatrical stars because they could make movies during the day and perform on Broadway at night. Fredric March, Claudette Colbert, Ginger Rogers, the Marx Brothers, George Burns and Gracie Allen, Jeanette MacDonald, Walter Huston and Maurice Chevalier were among many other distinguished stars who made their film debuts in 1929-30, thanks to Paramount. West wasn't signed until 1932 because of her notoriety.
Paramount selected Lowell Sherman to direct her first starring vehicle, She Done Him Wrong (1933), an adaptation of West's great stage success, Diamond Lil, which she had written. Production began in mid-1932. As a test run, she had been introduced earlier in a supporting role in the Prohibition speakeasy film Night After Night (1932) starring George Raft. West stole the film when she swayed through the nightclub dazzling with diamonds. "Goodness, what beautiful diamonds," exclaimed a woman. "Goodness had nothing to do with it, dearie," quipped West.
She Done Him Wrong was like a dramatized Police Gazette of the 1890s, West's favorite period. Lady Lou (changed from Diamond Lil in the play) was a tough but sexy saloon prostitute and the moll of a gangster who federal agent Captain Cummings (Cary Grant), disguised as a Salvation Army officer, is trailing in order to trap. West sang such songs as "A Guy What Takes His Time," "Frankie and Johnny" and "I Wonder Where My Easy Rider's Gone," exploiting every double entendre in the lyrics and sashaying throughout.
Because of the enormous success of the movie 80 years ago this February, Catholic bishops (who instituted the Legion of Decency) and Episcopal ministers demanded that the Hays Office enforce and revise the 1930 Production Code, which it did in 1934. What enraged religious leaders is the fact that West's character gets away with murder in the film. She kills a villainess in a dressing-room tussle shortly before the gang is arrested by the federal agent and the police. Cummings handcuffs Lou, but escorts her into his carriage rather than the paddy wagon. He slips an engagement ring on her finger and tells her, "You bad girl." Lou smiles, and says, "You'll find out." The film then fades to black for an ending like a Billy Wilder movie. The Academy still nominated She Done Him Wrong for Best Picture, but it lost to Cavalcade. West's later films were significantly censored.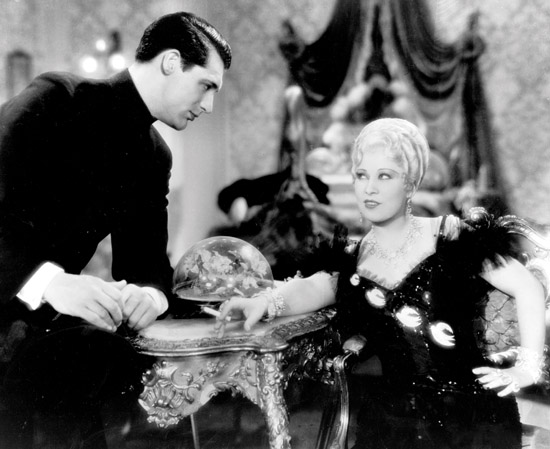 Sherman, who also acted in the films he helmed, was skilled in directing stage figures in film technique and specialized in directing racy material. He guided Katharine Hepburn to her first Oscar in only her third film, Morning Glory (1933), the same year as She Done Him Wrong. He died a year later of pneumonia while shooting Becky Sharp (1935), the first three-strip Technicolor feature starring another stage star, Miriam Hopkins. As an actor, Sherman was most known for playing the suicidal alcoholic film director in What Price Hollywood? (1932), which was re-fashioned as A Star Is Born (1937).
West's trademark line, which was actually "Why don't you come up sometime and see me?" was addressed to her co-star Grant in the film. Grant later resented her because she always claimed that she had discovered him and made his career with that movie and its successor, I'm No Angel (1933). Both West films made millions and kept Paramount out of bankruptcy. Grant, who had been in vaudeville and on Broadway during the 1920s, had made several movies already, but this was his first major hit.
The picture editor was Alexander Hall, who became West's director for Goin' to Town (1935). He later directed some of the brassy Rosalind Russell comedies. His most famous film was the supernatural comedy Here Comes Mr. Jordan (1941).
West was truly unique in both theatre and cinema history. She was a sex symbol without any public romances, though she enjoyed relationships with many men. No one could copy her or re-create her personality, although later Cher and Bette Midler offered variations on her act. She never really faded away. During the 1940s, after her first film career ended, she was a major theatrical star on tour and on Broadway with Catherine Was Great and Diamond Lil. During World War II, the inflatable emergency life jacket issued by the Armed Forces was named the Mae West after her ample bosom. In the 1950s, she was a headliner in Las Vegas and on a national tour with her muscleman act, which included Mr. Universe Mickey Hargitay, the husband of Jayne Mansfield. West also created one of Oscar's greatest moments when she sang "Baby, It's Cold Outside" with Rock Hudson at the Academy Awards 1958. She stole the headlines from Raquel Welch when she starred in Myra Breckenridge (1970), and Timothy Dalton played one of her husbands in Sextette (1978), her final film.
When West appeared with her wax figure as Diamond Lil at the Movieland Wax Museum in the early 1970s, she told the press that she enjoyed being a legend. "I've had a wonderful life," she said. "A few dull men, but never a dull moment."