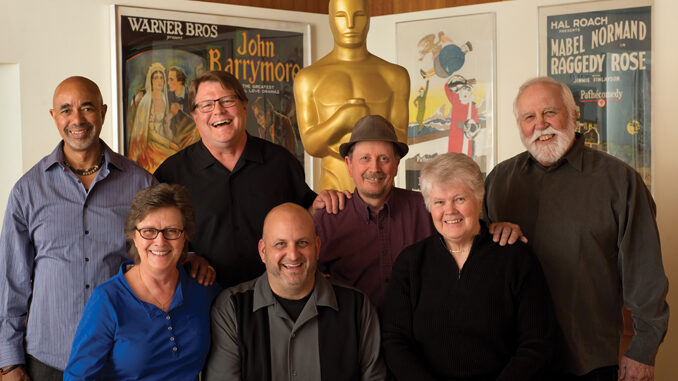 by Debra Kaufman
For over 100 years, the unsung heroes of the film industry have been the thousands of men and women who work in film laboratories. This past February, the 2014 Academy of Motion Picture Arts and Sciences' Scientific & Technical Committee Awards awarded them the acknowledgement they so richly deserve. The Committee honored "all the men and women involved in laboratory work and in the processing of film, for over a century of service to the motion picture industry" with an Award of Merit, an Oscar Statuette.
The Statuette is displayed at the Samuel Goldwyn Theatre at the Academy headquarters in Beverly Hills, until the new Academy of Motion Pictures Museum in Los Angeles is completed, at which point it will be installed there.
At the Sci-Tech Awards, which was partially re-broadcast during the Oscars, director Christopher Nolan — an outspoken advocate for film — accepted the Oscar Statuette on behalf of film lab workers, as well as representing the many directors and cinematographers who still prefer film over digital.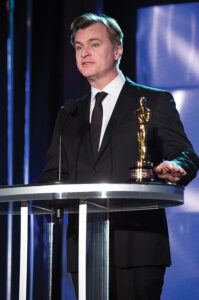 "I'm very pleased to be here speaking on behalf of this award to the men and women who practiced this very special alchemy of film," Nolan said. "For over 100 years, in various windowless rooms, they have turned silver and plastic into dreams. And not just any kind of dreams, but the kind of dreams you can unspool from a reel, hold in your hand, hold up to the light. And these dreams can be run through projectors onto screens where they can spark the imagination, emotions of audiences across the world, as they have for so many years and generations." Even Nolan's upcoming film, Interstellar, was shot on film.
Sci-Tech Awards Committee chair Richard Edlund, ASC, reports that the Committee determined to bestow this award because "the coming year is probably the last year of the film lab." Those words proved prophetic when Deluxe announced that it would close its last film laboratory on May 9 of this year, leaving Los Angeles with no remaining union film labs.
CineMontage spoke to a group of film lab workers whose careers account for over 300 collective years in the industry. Regardless of their job classification, these workers have uniformly enjoyed a career of handling celluloid and are sad to see this well-honed craft come to an end.
One of the highlights of her career in film, says Beverly Wood, a good friend to the lab workers who got her career start at Kodak after receiving a graduate degree in chemistry, has been working with some of the world's top cinematographers, including Roger Deakins, ASC; Dean Semler, ASC; Robert Richardson, ASC; Emanuel Lubezki, ASC; and countless others. She trained in film photochemistry at Kodak and worked for numerous labs in San Francisco and Los Angeles, including Deluxe.
"I still go to the lab," she says. "But my job now is to be a technical/creative liaison with the film's creative team." She adds, "People say they don't see me getting a lot of credit on films. My credit is to help these people get their vision on the screen. Collectively, my job is no more important than the person running the developing machines."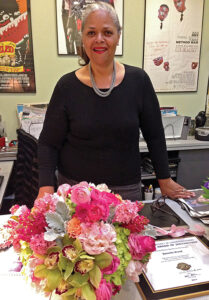 With 35 years in the industry, Jim Passon — a color timer at Deluxe for the last 21 years — got his start in a photographer's lab and segued to color timing. In his career, he has timed dozens of top films, working with James Cameron on Avatar and Titanic; George Lucas on Star Wars: Episodes 1, 2 and 3; Steven Spielberg on Jurassic Park III and War Horse; Gary Ross on Pleasantville; Tim Burton on Sleepy Hollow; and Terrence Malick on The Tree of Life, among others. "In the old days, we color timers sat down and talked with the creative people," he says. "That close collaboration was very rewarding for me."
But times have changed. In the early days, recalls Passon, he worked on a Hazeltine motion picture analyzer. "You'd adjust color timing based on what you saw, and screen it with the cinematographer or director to get comments on how to correct it," he says. "It was a process that would take up to two months from a cut negative to a finished answer print." In the last decade, the scene-by-scene color correction now takes place in a digital intermediate (DI) suite. "We do the small corrections and make sure the film print matches the digital file," he says. "It's very sad. This has been my whole life and now film is going to be gone."
Aaron Smith started his first job as a film lab worker 38 years ago, at Technicolor, where he trained as a developer. "At Technicolor, they had a very, very good training system," he recalls. "They trained you in white light to make sure you knew how to run the machine before they turned the lights off and threw you in the trenches." He learned that training others was part of the program when he found out one of the people teaching him had only been working there a few weeks. "I also ended up doing some training," he says. Later on, he worked at MGM, where he enjoyed a stint in the vault, "a big library full of film," searching for negatives.
After leaving the industry for a while, he came back to lab work 21 years ago at Deluxe, where he started off again in developing but was soon trained for many different jobs. "I went into printing, then release printing, then front-end printing," he says. "Then I became a foreman at night and from there a customer service representative for four or five years." With five classifications, Smith continues to make the rounds of different jobs where needed. "Front End Shift Boss was my last title," he says. "Then I got called back to release printing."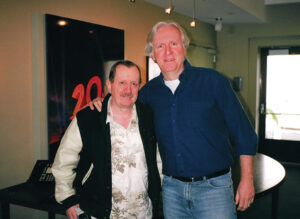 With film finally coming to an end, he remembers how intense the work used to be. "I worked on Schindler's List and it was a nine-reel show," he recalls. "They made 7,000 prints on that movie. I worked 12-, 13-hour days to the point where I didn't know what day it was."
Mary Kaye Coates, who started her 39-year union career learning how to handle film, to use a power rewind and to break down film, became a negative cutter and ended her career as a color timer at Technicolor, which closed its Glendale lab last December. "I loved film," she says. "I loved going to work every day, and the union played a very big part in that."
Most people who have worked in film labs have experienced the vicissitudes of changes in the industry. Christie Meyer, who has been a negative cutter in Hollywood for over 35 years, worked her way up to that job during a 10-year stretch. "I've worked for all the major studio cutters in town, and spent the last 12 years of my cutting career at Disney Studios — until they closed our department in 2012," she says. "I'm now retired and, as I like to tell my friends, I've taken a pair of scissors to some of the biggest stars in town!"
Adam Clark, manager of dailies at Deluxe, has been at that lab for 21 years, worked as a color timer, and has been in dailies since 2001. "The best part of my career was color timing," he says. "Back in the day, when everything was shot on film, working with it opened my eyes to the beauty of film. Most people don't realize how much time it takes for cinematographers to create with lighting. Color timing demanded a lot. You either had the eye or you didn't."
He remembers that 21 years ago, someone pulled him over at the lab and told him that video was going to take over. "Video has gone and film was still there," he says. But starting four years ago, he and many others at the lab saw the writing on the wall. "When we heard the May 9 date, it finally hit home," he says.
As digital takes over, from acquisition to distribution, Clark bemoans the loss of the process of film. "You're taking away so many crafts," he says. "You're taking away such beauty created by so many different people."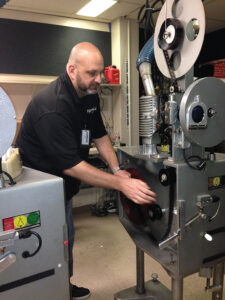 Bob Hand also feels the imminent loss of the medium of film. He began his career in 1966 working in the negative vaults during the transition from nitrate to safety stock, and his career took him from negative dailies to negative cutting. He is now head of negative assembly at Deluxe. "It's been the greatest ride that a person can have, and I'm proud to have been in it as long as I have," he says. Like everyone who has spent a lifetime working with film, he sees the difference with digital. "Film is totally better than anything done digitally," he stresses. "Pixels are not film, and I can see it in the theatre."
James Rondou has been in the industry for 39 years, starting in 1974 at Deluxe and moving to Technicolor in 1978. "The industry was always busy, so we kept very busy — working a lot of hours and weekends…and had a good time doing it," he recalls. A cinetechnician, Rondou spent much of his career modifying the machines to provide specific looks for films such as Apocalypse Now.
Technology was always changing, and the cinetechnicians kept up by teaming with the engineering department. But the biggest change of all has been the move to digital. "The biggest impact was that our production started going down, and there were fewer people," he says. "We all started to work on all the equipment. We started doing more with less. And there were massive lay-offs.
"But I'm thankful there were so many good years and it took a long time for this to come around," he continues. "I had a very good experience working with film, a lot of pride and joy."
Pride and j

oy were what everyone in the film lab industry felt when Nolan accepted the Sci-Tech Oscar Statuette on their behalf. "When I first heard about the award, I was jaded and felt it was a token gesture because we are going away at the hands of digital technology," recalls Meyer. "But then I saw Mr. Nolan accept the award on our behalf, and I realized that it does mean something, and I felt pride. I know we film lab workers form a very small cog in a very large machine, but the recognition is really cool. I can't wait to go to the Goldwyn Theatre and see it."
"Wasn't that fabulous?" asks Smith rhetorically. "Oh yeah, it means something. I'm very proud of what I've done. I will miss a lot of people."
Rondou said he saw the Sci-Tech Award during the broadcast of the Oscars. "Our name is usually never on the credits," he says. "A lot of people have retired or passed on. The old timers were very talented people and hard workers. It's nice to get a little spotlight."
Wood notes how wonderful it is to have an award that's representative of "all the people who have given so much for so many years," including all the labs no longer in existence. "Those people will never be forgotten," she adds. "The fact that the Academy singled out people who worked in the lab business for over 100 years is really great."
She pictures the future, when visitors to the Academy Museum will stand in front of that Oscar Statuette dedicated to an entire portion of the film industry that will no longer exist. "I think it's something people will wonder about," she says.
Now that the Academy has formally acknowledged film lab workers, their crucial role in the first 100-plus years of filmmaking will live on in the legacy of Hollywood.