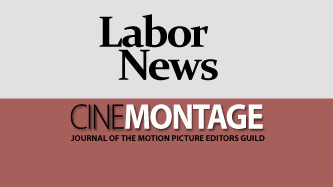 Reprinted from The Hollywood Reporter by Bryn Sandberg on December 2, 2020.
Hollywood is adjusting its filming protocols amid the rise in COVID-19 cases.
The new protocols, which were laid out in a November 19 "side letter" and went into effect two days ago, mandate that producers must notify the unions of both their testing plans around the holidays and of any positive test results on their shows. The amended agreement appears to be in place for the duration of the holiday season, though it may extend beyond that.
"When we and our sister unions negotiated the safety and testing protocols in our Return to Work agreement with producers, we knew that as circumstances changed, adjustments would be required to manage the risk of exposure to COVID-19 in the workplace," the Director's Guild of America wrote in a letter to its members. "The good news is that production has been ramping back up since that time, and early signs indicate that the protocols are achieving their objective of reducing risk and catching infected individuals early in the disease, in most cases before they are contagious."
"But there are steeper challenges up ahead as the prevalence of COVID-19 in our communities is surging — which, if not taken seriously and not addressed properly, may have devastating consequences for our industry," the email continued. "Today, as COVID-19 spikes throughout the country, the upcoming holidays pose an extraordinary risk for increased virus spread. Though we strongly encourage everyone to avoid gathering in public places or with friends and extended family over the holidays, the fact remains that this is still a high-risk time period for everyone. We also know that there is lag time in between initial contact with the virus and when it can be detected in a test." …