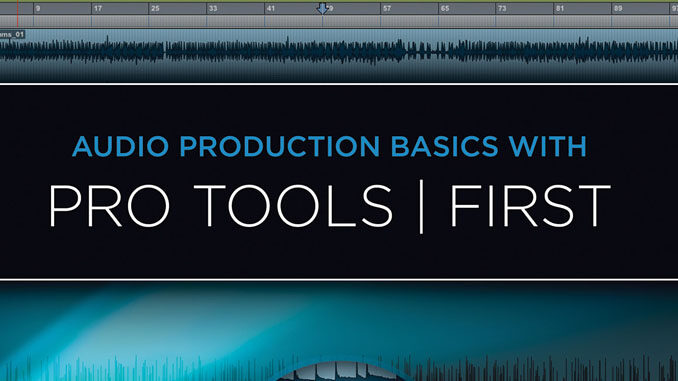 Audio Production Basics With Pro Tools | First
by Frank D. Cook and Eric Kuehnl
Hal Leonard Books, 2017
Paperback, 256 pages, $24.99
ISBN: 9781495095580
by Garrett Gilchrist
In 2015, Avid launched Pro Tools | First, a free, cloud-based version of the Digital Audio Workstation (DAW) software that has been an industry standard since the 1990s. Pro Tools | First is limited compared to the commercial version, and was criticized for being incompatible with it. However, the process of recording, editing and mastering audio is virtually identical in the free and commercial versions of Pro Tools. This makes Pro Tools | First an ideal platform for students, novices and independents who may be new to Pro Tools and don't have an enormous budget. A student who learns how to use Pro Tools | First is also learning how to use other versions of the software.
If you're a Pro Tools instructor, Audio Production Basics With Pro Tools | First provides a guided, formal course of study that will turn beginners into Pro Tools engineers. Authors Frank D. Cook and Eric Kuehnl are educators and Avid Master Instructors. Cook teaches Pro Tools certification at all levels, while Kuehnl is himself a composer. Each chapter of the book is followed by review and discussion questions as well as exercises that will take students through the basics of creating, editing, and mixing a music track. The book has a particular focus on music, but is also applicable to mixing a feature film.
The first version of Digidesign's Pro Tools was released in 1991, offering four tracks and selling for $6,000. It was an economic and accessible digital answer to what had previously only been possible in a studio setting. The dedicated Pro Tools application came out in 1993, and was acquired by Avid in 1994. These first versions of Pro Tools used hardware solutions to work around the limitations of home computers at the time.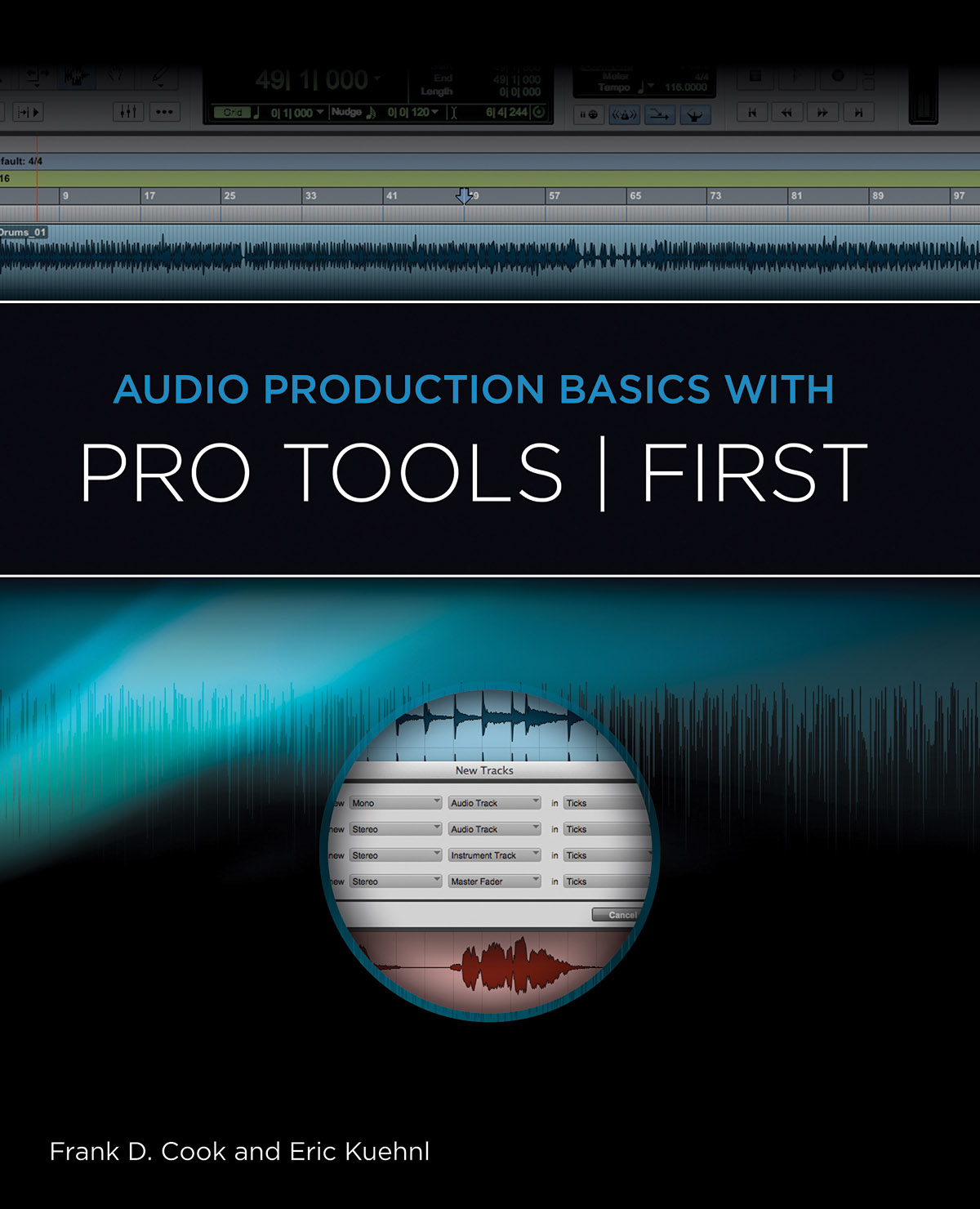 Real-time input and output to hardware workstations helped engineers avoid lengthy render times and bypassed the smaller hard drives available then. Hardware solutions made editing to video possible before home computers could handle full video output. Pro Tools expanded to 24 track, 24-bit audio in 1997. By the late '90s, Pro Tools was an industry standard, whether used in conjunction with studio hardware or as software only. Pro Tools was the first serious DAW on the market and is still generally considered the best.
Today, there are many competing DAW packages for editing and mixing an album or a film, such as Cubase, Logic, Reason, Ableton Live, Studio One and GarageBand. But any student will want to know Pro Tools like the back of his or her hand. For those who want to be certified in Pro Tools, or just have a grounding in the software, this book is a good first step. Instructors teaching Pro Tools at an entry level will find a well-structured course here. It doesn't go much further than the basics, but that will be enough for a beginner.
The first chapters of the book are very basic, and most students and instructors will want to skim or skip over them. The first chapter, "Computer Concepts," is for a student with very little computer knowledge. It discusses what to look for when buying a computer and how to work with files on Windows and Mac OSX. Those not fully computer literate (or switching from Mac to PC) may appreciate the lesson, but it seems like a waste of page space in a guide to Pro Tools. The writers appear to be more comfortable with PC than with Mac, as their advice is incomplete. They conflate the Desktop with the Finder and suggest that an installed application will end up in the Dock. A true beginner will need more help than this chapter gives.
Instructors teaching Pro Tools at an entry level will find a well-structured course here.
The next chapters are also introductory, discussing what a Digital Audio Workstation is, as well as microphone and hardware use, how a microphone works, and the basics of audio recording. Chapter Four deals with MIDI as a format, and MIDI hardware. This is basic stuff, but you'll be glad that the book doesn't assume students already have this knowledge. These chapters ask students to think critically about their budget, about what hardware they purchase, and about recording techniques. As the rest of the book deals with the Pro Tools software, it's worthwhile to spend a few chapters discussing audio recording generally.
We are 100 pages into the 256 page book before we really get started using Pro Tools | First. The free software is limited to 16 simultaneous tracks, and can save only three projects using cloud storage. It is not compatible with the commercial Pro Tools and does not support video. But the basics of the free and commercial Pro Tools software are identical, and students using any version of the software will learn what they need here. The book covers recording, editing and mixing audio and MIDI, as well as using filters and signal processing.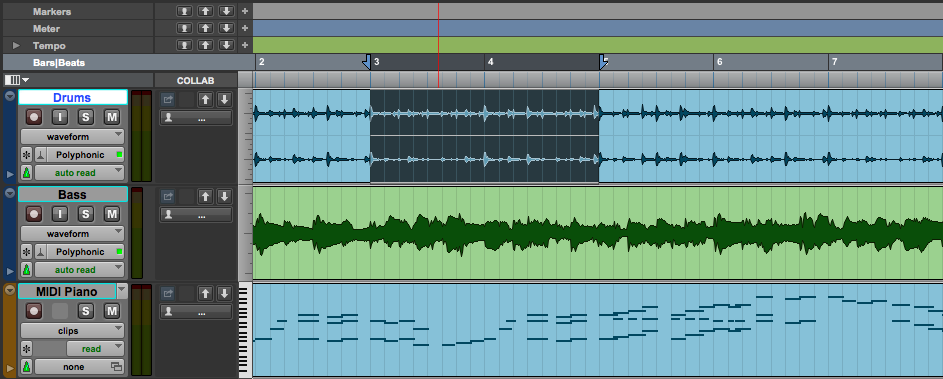 Chapter Five covers the Edit, Mix and Transport windows, including Edit modes (Shuffle, Slip, Spot and Grid) and Record and Playback controls. Chapter Six looks at recording Redbook and MIDI audio, importing files, editing with trims and fades, and working with virtual instruments.
Chapter Seven is about mixing techniques, starting with using a Master Fader and avoiding clipping, as well as processing with Inserts and Sends, and external gear. The book is most clearly geared toward creating and mixing a music track for CD release, which is fine, as any Pro Tools editor should know how to work with music as both MIDI and audio.
The book also pushes the student to think about the mix as a whole in a creative way. A sample project to work with is provided, and the student has to think about the best way to mix the track from individual instruments as a stereo piece. Where are elements getting lost and muddied in the mix? Will it help to pan them left and right? Can careful equalization, compression and filtering open up space in the stereo image so that each element can be heard?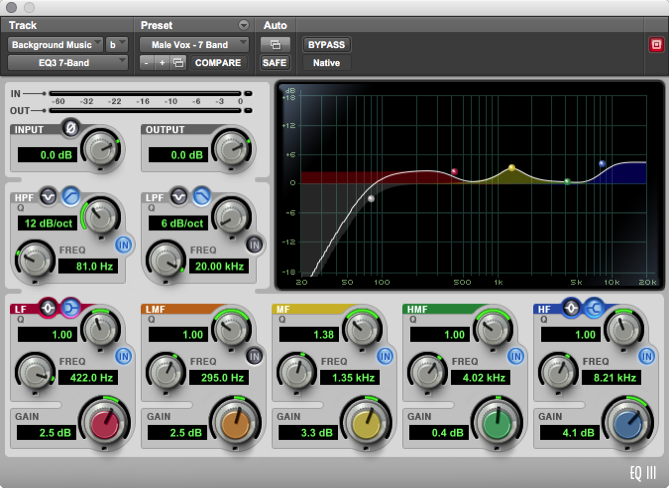 The book is most valuable at these moments, where it works to teach the student to listen and make decisions on both the technical and creative levels. There is so much about the art of audio editing, recording and mixing that can't easily be taught, and requires time and practice on the part of the student. This book, to its credit, encourages that practice, and the process of listening.
Working with both MIDI and recorded audio, a musician who is otherwise untrained in editing could use this course to approach music from a musician's standpoint.
Chapter Eight looks at signal processing using plug-ins, with strategies for using EQ and dynamics processing, making use of a Compressor and Limiter. It discusses Reverb and Delay, as well as using simple Send-and-Return configurations to process multiple tracks.
In Chapter nine, students are writing real-time automation and using the pencil tool to set changes in levels, as well as bouncing a final CD-ready mix to disk, with dither to affect the signal quality in quiet sections.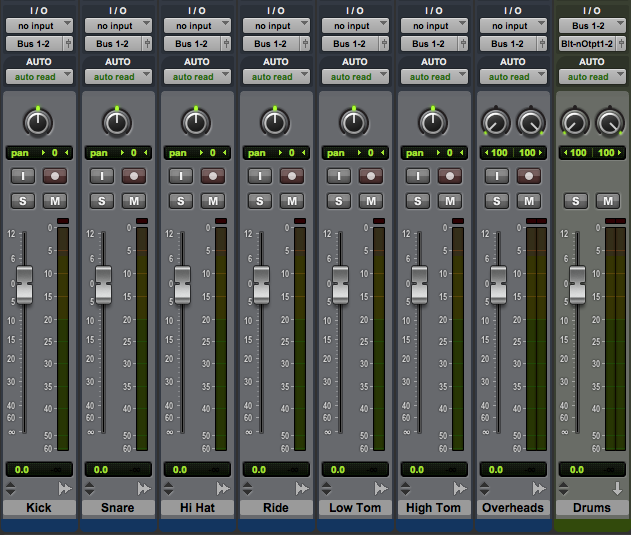 Chapter Ten goes a little beyond the basics, using Elastic Audio to warp timing, editing MIDI with quantized re-timing to match the set temp, and altering MIDI note duration and velocity. The book wraps up with sub-mixing, keyboard shortcuts and exporting a final project.
As with any software instructional book, the manual and other online courses will cover the same basic material, so the choice is yours. This book provides the core knowledge that a beginning student can hopefully expand on creatively in future work. It's not a full semester of material on its own, but it's also not too complicated to scare off beginners, easing them into what they need to know on a technical level. An instructor looking to teach Pro Tools or a beginning student will find that this book puts them on solid ground.
The book can be purchased here: https://www.backwingstore.com/products/audio-production-basics-with-protools-first.