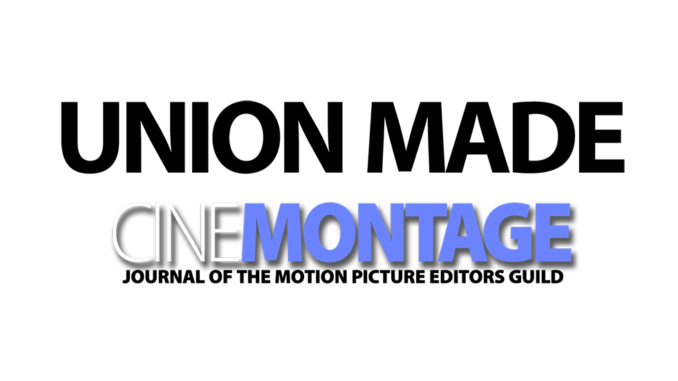 by Chris Willingham, ACE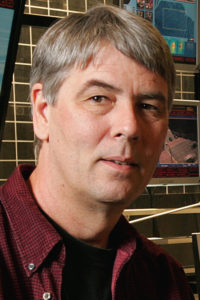 My father was what was referred to as a "film technician," working at Technicolor Hollywood on the swing shift. We had but one car and I remember riding with my mother to pick him up from work every night. He'd get in the car reeking of film chemicals and I'll never forget those odors. Later, when I was working in the business, I would open a can of newly developed film dailies and re-encounter that same smell. Ah, the memories…
In the early 1970s, after a stint in the Navy, I landed a job in the mailroom at KHJTV and KHJ-AM Radio station in Los Angeles (now KCAL). The TV division had a film library of hundreds of classic movies— mostly 16mm with optical tracks, which picture editors would cut down to fit specific time formats. I found the entire process extremely interesting and let my bosses know as much. When one of the editors left, a door was opened for me and I was hired as an assistant! Due to the "Catch- 22" nature of my hiring, I was able to join the Editors Guild because if one got a job then one was accepted into the union.
While assisting at KHJ, I was responsible for cleaning the movies cut down by the editors, and I prepared 16mm commercial film reels for telecast by hot-splicing the day's scheduled spots together. Later, I was promoted to editor and, besides cutting down films for time, I also cut 16mm news film footage for the nightly news. The 16mm film had a mag track on the nonperf side, with the normal pull-up having to be dealt with when cutting. Sometimes the footage was MOS with the reporter doing a voiceover on a separate, unexposed reel of film. The reels were A and B, with both running at the same time while the technical director switched between projectors. I did this for about five years.
Yearning to work in the "majors," I used my vacation time to hang out at Universal TV's post department with the editor who had left KHJ earlier. There, I was able to learn about synching of dailies, creating and managing a code book, and the many other stages of getting a television show completed—until finally I was offered a job. I assisted on The Incredible Hulk, BJ and the Bear, a few original Battlestar Galactica episodes and various other TV shows.
While on 24, I was fortunate enough to garner three ACE Eddie nominations and win three Emmys. For me, Morgan & Wong + Johannessen = 24.
Eventually, I landed at Stephen J. Cannell Productions after being referred by an editor at Universal. My new editor was generous in letting me cut as much as I wanted before and after regular hours and was kind enough to let the producers know which scenes I had cut. This paid off when an editor left and I was promoted to editor on The Greatest American Hero. This began my 13 years with Cannell.
While there, I worked on a number of shows, including The A-Team and 21 Jump Street. Around 1995, Cannell closed his doors and began writing novels. For the first time in many years I didn't know where my next job would come from! Then I heard about a show called Space: Above and Beyond, which was created, written and produced by Glen Morgan and Jim Wong—whom I had met on 21 Jump Street. I called Jim, told him of my availability, and was hired. They soon recommended me for Chris Carter's show Millennium, which they wrote and produced with Chip Johannessen. Meeting Chip would turn out to be very fateful for my career.
After three years on Millennium, I cut several projects for Glen and Jim until our paths parted once again. I edited some movies-of-the-week at Paramount before getting a call from Chip. He was a writer on a new show called 24 and, with his recommendation, I got the gig. What a turning point that was! While on 24, I was fortunate enough to garner three ACE Eddie nominations and win three Emmys. For me, Morgan & Wong + Johannessen = 24.
After the third season of the hit series, I again got a call from Chip. This time he was doing a show called Empire and my wife Lynne (also an editor) and I were brought aboard to edit. We spent the summer of '04 working together in Rome…a once-in-a-lifetime opportunity.
After returning to 24, I received a call from none other than Glen. He and Jim were doing a feature called Final Destination 3, which Jim would direct. With the blessings of the producers of 24, I was able to depart and do the movie. It was my first feature. I am now currently editing another feature, this one written and directed by Glen.
This whole career has seemed like my personal version of "Six Degrees of Morgan, Wong and Johannessen." It is a prime example of how important relationships and networking can be in our line of work.