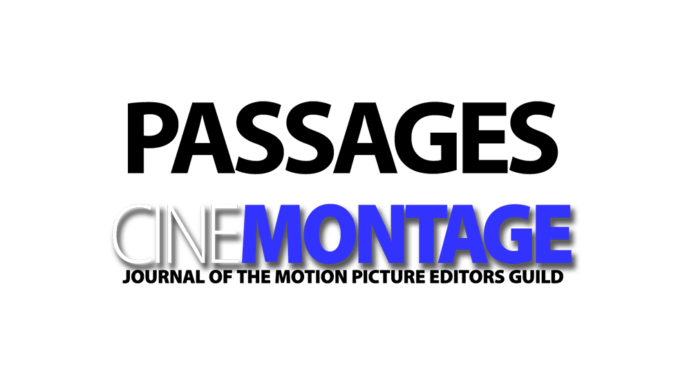 Anne V. Coates, ACE
Picture Editor
December 12, 1935 – May 8, 2018
Anne Voase Coates, ACE, who died May 8 at the age of 92, edited more than 50 films during a prolific career that lasted for six decades. She was best known for her work on David Lean's 1962 classic Lawrence of Arabia, for which she won an Academy Award. She received further Oscar nominations for Becket (1964), directed by Peter Glenville; The Elephant Man (1980), by David Lynch; In the Line of Fire (1993), by Wolfgang Petersen; and Out of Sight (1998), by Steven Soderbergh.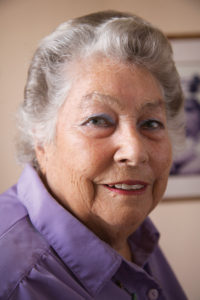 "I've worked with directors from David Lean to David Lynch, Carol Reed to Wolfgang Petersen," she said in 2016, accepting an honorary Oscar statuette from the Academy of Motion Picture Arts and Sciences at its eighth annual Governors Awards. "I would like to thank them all for the good times and manic times and even the time they kept me in the cutting room seven days a week," she joked. Coates was only the second picture editor to receive this distinction — after Margaret Booth in 1977.
The daughter of Laurence Calvert Coates, an architect, and the former Kathleen Voase Rank, Anne V. Coates was born Dec. 12, 1925 in Reigate, a few miles south of London. Initially, she went into nursing, working at a plastic surgery hospital, where World War II pilots and children injured on bombsites were treated for facial injuries.
She got her start in the industry at Elstree Studios in London in the 1940s, repairing prints of religious films. Later, one her of key assignments at Pinewood Studios in Buckinghamshire was as the lone assistant to Michael Powell's main editor, Reginald Mills. Early films to which she contributed included The Red Shoes (1948), directed by Powell and Emeric Pressburger.
Lawrence of Arabia made an international star of O'Toole, and earned six Academy Awards. During the edit, Coates made her famous match cut from O'Toole blowing out a match (she was fully aware of the technical pun) to a panorama of the sunrise over burning desert sands. In time, this became one of the most famous cuts in cinema.
Coates continued her lifelong passion for the craft with characteristic humor, humility and insight, all the way to her final completed film, Sam Taylor-Johnson's Fifty Shades of Grey (2015).
She was honored with an OBE (Officer of the British Empire) for her contribution to the arts in 2003, and made a fellow of the British Academy of Film and Television Arts (BAFTA) in 2007. She was also honored with a Career Achievement Award by the American Cinema Editors (ACE) in 1995.
Coates was married to the late English film and television director Douglas Hickox. She is survived by her sons, Anthony and James, both directors, and her daughter, Emma Hickox, an ACE editor.