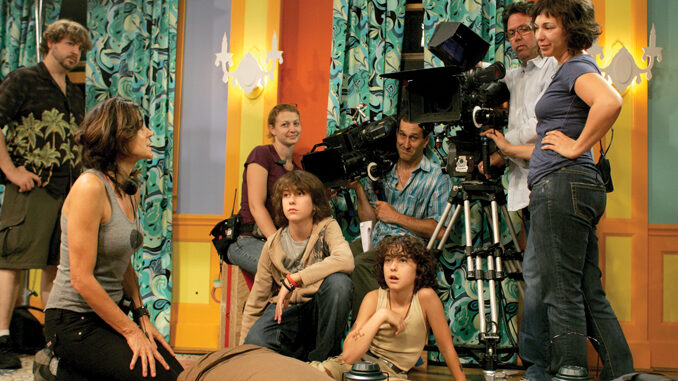 by Michael Grotticelli
There's an old adage in show business that if you want to ensure success, avoid working with kids and animals. Don't tell that to picture editor Craig Cobb and supervising sound editor Louis Bertini, MPSE, who help post one of Nickelodeon's hit shows, The Naked Brothers Band.
Cobb and Bertini also worked together on all six seasons of HBO's Sex and the City and said they find The Naked Brothers Band equally challenging, but in different ways. "The truth is that a number of us who've worked on both Sex and this show will tell you that there's not a big difference," Bertini says. "The approach and constriction of the audio elements that we bring to Naked Brothers is rather similar because of the New York ambiance–– except that the sound effects for this show have a larger cartoon element. However, both shows are not sitcoms, so there's no laugh track."
"Getting them to listen to what I have to say is the hardest part," Draper explains. "But then again, that's no different than at home."
The Naked Brothers Band started in 2005 as an independent feature-length "mockumentary" that was released in theatres (it won Best Family Feature at the Hamptons Film Festival that year). A flurry of Internet buzz followed. As a regular TV series, it has evolved from a low-budget independent production to one of the top series on the kids network. Produced by Kidzhouse Entertainment, the show follows a group of kids in a popular teen band––at home and on the road. Other characters include a kid manager, a nanny and a large adult bodyguard.
The show is a family affair, including two real-life brothers (Alex and Nat Wolf) and their father (Michael, who is the co- executive producer and music supervisor of the show), while their mother (former thirtysomething actress Polly Draper), who created the show, works behind the scenes as executive producer/head writer/director.
Draper is directing five of the 13 episodes of the current season, often relying on a backstage monitor instead of walking onto the set to keep track of block- ing. The real-life mother/sons relationship sometimes penetrates the set as, during one long production day in July after Draper gave one of her sons a stage direction, an exasperated voice could be heard saying, "I know, Mom!"
"Getting them to listen to what I have to say is the hardest part," Draper explains. "But then again, that's no different than at home."
As the lead singer and songwriter for the Naked Brothers Band, Nat is acknowledged as a child prodigy. His father is an accomplished jazz musician himself who served as the band-leader and musical director of The Arsenio Hall Show from 1989 to 1994. The show is shot on a soundstage in Brooklyn and posted at Soundtrack in Manhattan.
Each episode is shot with two Sony HDCAM F950R cameras in about five days. Camera operators now shoot the show in 16:9 high definition (HD) while framing for 4:3 audiences. They often use some CGI and green screen effects for the show and its music videos. On-set digital imaging technician Rick Nagle shades both cameras on the fly from a backstage rolling cart. The setup is highly portable, allowing him to move from the indoor set to an outdoor location when required.
Cobb said that because the show is very improvisational in nature––causing him to have to deal with so much footage––he approaches the show with the eye of a documentarian.
Intensely watching a CRT monitor during production, Nagle said that he tries to match skin tones and stay consistent to the overall look of the show. Now in his third season on The Naked Brothers Band, he knows what the producers want and how the final playback should look.
Once the footage has been captured for a specific episode, Cobb puts together a rough assembly in four days on Apple's Final Cut Pro HD software (unique for a primetime series). Then Bertini takes over and spends an additional four days adding sound effects and replacing any unwanted dialogue. Simultaneously, the show's music editor,JohnDavis, is working on the band's musical numbers. Once the final sound mix is complete, Cobb does a final check of the lip sync between the picture and audio track, paying close attention to the music performances. This often requires some adjustment using FCP's scrubbing tool. In total, each episode takes about four weeks to complete.
"Sometimes I throw in a one-frame jump cut to make the scene look right, depending upon the individual performance," Cobb offers. And therein lies one of picture and sound editorial's biggest challenges: Working with non-professional actors often means having to cull through numerous takes before finding the right one.
"I have to watch all of the dailies to find the gem among the performances," Cobb explains. "Since I have been doing the show for so long, I know what the producers are looking for and have become good at finding it rather quickly. When I see these moments, I start my cut of the scene with them and work backwards. It does take a lot of time and creativity to make things look good."
The show's work flow has also evolved over the three years it has aired. The first season show's footage was down-converted to standard definition (SD) during the encoding process in order to prepare for edit sessions. This past season, the footage was down-converted to Digital Betacam on the set in a small video village setup. Cobb's assistant editor, Jason Barnes, then digitized the dailies into the QuickTime file using the ProRes 422 codec. "We'll often use a day just to polish what's been set up in the offline edit," Cobb says. "So time is very critical. And we do it all in Final Cut Pro."
This season, the show is broadcast in standard definition 4:3, so the tapes will be coming back and loaded into Cobb's work- station using Apple's ProRes 422 codec within a QuickTime file to maintain the highest quality possible. All video effects and online editing is also completed in Final Cut Pro.
"The 16:9 SD workflow was the plan for the 2008 season, but that has changed," Cobb reveals. "We're working in 4:3 SD with the ProRes 422 codec, so we're cutting in a broadcast-quality format that we'll later output without having to recapture all the footage." Because he needs to look at everything captured on the set, Cobb uses a lot of drive space. Last season he averaged 300GB to 400GB per episode. The final masters will be delivered to Nickelodeon in SD 4:3.
If they decided to produce an HD version in 16:9, there will be lots of issues to be concerned with regarding the wider aspect ratio, the edges of frames and what the director and producers want––or don't want––the audience to see. Also, in repurposing older footage, all of the old footage will have to be re-digitized in 16:9.
"There are many issues to consider," Cobb says. "If I were able to cut it 16:9, I would be able to keep an eye on the out- side edges of the frame. Since I only cut it in 4:3, I don't get to see what's going on in the entire frame. Therefore, should an HD version be required, potentially a lot of adjustments will have to be made in the final edit.
"Occasionally, we've had to look at the 16:9 footage to reposition a couple of shots and I've seen light stands and such that will have to be removed somehow in a 16:9 version of the show," Cobb adds. "However, everything has been shot in 16:9 HD, so we will never have to stretch any images to fill the 16:9 frame."
For his part, Bertini said that the audio becomes a character in the show. "The sound editing is subservient to the video given to us by the director, but I always try to bring the outdoor sounds of the city into the studio set," he said. "We add lots of sound in order to accomplish that–– whether from a sound effect library or elements we capture ourselves." He also reveals that a lot of the same sound elements used in Sex and the City are used for The Naked Brothers Band, although he changes the pitch, the speed and manipulates them in different ways to make them sound different.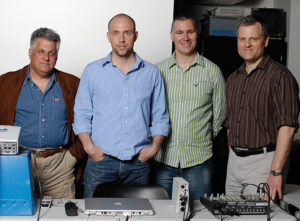 Working from Cobb's first-cut video track and sound elements recorded by the show's recording supervisor, Stu Deutsch, Bertini mixes the dialogue, adjusts flubbed lines when necessary, eliminates unwanted fan noise from the cameras, adds sound effects to emphasize a certain point in the script, and generally smoothes out rough audio spots in the scenes. This often takes four days of finessing. Re- recording mixer Colin Weeks then mixes the final elements together on a Digidesign Icon audio mixing console at the Soundtrack facility before the episode is delivered to Nickelodeon for broadcast.
Bertini works with Digidesign ProTools, generating .WAV files for Cobb to complete the episodes. He said the .WAV for- mat is useful because it contains the most metadata and makes the post process run more smoothly. He uses about 20GB of storage to hold the dialogue for each episode. That's in addition to about half a gigabyte for ADR and 10GB for original and stock library sound effects. Bertini estimates he can use four 250GB drives for an entire season. And that's just for the audio.
"What always amazes me on this show is how quickly inspiration can come with these kids…and how quickly it can leave," Cobb says. Bertini agrees with him that working with kids makes things "interesting" during the post sessions. "Because the actors are kids, there's a tremendous amount of ADR work that has to be done––much more for this than was ever done for Sex and the City," he explains. "The kids make mistakes; they mumble. For me, it's a lot of extra work, and I have learned to work fast. After two seasons, I know the routine."
Cobb said that because the show is very improvisational in nature––causing him to have to deal with so much footage––he approaches the show with the eye of a documentarian. "The biggest challenge is staying true to the script while also trying to capture the magic on set, which often is not written down," he says. "Then, you have this added layer of music that you have to bring into it. Remember, the kids are not actors. It's a real challenge. You have to use a use a lot of different thought processes to make this show work.
"Unlike with shows that use experienced actors, I can't depend on them to do exactly what they are supposed to do," he said. "That's when the magic happens and it's what makes this show really shine. Sometimes it's often messy to get to that point, but in the end it's well worth it."
What's clear is that through a lot of hard work and "serious, but not too serious" effort, the show stands out among the heavily structured shows that now dominate children's television. According to Draper, she works hard to give the show "a very improvised, uncalculated, spontaneous feel." She's also making a show for adults as much as for kids, so that families can share time together at home watching.
"I always hope that parents will enjoy the show as much as the children," Draper says. "I'm also very inspired by my son's songs, so a lot of the feelings and thoughts in the episodes revolve around those. We treat this show like an adult comedy, not like a typical kids show. If a joke goes by unnoticed, that's all right with us. With the third or fourth viewing, kids will pick it up, as opposed to most children's fare, where most jokes are signaled and cued."