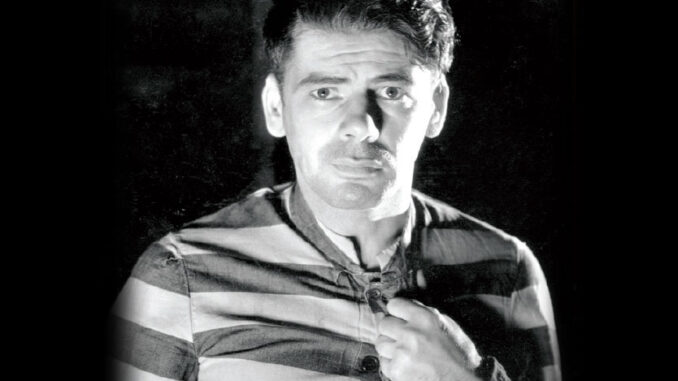 HOW A 1930S CLASSIC INSPIRED A YOUNG FILM LOVER
By Elizabeth Green
As a pre-teen, to escape a stressful family life, I retreated into the world of old movies by watching a triple-feature on TV every Saturday afternoon. When I was 13, my family moved to within walking distance of my grandmother's apartment, which became my favorite new place to spend Saturday afternoons. She taught me to play Scrabble and drink Sherry (just a little, she always laughed, as she poured herself a Scotch) as we talked about books, politics, theater and movies. But the most amazing revelation for me was to be found in the old gray metal filing cabinet in the den of her two-bedroom apartment.
My grandfather, Howard J. Green, was a screenwriter from the 1920s through the 1940's and here in this crammed metal depository, I discovered a treasure trove of screenplays that started a decidedly un-teenage hobby — reading scripts. Though I thought it had a dumb title (I was 13 and already a critic), my favorite was a dark, stunning story of a WWI vet who's wrongly convicted of armed robbery and sentenced to hard time on a Deep South chain gang. I was allowed to carry home only four scripts at a time, but I read these over and over, learning stage direction, dialogue, story, and structure.
As a young teen, I reveled in the Golden Age of Hollywood nostalgia, adulation and horror in the remembrances my grandmother would share of both the lovely and god-awful people they had known. I walked into one of my first film classes at UCLA flabbergasted to see that the wonderful story with the title I didn't like and had yet to ever see — "I Am a Fugitive from a Chain Gang" — was on the syllabus. I sat quietly in the lecture hall, privately thrilled as the movie screened. I was impressed with its dark realism but even more memorable was the professor telling us that this movie is a seminal piece of film history, which helped usher in an entire genre of social justice movies. I remember the feeling of pride as clearly as I remember the last line in the film: Wrongly-convicted-now-escaped felon James Allen (Paul Muni) comes to say a final farewell to the woman he loves. She asks desperately, "But how do you live?" "I steal," Muni whispers, as he disappears back into the shadows.
In the movie, World War I vet Allen returns from war unsettled and sinks into poverty and depression. He gets caught up in a robbery and is sentenced to 10 years on a chain gang. Though no studio wanted to make such a somber movie during the Great Depression, the gravitas of the true and brutal narrative convinced Warner Brothers to take a chance. The film would be nominated for three Academy Awards, including Best Picture. After its release, Robert Burns (the real Georgia prisoner on whom the story was based) appealed his conviction, and his sentence was commuted to time served. "I Am a Fugitive from a Chain Gang" launched public outrage and real prison reform. It's melodramatic and dated now, but who among us at 85 wouldn't be?
My grandfather was one of the founders — and the first president — of the Screenwriters Guild. In the early 1950's, in good part because of being labeled a union troublemaker, he was "Gray-list" from the studios. In his 70s, after giving a speech for the ACLU, he went backstage, sat down, and died. When I was able to join the Motion Picture Editors Guild as a story analyst, (where watching movies, reading scripts and books, and writing about them is what I'm lucky enough to do every day), I did, and still do, fully appreciate everything for which he fought.
I still think of my grandfather often. He's been my role model, the man who, through his character and his characters, taught me to stand up for what I believe, and the idea that a truly good movie can entertain and enlighten at the same time.
---
Elizabeth Green is a Story Analyst who has spent most of her career specializing in covering books for Dreamworks/Amblin. Among her favorite projects have been "A Beautiful Mind," "The Kite Runner," "The Hundred-Foot Journey," and "The Girl on the Train."