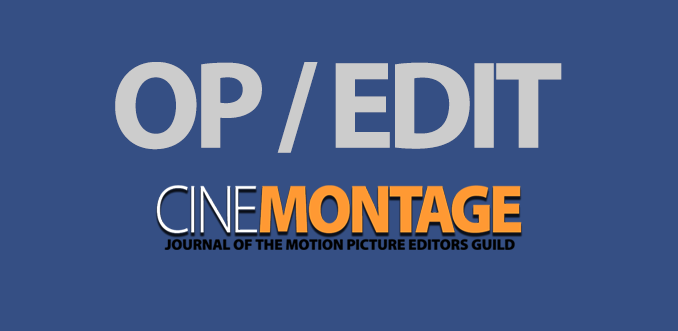 by Nik O'Dell
The differences in style between a UK unscripted TV show and its US genre equivalent is akin to swapping the frosty drizzle of London for the mid-winter sunshine of California. The format of the shows may appear similar to the audience, but every minute needs to be crafted and tailored for the country of its intended viewer. You wouldn't expect a New Yorker to dunk a biscuit in a mug of milky tea, would you?
As an offline editor from London previously working on UK shows such as Top Gear, Britain's Got Talent and The Apprentice before moving to Los Angeles, I've had to master the etiquette of tipping, learning to own the freeway, embracing Thanksgiving – and navigating the viewing tastes and expectations of American audiences. Along the way, I've discovered that the transition requires unique adaptations to insure that any show won't be lost in cultural translation.
Despite the similarities between our popular cultures and shared language, cutting reality TV is a world apart, in terms of style and process, from one side of the pond to the other. Just compare the twee Englishness of Great British Bake Off to the heated competition of Masterchef. Which one is better, of course, is down to personal taste. Is UK TV slow and boring or well paced and measured? Is US TV fast and crass or thrilling and suspenseful? This is a matter for debate, but what are these crucial differences and editing tricks that make these cultural transitions work?
Firstly, the pacing accelerates on US TV. For us British, it's time to ditch our inner Downton Abbey, get in that bay, grab that cutting axe and channel our best Game of Thrones. Gone are the goofy challenges and camping calamities of I'm a Celebrity, Get Me Out of Here, and it's straight in with the cutthroat drama of Survivor.
Driving this pace in US cuts is sound design; shows are scored heavily with music, and sound effects accentuate storylines and contestant reactions, as well as ramp up emotions. In the UK, music and effects are used sparingly and often sections are left "dry" with no music. Where a UK show may use silence to illustrate an awkward moment, US TV would use a sting or heavily scored section.
For instance, the British hit show First Dates – in which hopeful romantics search for love under the scrutiny of the cameras – uses a distinct lack of music to highlight the cringe-worthy, bittersweet moments of matchmaking. Whereas the US dating phenomenon The Bachelor highlights every shocked look, tear and tantrum with swelling music.
On a practical note, UK shows have the luxury of using more commercial music, while US TV is often cut to library tracks, due to licensing costs. As the score is such an integral part of any cut, both approaches have their challenges. Although the excellent libraries mean that music is quicker and easier to find in the US, the quantity of tracks needed and frequent change-ups make it a labor-intensive process. The overall sound design on a US cut – complete with movie-emulating soundtracks, effects and stings – is a carefully crafted feat.
In the UK, it can be an endeavor to find a commercial track to score a scene, but the perfect, recognizable song can make or break that scene. The use of commercial tracks is such a powerful tool on Britain's Got Talent that America's Got Talent is one of the few unscripted US shows that has dedicated resources to it. We're all familiar with the moment when young hopefuls fulfill their lifelong ambition and finally – to the rousing crescendo of Andra Day's "Rise Up" or something similar – dissolve into tears as the judges press the golden buzzer sending them through to the final round.
Another important difference is that US TV values longer super-teases, "Tonight on's" and "This season on's." Teasing is such a big part of US TV that a considerable amount of offline time – and a single editing department – is dedicated to cutting them all. The Bachelor takes this device very seriously, skillfully offering up mini-stories in 25-second chunks, dropping enough bombshells to stop viewers from switching channels…without giving away storylines the way contestants dish out roses.
This being said, despite all these differences between the US and UK reality tv shows, there is something missing. This is perhaps the sense of nostalgia felt when watching these reality tv shows. Although the US might be more snappy with its editing, something about the UK format is so inviting. Needless to say reality tv from across the pond can be missed. However, one way this could be eased is through the use of a VPN. Now you are able to watch ITV from abroad with a VPN, which may help you in relieving any symptoms of homesickness when thinking about your favorite British reality shows.
The UK and US are two of the top TV industries in the world and have shared talent and formats for many years. In front of the cameras, British exports such as James Corden and John Oliver have had to get a measure of their new audiences and often adapt their humor or style of delivery. So too have many expats, like myself, working behind the scenes. Whether it's baking or ballroom dancing, housewife showdowns or house flips, it is an editor's job – no matter from where he or she hails – to create the unique alchemy that makes a show hit its audience right in the feels.
Since skills, techniques and ideas are regularly taken back and forth across the pond, maybe the UK will follow the US' lead and one day find itself with a prime minister from an unscripted show. Gordon Ramsay, perhaps?