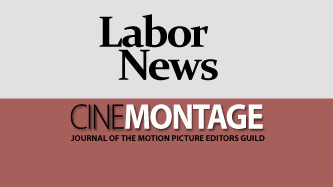 Reprinted from Deadline Hollywood by David Robb on August 10, 2020.
The WGA West told its members Monday that, as production begins to ramp up amid the coronavirus pandemic, writers should not sign liability waivers exempting employers from their responsibility to provide a safe workplace.
"Your employer is required by law to provide a safe and healthy workplace both in the [writers] room and on set," the guild said in its latest communique to members. "Please do not sign a waiver of liability that seeks to shift responsibility onto your shoulders." Several other guilds have adopted similar "no waiver" policies, including SAG-AFTRA, the DGA, the Cinematographers Guild, the Editors Guild and the Art Directors Guild.
"You have a right to be safe in your workplace and the Guild will enforce that right," the WGA West's staff said, noting that writers' rooms should continue to be conducted remotely until further notice. "In order to protect the health and safety of writers and their loved ones, we want to emphasize the mandate to keep writers' rooms remote at this time. California and many other state and local guidelines currently require employees who can, to work remotely. LA County's order says: 'Everyone who can carry out their work duties from home has been directed to do so.' …