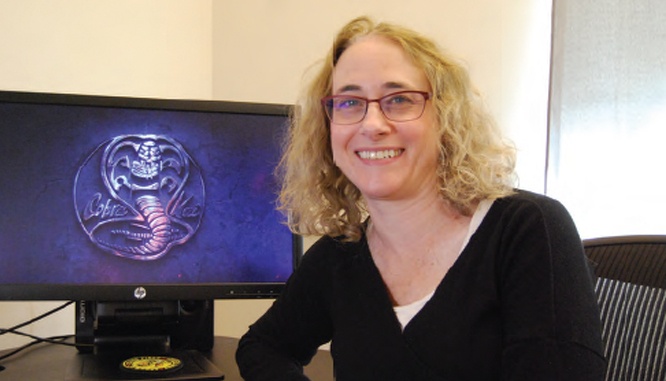 Q: Where are you currently employed?
Sony/Netflix
Q: Current projects?
"Cobra Kai," season 5.
Q: Describe your job.
My job as assistant editor starts with project organization and dailies. I will talk with the post producers and post supervisors, editors, and assistant editors about workflow so we can plan the rest of the post process. On "Cobra Kai," my editor, Zack Arnold, likes to use the app Trello to organize the paperwork. It's a virtual version of old-school looseleaf binders or index cards on a bulletin board. We also use it to keep track of where we are on each episode. Since we're all working remotely, it's a really great way to collaborate. After organizing the dailies, I help out on cuts with sound effects, music, and basic visual effects. Other parts of my job include attending edit sessions with the director and producers and taking notes. I create exports of cuts to send out to the director or producers or the network and studio for their notes. After picture lock, I handle turnovers of the locked cut to our vendors handling the on-line, color, sound, music, and visual effects. Since I'm working towards becoming an editor, I'm also cutting scenes. We workshop the scenes I've cut. It's more than just notes; I have to dig in deep to find the meaning behind the scenes, character motivations, and why I made my editorial decisions. I value this feedback to help me grow as an editor.
Q: How did you first become interested in this line of work?
When I was 16 years old, I went to Usdan, a performing arts camp in New York on Long Island. They had a new video program I thought would be fun. I loved it and thought this could be great to do for a career.
Q: Who gave you your first break?
I got my start in reality television, but I had dreams of working in scripted. My first big break in scripted television was "Quarterlife," an hour-long drama for Myspace/NBC. I landed this job because I was on the available list. (Yes, being on the available list does work!) They needed a night assistant editor. I am so grateful to the associate producer who took a chance on me. After the show wrapped, we stayed in touch. She hired me a couple of times to fill in on shows that needed an assistant to cover for a week or so, and then she recommended me to a colleague for an assistant editor position on an HBO show, which led to many more opportunities.
Q: What was your first union job?
In 2007, I became an online assistant editor on "Watch Over Me," a one-hour drama on MyNetworkTV.
Q: What credits or projects are you proudest of, and why?
I'm most proud of my current show, "Cobra Kai." Zack Arnold, whom I mentioned earlier, is a great mentor and editor. He was instrumental to my earning a co-editor credit on an episode in season 4 and two more on season 5, which is currently in post-production. I'm also very proud of the work I did as an editor on a short film called "My Dead Roommate." It was created and produced entirely by women during the height of the pandemic, and it was really fun to do!
Q: What was your biggest challenge in your job (or on a particular project) and how did you overcome/solve it?
My biggest challenges involve how to effectively communicate my needs or the needs of the show. Sometimes politics are involved, so then I turn to my editor or trusted colleagues for advice.
Q: What was the most fun you've had at work?
"The Middle," a half-hour comedy on ABC. I worked on the show for five seasons and became friends with not only the whole post team but also some of the on-set crew. Every aspect of "The Middle" was done on the Warner Bros Ranch Lot. The writers room, post, and sets were all there, and we all got to know each other. We usually had our lunch break when the crew broke for lunch. I was invited to join some of the crew to do yoga in the last 15 minutes of their lunch break. It was a great way to get in a little exercise during the workday as well as a way to build camaraderie with the crew.
Q: Jobwise, what do you hope to be doing five years from now?
I've been working toward the career goal of getting hired as an editor for the past couple of years now. I worked on these goals in the Optimize Yourself program (optimizeyourself.me) that Zack created. The goal I came up with in the spring of 2020 was to be hired as an editor by the end of 2020. That goal changed because of COVID-19, so my goal for 2022 is to be hired as an editor before the end of the year. My goal for five years from now is to be a regular working editor on shows that speak to me.
Q: What are your outside activities, hobbies, passions?
I love to go hiking and to spend time with my husband, our daughter, and dog Mabel. I also love the discussions my husband and I have about film and tv. He is a member of the Guild, too, as a supervising sound editor. I'm also the Slack community manager for Optimize Yourself.
Q: Favorite movie(s)? Why?
I watch more TV than movies. Lately, I've been watching a lot of movies with my husband, who is a member of the Academy. So far, my favorites have been "West Side Story," "Belfast," "Raya and the Last Dragon," "Tick, Tick… Boom!" and "King Richard." Some of my all-time favorite movies are "Steel Magnolias," "When Harry Met Sally," "Dazed and Confused," "Almost Famous," and every Indiana Jones movie.
Q: Favorite TV program(s)? Why?
Comedy is my favorite genre because I love to laugh. Some of my favorites are "Cheers," "The Golden Girls," "Schitt's Creek," "Ted Lasso," "Working Moms," "The Marvelous Mrs. Maisel," "Grace and Frankie," "The Good Place," and "30 Rock." I also love good drama such as "The Crown" and "The Queen's Gambit." There's so much great content out there and not enough time to watch it all!
Q: Do you have an industry mentor?
I've had many mentors over the course of my career. While attending film school at the School of Visual Arts in New York City, my mentor was my editing teacher, Gary Cooper. We are still in touch today. While I was working on "The Middle," the editors became mentors to me. Before each team sent out an editor's cut, we screened it for each other. Listening and participating in those screenings really helped me understand editing comedy. I'm happy again to mention that my current editor, Zack Arnold, has become a mentor to me. He has a program called Optimize Yourself that I took at the beginning of the pandemic. I learned so much about myself, my goals, and how to achieve them through the program. As his assistant editor on "Cobra Kai," I've been learning so much more about editing, the why behind the edits, and the politics of the industry.
Q: What advice would you offer to someone interested in pursuing your line of work?
No. 1, have patience. Your career goals may not happen according to your timeline. I would also say to be kind, work hard, stand up for yourself, and network effectively and consistently. Even if you are employed on a show or movie, keep up with your networking so when you are ready for your next gig, you already have a network ready to help you. And because you stayed in touch with your network, when you hear about a job, you'll know who's available and who might be a good fit for the position. Paying it forward is rewarding.
Q: Was there ever a circumstance when you had to rely on the Guild for help or assistance?
I recently had a question about the current rates, and the field reps were very helpful in getting me the correct information.
Q: Is there anything you'd like to say to your fellow Guild members, some words of encouragement?
Our careers in this business are very busy. Take time to take care of yourself and it will show in your work. When you feel good, it shows in all aspects of your life.
Compiled by David Bruskin.