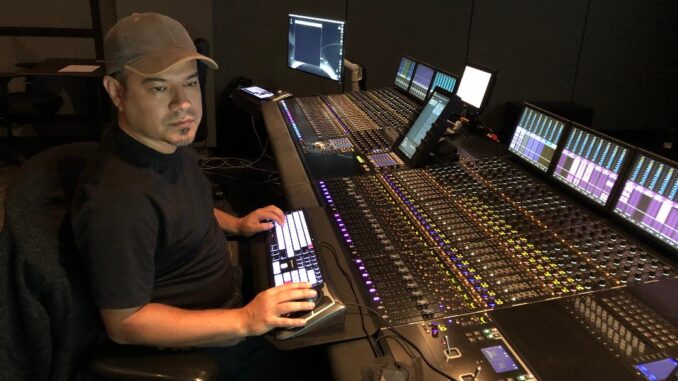 Where are you currently employed?
"Arlo the Alligator Boy" (Netflix)
"Trollhunters: Rise of the Titans" (DreamWorks Animation / Netflix)
I am first and foremost in the service of the directors and producers. I try to help them achieve their vision of the soundscape of their movie/show. I take all the elements of the sound mix — dialogue, music, effects and foley — and balance them to create a realistic, believable, and transparent soundtrack. When I say transparent, I mean the audience doesn't realize we've done anything. If the sound serves the story and is well balanced, our work is seemingly "invisible."
How did you first become interested in this line of work?
I've been a musician since the age of 10 and I fell in love with movie sound while in college. This seemed to be a way to meld those two passions into a career.
Who gave you your first break?
Phillips Raves was my first mentor who helped me understand what this job was all about. Later, sound supervisor Otis Van Osten hired me to mix for his company Audio Circus which was then folded into Warner Bros. While here, I owe a lot of my success to Todd Grace who has been an incredibly supportive advocate for me.
What was your first union job?
My first union gig was when I arrived at WB. I mixed a set of 3D Looney Tunes animated theatrical shorts. They were extremely fun and challenging. I'm very proud of them to this day.
What credits or projects are you proudest of, and why?
Nice segue there, huh? One of the projects I've truly loved is "Tangled: the Series" [retitled "Rapunzel's Tangled Adventure" after Season 1] by Disney. It involved all the same cast as the original feature and music by Allan Menken. I made lifelong friends with the creators of the show and loved every moment on it. Gerry Gonzalez provided sound design and his work is phenomenal. I'm also very fond of "Tales of Arcadia," the Netflix animated series that I've worked on for DreamWorks and Guillermo del Toro. Very challenging mixes that end up sounding amazing thanks to a fantastic crew. Matt Hall and James Miller are amazing sound designers and I loved working with them.
And I can't fail to mention the latest movie I both supervised [sound for] and mixed for Netflix: "Arlo the Alligator Boy" is fantastic, and I can't wait for it to be released in April.
What was your biggest challenge in your job (or on a particular project) and how did you overcome/solve it?
My biggest challenge so far in my job has been learning when to move on from one phase of my career to another. I've recently moved away from mixing television animation to live-action primetime TV and also to supervising and mixing feature animation. It was a difficult decision to make. I left a stable job to try and focus on what I have more passion for. It's been almost like starting over. But so far, I'm loving it and hope to continue to progress.
What was the most fun you've had at work?
I have fun every day at work! Ok, that's not always the case, but I get to watch TV and make it sound good for a living. What's not fun about that?!
Jobwise, what do you hope to be doing five years from now?
I hope to be supervising and mixing top animated feature films for all the major studios.
What are your outside activities, hobbies, passions?
I love to play guitar with my WB band of brothers. I've played since I was a kid. I also love to travel with my family. I hope we get to do more of that soon. I love Broadway shows and going to the ballet with my wife. And our whole family are huge Disneyland fans. We cannot wait to go back to our happy place.
 "Three Amigos" — does that really require an explanation? 😉
 "The Matrix" — that's what got me into sound in the first place.
Favorite TV program(s)?  Why?
"24" — loved the whole concept of the show.
"Better Call Saul" — just gripping TV.
"New Girl" — it's just funny!
"The Office" — Bears, beets, "Battlestar Galactica"
Do you have an industry mentor?
Not officially, but as I mentioned above, Phillip Raves and Todd Grace have been instrumental in my career.
What advice would you offer to someone interested in pursuing your line of work?
First, learn the history and language of film. You need to be able to talk with filmmakers about what their influences are and have a frame of reference for the work you are doing. Then, learn Pro Tools as in depth as you can. Find someone who will let you sit and watch them work. Ask good questions and always strive to learn more.
Was there ever a circumstance when you had to rely on the Guild for help or assistance?
Is there anything you'd like to say to your fellow Guild members, some words of encouragement?
There is a lot of content out there that needs good sound! Be the person creatives can count on to take their projects to the next level! Stand up for the importance of sound in film and TV. Be passionate about it and maybe some of that will rub off on those you associate with.
Compiled by David Bruskin.