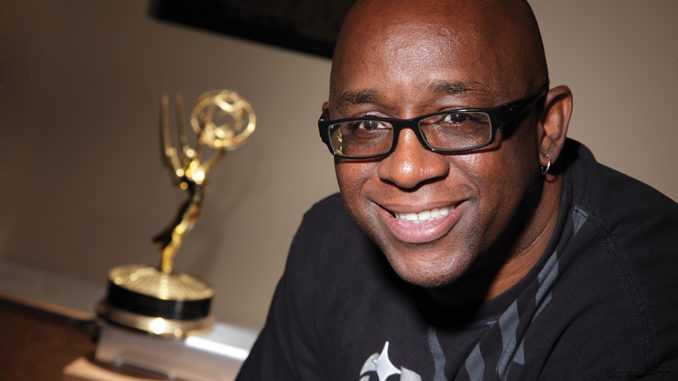 by Debra Kaufman •  photos by Gregory Schwartz
Sound designer Kenneth L. Johnson is putting the finishing touches on the last episode of the second season of the TV series Leverage, from Electric Entertainment, which will run on TNT this winter.  Starring Timothy Hutton and executive produced by Dean Devlin, along with the show creators Chris Downey and John Rogers, Leverage—about a group of high-tech Robin Hoods who steal from corrupt, wealthy people and corporations—has hit a nerve with the current zeitgeist.  According to The Hollywood Reporter, the series averaged 4.1 million viewers and ranked ninth on the list of most-watched returning TV shows on cable this past summer.
Working on Leverage gave Johnson his own leverage to push his own shop, Artistry in Sound, to the next level.  "My company does the sound editorial for Leverage," says Johnson, who was brought onto the show by Devlin.  "I handle all the dialogue, all the effects and supervise the sound for the show.  I also program all the Foley and work in consultation with the Foley stage.
"In almost every episode, there is a new gadget, The challenge is keeping it fresh and new, and coming up with sounds that lend excitement to the show. I imagine in my head what I think this should sound like and what the components are. I have to create the sound for things that don't exist." – Kenneth L. Johnson
"This is where I wanted to be," he added.  "I am beyond happy because I'm doing what I want to do." Johnson always knew he wanted a career in sound.  He went to the University of Sound Arts in Hollywood, and attended the recording engineering program at Long Beach City College, to study to be a recording engineer/record producer.  Next, he dabbled in a variety of sound production jobs, as a second boom operator and cable puller.  But with a baby at home, he turned his sights to post-production, which did not require him to travel.
Todd-AO executive J.R. Delange invited him to enter an editorial apprenticeship program there, and he soaked it up, coming evenings and weekends to watch the editors work.  He decided to go into effects editing, which was more related to music, and within a couple of years received a job offer at Todd-AO.
"The first show I did was Melrose Place," Johnson recalls.  "I had to hit the ground running.  This was before the digital revolution, and we were recording to two-inch tape." After Melrose Place, he continued to work on a variety of shows at Todd-AO.  "When we had a film in, I'd be on the film," he says.  "When we didn't have a film, I'd get tossed TV work.  It was a lot of good experience gained by doing both; I learned how to be good and fast."
After being moved to Todd-AO's Burbank facility, he was then transferred to Todd-AO Soundelux, which focused on feature films.  "I liked working at Soundelux," says Johnson.  "I'd been editing for quite a long time, and I wanted to take the next step."  He did perform some sound supervising on a few shows at Soundelux, but felt compelled to take it to the next level.  "I figured the only way to get where I wanted to go was to take my own road," he explains.  "I'm the kind of person who has to have challenges to stay motivated.  I have to know that I can move to the next rung on the ladder."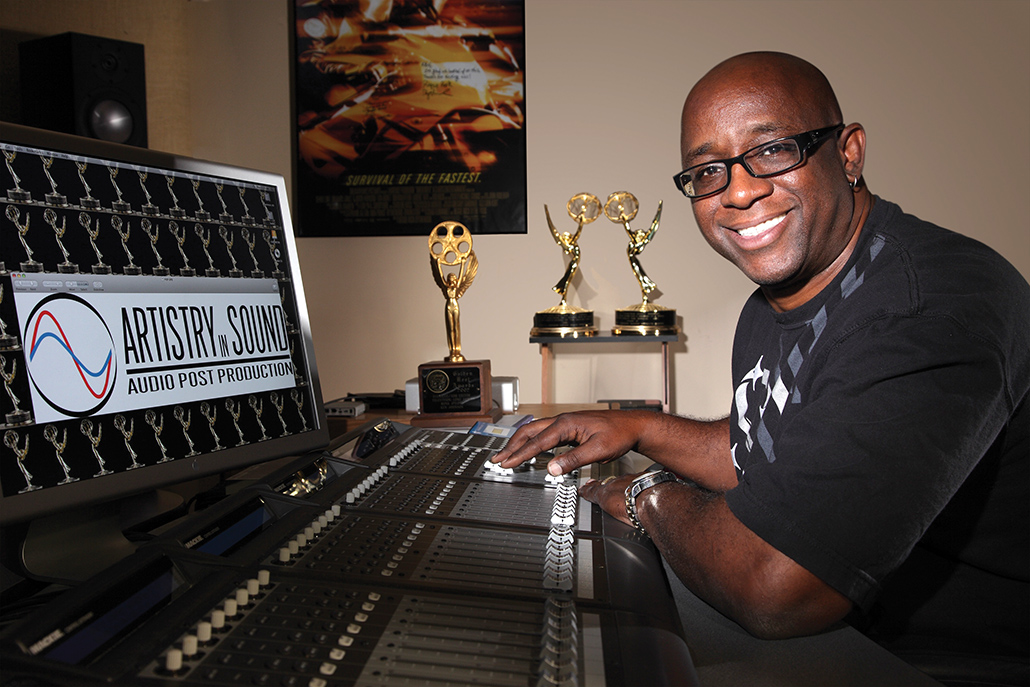 He received numerous awards and nominations, including three Emmy Awards, for John Adams (2008), Stephen King's Storm of the Century (1999) and Stephen King's The Shining (1997).  His other film credits include Mission Impossible III (2006), Road to Perdition (2002), How the Grinch Stole Christmas (2000), Meet Joe Black (1998), 2 Fast 2 Furious (2003) and The Italian Job (2003).
In 2005, Johnson incorporated his own company, Artistry in Sound.  "I did a lot of ultra-low-budget projects and student films," he says.  "At the same time, I worked at companies like Warner Bros. and Soundelux."  In fact, he was at Warners when he worked as the lead effects editor on the Emmy-winning episode of John Adams.
But he also maintained Artistry in Sound and his dream of a career as a full-time sound supervisor.  "I felt I had a strong enough foundation," he says.  "I always believed that I could be a good supervisor and make that transition."  With his partner Victor Ennis, he co-supervised a few films, including Mr. Woodcock (2007) and My Life in Ruins (2009).
The transition to sound supervisor didn't take place overnight.  Johnson was still working a "day job" when he founded Artistry in Sound.  "Maybe I'd have a show at Soundelux, and then I'd be off for a long time," he says.  "Then I started noticing I was off more than I was on.  When the opportunity to do Leverage came up, I took it and made it my priority."
The opportunity to do Leverage came through a friendship with re-recording mixer Patrick Cyccone, Jr., who introduced him to Mark Franco, the head of post for Electric Entertainment.  "At the time, they were looking for an effects editor," Johnson recalls.  "They gave me an opportunity to do effects on the show, and gave me the credit of supervising sound designer.  Then Dean Devlin gave me the opportunity during the second season for my company to handle most of the sound editorial duties for the show.  It gave my company some momentum."
"Ken is the perfect balance of experience and innovation," says producer Devlin.  "His deep knowledge of sound creation guides and shapes our creative process––yet his fearlessness in embracing innovation allows us to keep reinventing the wheel with our techniques.  The result is a level of quality unmatched in television."
On Leverage, Johnson is sound designer, not effects editor, a task he's handed off to a newcomer.  "I've trained this young man, sound editor Mark Hailstone, and I'm allowing him to stretch his wings as we progress," says Johnson.
The challenges with Leverage are creative and logistical.  "In almost every episode, there is a new gadget," Johnson reveals.  "The challenge is keeping it fresh and new, and coming up with sounds that lend excitement to the show."  His process is to listen and internalize the action.  "I imagine in my head what I think this should sound like and what the components are," he says.  "I have to create the sound for things that don't exist."
The second season of the series was in Portland, Oregon, which has created a logistical challenge.  "It's really tight to get all the actors scheduled for ADR in between the shooting schedule," Johnson says.  The show is full of Mission Impossible-style gadgets, and Johnson loves the chance to give each new widget its own creative sound.  "I have to go through a lot of trial and error to find the right sound that can stand on its own and create an impact," he says.
Johnson's set-up is outfitted with a fairly unusual piece of gear.  "Everyone tends to use ProTools," he says.  "I use Steinberg's Nuendo, so the show is Nuendo-based.  One of the big pluses of the Nuendo is the cost versus ProTools.  It can do pretty much everything ProTools can do—some things better, some things not as good.  I really like some of its editing features, and it's really just a different way of handling the editing chores.  It works well for us."
In early October, Artistry in Sound moved from Johnson's home studio in Downey to his own facility in Hollywood.  With its doors opened, he sees the realization of a long-held dream.  "I'm very excited about now being in Hollywood," Johnson says.  "I've always wanted my own facility."  What does it take to go out on one's own?  "To be honest, I think it takes courage," he says.  "The second thing is to never give up.  Believe in yourself.  I just kept moving forward…
"But the most important thing is the relationships I've built and the opportunities that opened up," he continues.  "You can be talented, but if no one gives you an opportunity, then you're never going to get there.  And I've been given that opportunity."

Debra Kaufman is a freelance writer who is also West Coast Editor of Film & Video Magazine and Editor of DI Studio, an online newsletter on digital intermediates.  She can be reached at dkla99@verizon.net.