by Mel Lambert
With movie-going audiences expecting fully immersive visuals from 3D presentations, the sound post-production community is fast playing catch-up with immersive surround-sound systems. Following the groundbreaking work from IMAX and Iosono in placing loudspeakers around and above an audience, two new formats are now offering re-recording mixers and sound designers an increased range of creative possibilities.
Barco Auro-3D and Dolby Atmos utilize various techniques to provide additional sound-location information within auxiliary data as part of the standard Digital Cinema Package used to carry encoded audio and video files to movie theatres. For full compatibility with existing playback formats, second-generation cinema processors can extract and decode this extra material, or simply deliver conventional 5.1- or 7.1-channel material if the exhibition venue is not equipped to handle advanced media.
Barco Auro-3D
Utilizing proprietary techniques co-developed by the Belgian company Auro Technologies and Galaxy Studios, Barco has entered the surround-sound playback market with a system that adds a variable number of full-range loudspeakers to the normal horizontal 7.1 format of three screen channels, a pair of side channels and a pair of rear-surround channels, plus an LFE subwoofer. Auro-3D utilizes a new Octopus codec that enables an Aurophonic playback format with additional height and overhead assignments to provide a choice of 11.1- or 13.1-channel reproduction.
The patented codec is described as being unique in its ability to mix different audio channels into a single channel and then un-mix the original discrete channels with 100 percent separation within the co-designed Barco/Datasat AP24 cinema decoder. This means that the system can accommodate up to three playback formats (for example, conventional surround-sound and Aurophonic versions of a soundtrack), mix/encode them into an Auro-encoded PCM data stream, and then decode a correct format for the targeted playback environment, without the use of de-matrixing techniques used by other formats.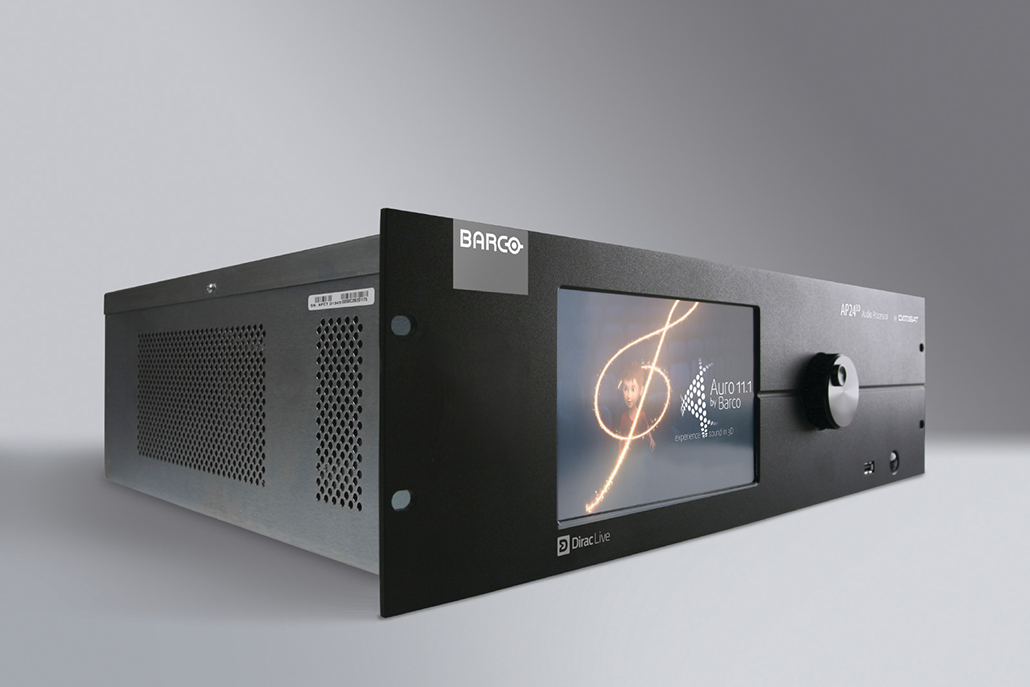 "Our 11.1-channel format can be carried on existing 5.1-channel soundtracks, and 13.1 on 7.1 media," states Brian Claypool, senior director of strategic business development at Barco, which is licensing Auro-3D for the new format. "The immersive 13.1-channel configuration adds six more full-range height channels — left-front high, center-front high, right-front high, side-left high, side-right high and a back-surround high — plus a 'Voice-of-God' channel directly above the center of the auditorium. [Upon decode, the back wall becomes one channel, and not split left- and right-back.
"To augment these extra channels, and to ensure consistent timbre as sound is panned around the audience, we also specify the optional use of bass-managed surrounds for full-range sound reproduction in these channels," Claypool continues. "The 11.1 format — used for the first Auro-3D release in 2012 of Red Tails [re-recorded at Galaxy Studios] — has a total of four surround channels: the two traditional left- and right-surrounds, plus a high-left and -right placed approximately 20 degrees above the existing surrounds."
In 2012, DreamWorks Animation announced a 15-picture commitment to Auro-11.1 releases, starting with Rise of the Guardians (2012), and continuing with the recent release of The Croods, which was mixed at Skywalker Sound in Marin, California.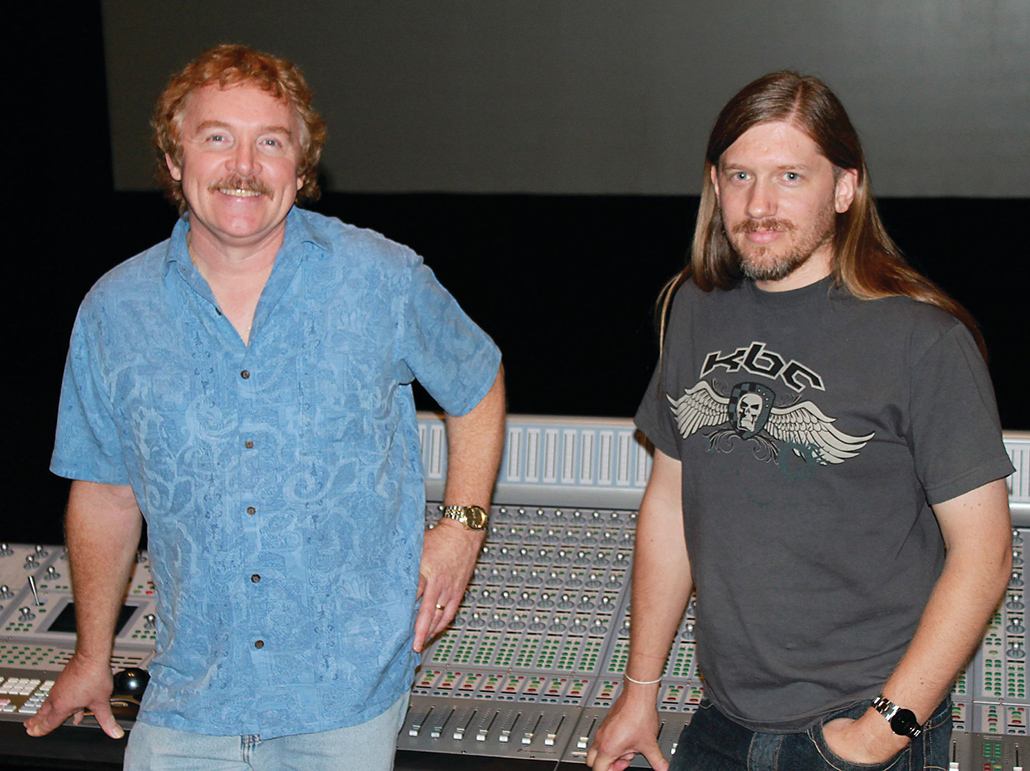 Having re-recorded the 5.1- and 7.1-channel soundtracks for Disney Pictures' recent Oz the Great and Powerful at Sony Pictures Entertainment's Kim Novak Theater in Culver City, Marti D. Humphrey, CAS (dialogue/music), and Chris M. Jacobson, CAS (sound effects), prepared an Auro 11.1 mix at the former's The Dub Stage in Burbank. "We started with Pro Tools-format stems from the 7.1-channel mix [stored on four HDX rigs] and re-panned and re-assigned elements to the additional Auro channels using a custom Pro Tools panner on our Avid D-Control console," Humphrey explains. "To add ambience, we put music into the upper-front, -center and -right channels, and added reverb to dialogue tacks, with returns routed into the upper channels. Several fly-over sound effects [provided by supervising sound editor/sound designer Jussi Tegelman] were assigned to the 'Voice-of-God' channels. We also beefed up the subwoofers to add more low-end for the sides and rears. Director Sam Raimi really liked the final Auro mix."
A total of 37 self-powered Meyer loudspeakers have been installed to handle Auro-11.1 mixes, including six Acheron 80 cabinets behind the screen (three lower LCR and three upper LCR), 20 HMS10 surrounds (10 lower and 10 upper surrounds), four HMS10 cabinets for the ceiling "Voice of God," four X800 dual 18-inch subwoofers and three 500HP subwoofers to augment the surround channels. "Total available power is 27,000 watts," Humphrey says.
As an homage to the original 1939 movie, Oz the Great and Powerful starts in black-and-white with a mono soundtrack. "After 20 minutes, the film transitions into color and the soundtrack explodes into all of the Auro channels," the re-recording mixer continues. "The experience of total sound immersion really sucks the audience into the action." Upcoming Auro mixes at The Dub Stage include Intrepid Pictures' Oculus, due in 2014.
Currently, there are six Auro-3D-equipped re-recording stages around the world, including Galaxy Studios in Belgium, Skywalker Mix A and The Dub Stage, plus 55 Auro-11.1-equipped screens, 14 of which are in the US.
Dolby Atmos
Dolby's competitive format differs from Auro in a number of ways. Although it offers 9.1-channel and similar configurations — for easier assimilation of current 5.1- and 7.1 mixes — Atmos is a hybrid system of object-based and channel-bed processes that enables sound or groups of sound to be placed anywhere within an immersive soundfield. A suitably equipped cinema processor develops outputs appropriate to the number of loudspeakers and their position around the audience.
In the future, says Stuart Bowling, Dolby's senior worldwide technical marketing manager, "It is anticipated that soundtracks will be mixed entirely in the Atmos format, and that 5.1- or 7.1-channel versions [for legacy theatres and home delivery via Blu-ray and DVD] will be created by rendering a 5.1 or 7.1 version of Atmos," much like preparing mono and stereo soundtracks from current 5.1/7.1 mixes. Oblivion, released by Universal Pictures in April, was the first Hollywood title to be natively mixed in Atmos at Skywalker Sound and rendered out as a 5.1 and a 7.1 mix. Dolby's new CP850 cinema processor handles Atmos and all legacy playback formats.
"Within one year of launch — and nine months since the first release — over 30 titles globally have featured or will be released with Dolby Atmos sound," Bowling states. Recent and upcoming Atmos soundtracks include Oz; Pixar's Monsters University and Universal's Oblivion, mixed at Skywalker Sound; Hasbro/Paramount's GI Joe: Retaliation, mixed at Dolby's Larry Umlang Theatre; Lost Place, mixed at Rotor Film in Babelsberg, Germany; Man of Steel, Pacific Rim, Gravity and The Hunger Games: Catching a Fire, mixed at Warner's Stage 10; and 20th Century Fox's Life of Pi, Epic, Percy Jackson: Sea of Monsters and The Wolverine.
To date, close to two dozen re-recording stages have been or soon will be equipped to handle Atmos mixes, including three rooms at Skywalker Sound, Fox's Howard Hawks and John Ford Stages, Todd-AO Stage 1, Disney Stage A and Warner Bros. Stage 10. International venues include Park Road Post Production, New Zealand; China Film Studio, Beijing; MBS Studio, Hong Kong; Pinewood Studios' Powell Theatre, UK; Future Works, Media Artists and Rajkamal Studio, India; Rotorfilm and Post Republic, Germany; Soundub, Spain; NTV-Kino, Moscow; and Soundfirm, Australia. "Globally, over 90 screens have installed Dolby Atmos, with over 50 global exhibitor partners, including AMC, Regal and Cinemark," adds Bowling.
Currently, most Atmos mixes start with 5.1- or 7.1-channel stems that are laid into what Dolby refers to as a "9.1 bed mix," with additional overhead-left and -right assignments. Then, using a new plug-in for Avid Pro Tools HDX DAWs and control surfaces, re-recording crews can assign sources into the virtual, object-based environment to create a range of creative options. AMS Neve DFC consoles can also be retrofitted with Atmos assignment controls. "Dolby Atmos is like a musical instrument that the post-production community is learning how to use," Bowling suggests.
Having mixed GI Joe: Retaliation at Technicolor Stage 1, sound effects re-recording mixer Greg P. Russell, CAS, recalls that he and Scott Millan, CAS, who handled dialogue and music, took a number of 7.1-channel stems and Pro Tools automation to Dolby's Umlang Theater for the four-day Atmos session. "It was useful that Stage 1 features an Avid System 5 console and we used a S5 Fusion console at Dolby, so everything was compatible," Russell says. The Umlang Theatre also features a trio of JBL Pro Cinema 5674 speakers for LCR screen channels powered by Bryston 4B amplifiers, plus a JBL Pro Cinema 4642A subwoofer powered by a QSC DCA Series Model 3422 amplifier; surrounds consist of 35 customized JBL DSL 7212/26 cabinets.
"We had extracted effects, backgrounds, Foley and sweeteners from the 7.1 mix, which we laid into the Atmos bed," Russell continues. "I then split off targeted sound effects and placed them into object-based locations around the audience. A major strength of Atmos is that it lets us fly sounds in places we were not able to do before."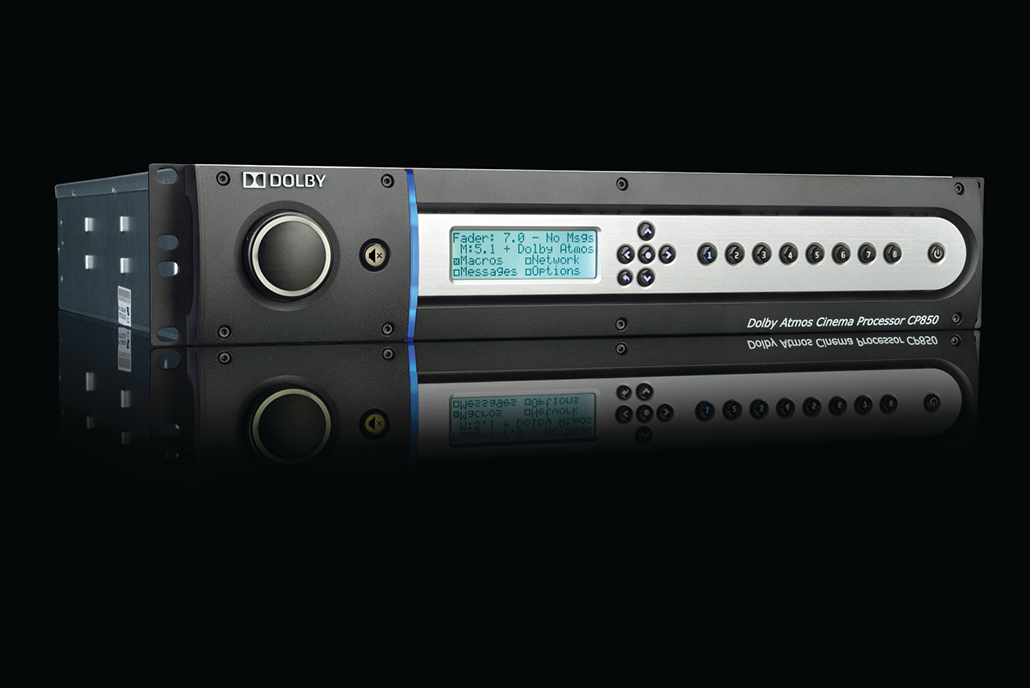 Having access to full-range, full-power side, rear and overhead surround channels really opened up Russell and Millan's creative possibilities. "There is a scene where a helicopter is flying high above the audience, which we panned from on stage into the overhead channels, with no change in audio quality — something we couldn't do for the 7.1-channel mix [with band-limited surround channels and no additional subwoofers]," Russell explains. "There is also a scene in a water well after an attack in which, for added impact, we wanted the dialogue and offstage helicopters to come from above the audience.
"Supervising sound editors Ethan Van der Ryn and John Marquis really did a great job for us by cutting additional elements — including bullet and missile wiz-bys — that I panned from the screen into the audience, as if they were coming at the camera," the mixer adds. "We also had extra tank-track sounds for a sequence where a tank spins out, which I panned to the middle of the ceiling for added impact. Although this was my maiden voyage with the format, Atmos provides the added detailing and precision imagery, along with full-range surrounds and ceiling channels, which is impressive for complex soundtracks."
Working with 7.1-channel stems of group, ADR and production dialogue, the mix team made use of the overhead channels for several scenes, according to Millan. "For example, there is a scene where people are being attacked on different levels of a building," he elaborates. "By panning group dialogue in the side and ceiling speakers, we created the illusion of height. But it is definitely a learning curve; we could have used some mix-minus [elements] from the 7.1 soundtrack as separate stems. Atmos offers an exciting potential. We had a great opportunity to put a toe in the water with GI Joe: Retaliation; the format offers new opportunities for storytellers."
It is expected that Technicolor Stage 1 will be Atmos-equipped by early-May, "in anticipation of immersive mixes of DreamWorks' Need for Speed with director Scott Waugh and Paramount's Transformers IV with director Michael Bay," Russell confides.
Will Files recently handled the Atmos mix for Brave (2012), using multi-channel stems prepared by re-recording mixers Gary Rydstrom, CAS, and Tom Johnson on an AMS-Neve DFC console in the Akira Kurosawa Stage at Skywalker Sound. Working on an Avid ICON console at Skywalker's Stag Theatre, "We started with re-printed 'vanilla' pre-dubs with baked-in final mix automation, plus a 7.1 music, a 7.0 dialogue and multiple 7.1 effects and Foley stems from supervising sound editor Gwendolyn Yates Whittle and effects editor Josh Gold," Files recalls. "Starting with the '9.1 bed,' I backed off the surrounds to taste by as much as 3 dB because of the full-range Atmos monitors, which offer enhanced fidelity and power handling."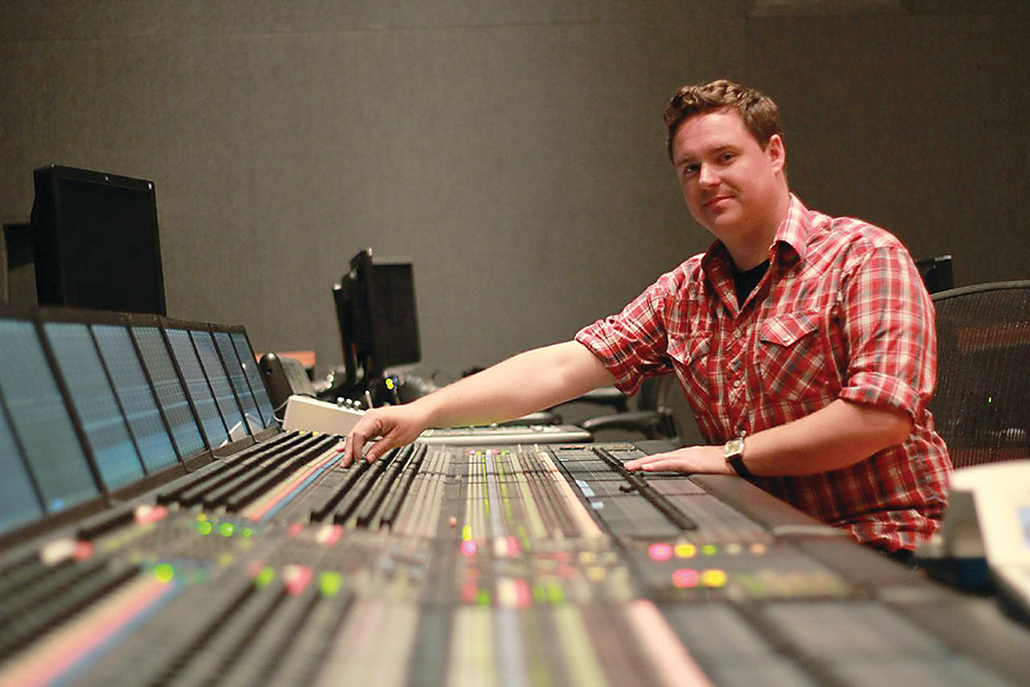 Using the Atmos ceiling speakers in one scene, Files says, "I was able to bring the room to life with wind and ambience flying around the space, and reverb above the audience to create an enhanced reality. For another scene within a castle, I created the added illusion of an open, spacious room — pulling the sound off the screen and into the auditorium — by adding sounds bouncing around with slap echo in the ceiling speakers and discreet surrounds."
Often, when the characters in Brave were talking in an open space, Files was able to use more reverb and multi-dimensional effects. "For the scary witch scene, I tried to make the track sound stranger, with her voice bouncing off the ceiling and back and forth down the side of the theatre," he relates. "There's a lot of scenes with horses, in which we panned the sounds of hooves and breath through the room to emphasize their energy and power. The sense of weight and presence we can achieve with Atmos' full-range surround speakers is impressive and really tangible for the audience." Next up for Files is an Atmos mix of Star Trek Into Darkness, the 7.1-channel mix for which will be made at Fox's Hawks Theatre with regular mix partner Andy Nelson handling dialogue and music.
Additional Elements
In terms of additional elements for immersive surround-sound mixes, scoring mixer Dennis Sands, who recorded the music for The Croods and Oz (both of which were released in Atmos and Auro-3D), put up extra microphones. "I added four mics: two on either side of my traditional Decca Tree and four feet higher in the air, plus two more 10-15 feet back from the podium," Sands explains. "The change from dipole surrounds used for 5.1 and 7.1 mixes to the full-range speakers available for Atmos and Auro means that we have the ability to bring powerful musical ambiences to the audience." The score for The Croods was recorded at Abbey Road Studios in London and mixed at Sands' Santa Barbara studio, while Danny Elfman's score for Oz was tracked at the Sony Pictures' Barbara Streisand Scoring Stage and mixed at Lantana Stage 7 by Sands and Alan Meyerson.
Described as the world's largest Atmos-equipped facility, Todd-AO Stage 1 at the former Glen Glenn building in Hollywood was recently outfitted with new surround speakers to augment the five existing JBL two-way screen channels, which consist of Model 2360 horns on BMS 4592 coaxial compression drivers, Model 4508 LF cabinets and Bag End subwoofers. "We added 50 full-range JBL AM7215 cabinets to the 78-foot-deep by 46-foot-wide by 26-foot-tall stage, which were chosen because their power handling and timbral characteristic match to the room's custom screen channel," explains Steve Bartkowicz, Todd-AO's chief engineer.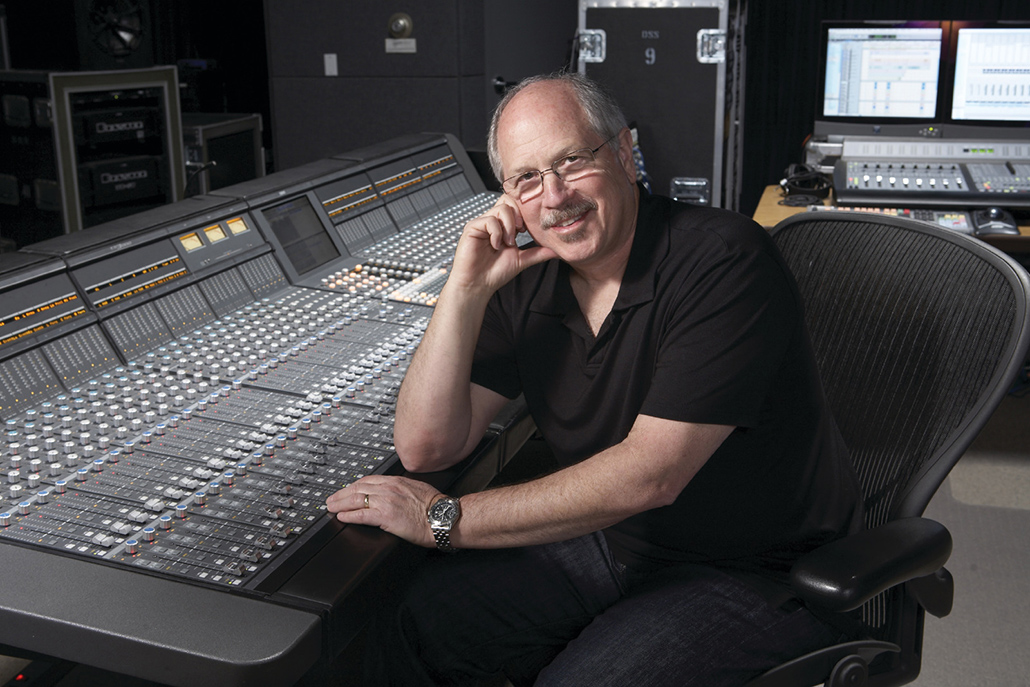 "The new system comprises 11 AM7215s per side for left- and right-side and surround channels, 11 per left and right overhead channels, and six more for the back wall," he continues. The AM7215 is a two-way cabinet with a 15-inch LF driver and an ultra-wide dispersion 60-by-120-degree horn; motive power is provided by an array of QSC Model 3422 DCA amplifiers connected through a BSS Soundweb London system that handles equalization, crossover and delay settings. "The new room speakers are augmented by a pair of JBL ASB7128 dual-18 subwoofers positioned in each rear-corner of the room, three feet from the ceiling, and powered by QSC RMX5050 amplifiers," Bartk0wicz adds. All loudspeakers are individually addressable from the Dolby Atmos Rendering and Mastering Unit (RMU).
"Dolby Atmos has enormous potential for full-range, immersive mixing," the engineer concludes. "Music, in particular, can be mixed to open up off of the screen, with the ability to place the orchestra and musical ambience into the space of the room, surrounding the audience." The first scheduled Atmos mix for Stage 1 was Disney's Iron Man 3.
Late-Breaking News 
At the NAB Convention in mid-April, DTS unveiled details of a new, open-platform, object-based playback environment that is scalable from content capture through digital cinema applications. The new MDA specification supports multiple input sources and fully assignable outputs to a variable number of playback channels. Also announced was a collaboration between DTS and Fairlight to deliver a 3D audio-creation platform to support MDA. Fairlight's new 3DAW 3D audio-production system offers native MDA mixing and format delivery.