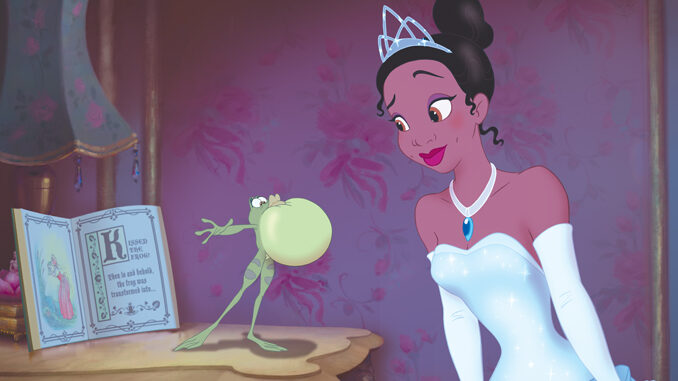 by Garrett Gilchrist
After the death of its founder, the Walt Disney Company struggled. It hadn't had a big animated hit in years, until Ron Clements and John Musker directed The Little Mermaid in 1989, kicking off a series of hit films including Beauty and the Beast and The Lion King. Today, it's said that traditional animation is dead. Audiences seem to want only CGI-animated films. Pixar's John Lasseter now runs the Disney company, and he's betting that audiences still want to see a traditionally animated Disney musical.
If one wanted to try to bring the forgotten art of traditional animation back to theatres, it's only logical to call the filmmakers who managed it the last time: Clements and Musker, who also directed Aladdin and Hercules. Among most people in the animation business, their sense of story and character is considered to be second to none and equal to few.
Their new film is Disney's The Princess and the Frog, due for release December 11. If this film is a success, it will likely pave the way for countless, hand-drawn Disney animated features in the future. If it fails, the coffin of traditional animation probably will be sealed that much tighter. In a very real way, the jobs of thousands of traditional animators rest on the success of this one film. Will their story have a happy ending?
Jeff Draheim is the film's editor. He is calm and cheerful, full of an infectious enthusiasm for the project. There is no fear or trepidation, only pride in what the film's directors and animators have accomplished. He had the familiar, family-friendly good humor about him of someone who lives and breathes animation when he spoke recently to Editors Guild Magazine about the film.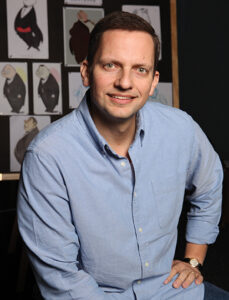 Editors Guild Magazine: How did you wind up on The Princess and the Frog?
Jeff Draheim: I started at the Florida studio in '94, editing material for the theme parks, DVD documentaries and video games. The main crew was doing Mulan at the time, and one of the projects that came to me was Brother Bear. Tim Mertens edited the film; he's a great editor who had worked on Tarzan. It was a great experience and I learned so much from Tim.
When they closed the Florida studio down, some Florida animators had come to California to work for Disneytoon Studios as directors. They called me up saying, "Jeff, we want you to come out here." So I edited The Emperor's New Groove 2: Kronk's New Groove, and was supervising editor on Brother Bear 2. I helped out on a bunch of little shorts, like How to Hook Up Your Home Theater with Goofy, which was really fun.
I was in awe of Ron and John. I would see them in the halls and step aside. "It's them!" I knew they were looking for an editor, and I said, "What the heck. Throw my name in." I had lunch with the two of them and Don Hahn, who produced The Lion King and Beauty and the Beast. Believe me, it was intimidating. Two days later, I found out they wanted me on board as their lead editor on The Princess and the Frog. I've spent the last three and a half years at the Ron and John school of film- making.
EGM: What was it like working with them?
JD: Because they've done such great films, you'd think they might be very strict––"This is how we're gonna do it." But they were so nice, laid back, and collaborative. They wanted to hear your opinion. There was such a mutual respect. I don't know of anyone on the film who had-
n't contributed to the story. It was such an amazingly open forum of discussion.
Still, it hasn't changed that much from the original core story. Ron and John worked on this script for quite a while before we even started. It's all the same characters, and even back then they knew where they wanted the songs to go. My team has been working on this movie for three and a half years now.
EGM: It's a long time to devote to a project, but very typical for animation.
JD: Very typical, but three and a half years was really the perfect window for us. We're basically a very small, three-man editing team. Believe me, we've all had to really step up and give 110 percent, to do an outstanding job. I'm the supervising editor. My first assistant is Margaret
animator starts with a blank piece of paper, I started with a blank timeline. I had to get a handle on what the storyboard artist was intending, to take all these elements and piece them together. It takes on a life of its own, as you're choosing the performances and setting the pace. It's the part I love most, watching these sequences grow and evolve into something really nice. It slowly evolves until we're happy with it. Once we have 30 sequences done, hope- fully we've got a movie.
EGM: Has the workflow changed for the animators? On How to Install Your Home Theater, the artists were drawing the artwork digitally.
JD: A lot of the background and layout artists work digitally on the Cintiq, and it looks fantastic. The animators were given Johnson-Holzendorf and the second assistant is Darrian James. We're all so pas- sionate about it. It was wonderful to have John Lasseter as our creative executive officer, but it made us work harder, know- ing he'll be seeing everything!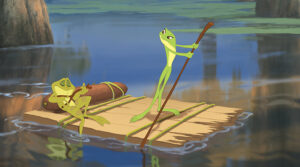 EGM: What editing system did you use?
JD: We worked on the Avid Meridian, incorporating Adobe After Effects and Photoshop to give it more life. We'd separate the characters and do camera moves and multi-planing. The first pass is the most creative part of my job. Just as an
that option. But almost all of them went back to paper. Some of these guys have been doing this for 30 years, and you don't fix what isn't broken.
EGM: The Princess has a New Orleans flavor. Does that extend to the music?
JD: Completely. The songs and the score are all being done by Randy Newman. He spent a lot of time in New Orleans when he was growing up, so everything has such an authentic feel to it, and just sounds fantastic. The film takes place in the 1920s, and it captures that sense of Americana. We could tell Randy was lov- ing it too. He's really excited to be on this project.
EGM: As Disney's first large 2-D release in five years, there is a huge weight of expectation for this film to do well. It seems as if Disney has brought out its best people––the big guns.
JD: We have the best of the best working on this film, no kidding. The supervising animator on Tiana, our Princess, is Mark Henn, who animated Ariel, Belle, Jasmine, Pocahontas and Mulan. Eric Goldberg, who animated Aladdin's Genie and co-directed Pocahontas, is animating Louis. Andreas Deja, who did Gaston, Jafar, Scar, Adult Hercules and Lilo, is animating Mama Odie and Juju.
Also, Randy Haycock, who animated Young Hercules and Clayton in Tarzan, is supervising Prince Naveen. Bruce Smith, who animated Kerchak in Tarzan and Pacha in The Emperor's New Groove, is animating Dr. Facilier. Mike Surrey, who supervised Timon in The Lion King, is animating Ray the Firefly.
Disney kept all these animators; they've never left the company. They have such love and passion for this art form. When you look at the animation, you can feel the heart and soul in their drawings. The early tests blew me away.
EGM: The high technical quality of Disney animated films has always been there, even in films that weren't as popular with audiences. Do you feel The Princess and the Frog has a spark in the story that will raise it above the heap?
JD: Yes. It's always hard to second-guess what the audience's reaction is gonna be, but we're incredibly optimistic. This is such a fun movie, with so much going for it. People are going to realize they've forgotten how beautiful animation can be. This isn't Saturday morning animation; this is Disney at its absolute best. When you see it in its finished form, in color with the lighting and tone, it's just breathtaking. When we were at a scoring stage with a hundred-piece orchestra, one of the techs turned to the producer, and asked, "So, is some of this drawn by hand?"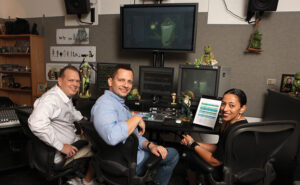 EGM: [laughs] Apparently people have forgotten what animation is.
JD: We all chuckled at that. Some people won't even notice the art form, but they'll see how gorgeous it is. Because of the fluidity and the precision of the work, they might think, "There's no way a human being could do this." About three months ago, we tested the film with an audience. It wasn't complete yet, with only 20 per- cent in color. The audiences loved it. And there wasn't a single comment about it being in 2-D, neither good nor bad. The art form wasn't important; they were pulled into the story. We love the fact that this is in two dimensions, but our first goal was to tell a great story with compelling characters.
EGM: Do you feel that with 2-D having been away, this is the right time for people to now miss it?
JD: I think so. Ten years ago, I would have been the first in line to see a CG movie. Most were coming out of Pixar, and all of their movies are great. But there's a flood of movies from all sorts of different studios and, honestly, some of them aren't that good. It's almost becoming a little old hat––"Aww, another CG movie." Audiences aren't impressed by just the CG technology alone anymore. You need to be telling very good stories.
I think we're coming out at a great time. Maybe it's that old expression that we're so old that we're new again. Resurrecting 2-D animation feels groundbreaking, in a way, particularly coming from Disney, since we're the company that invented this technology, to a certain degree.
EGM: What are your personal feelings about editing The Princess and the Frog?
JD: This may be a little bit of a button statement, but I've been with Disney for 15 years, and working on this movie is by far the best experience of my professional life. I feel like I've won the lottery. This is my first theatrical feature as the lead editor, and I'm working on a film that's a return to the Golden Age of Disney hand-drawn animation. It's the classic animated musical format, with an African-American princess. I'm working with Disney legends––Ron Clements and John Musker––under the guidance of John Lasseter and Don Hahn. It just doesn't get any better than that.