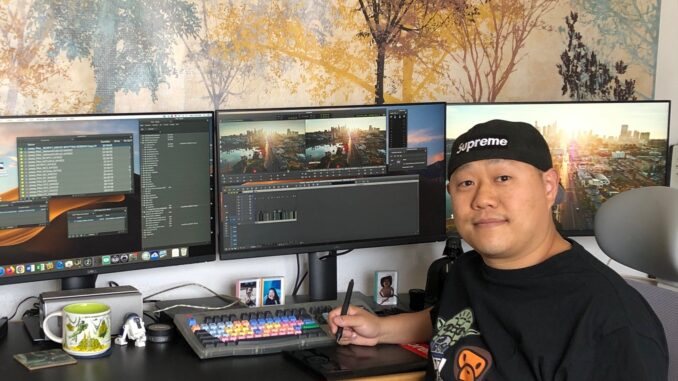 Where are you currently employed?
20th Television / ABC.
Current projects?
I'm currently doing a pilot for standup comedian Jo Koy.
Describe your job.
I do the regular duties that all assistant editors are required to do, like organizing dailies on the whole project, designing sound effects, temp visual effects, and turnovers. I did have a chance to cut a couple of scenes and got feedback from my editor, which was very helpful, especially during a pilot that, due to its nature, never afforded the time to cut scenes and get feedback. So that was nice.
How did you first become interested in this line of work?
I used to edit reality shows. My heart was never into cutting reality, but I was tempted by the dark side —  the money. Because I'm a big cinephile and living in this golden age of great television, I decided to make the big sacrifice: I took a step back and became an assistant editor so I could eventually cut on a scripted show.
Who gave you your first break?
I found my first scripted job on Facebook. Hahn Cho was the first post supervisor who took a chance on me. My first scripted gig, "Alive in Denver," was for a streaming platform that went defunct. But my good friend Saleem Aziz, an editor, really helped my career take off when he got me an interview with what became my first network show, "New Girl." I had previously interviewed for the show five years earlier, but I got beat out by someone with better connections, so it was a full-circle moment for me when I got the job for the show's last season.
What was your first union job?
My first union job came from a reality stage show called "Superhuman," which my friend Joe Gonzalez helped me get on. Actually, I had to jump from the non-union show I was cutting to do "Superhuman" because it was a union show, and I hoped it would change my life to start working on union shows. Turns out it was worth burning the bridge at the job I'd left behind.
What credits or projects are you proudest of, and why?
So far, "Fresh Off the Boat," "Pen15," and this Jo Koy Pilot I'm on now. I'm Asian and working on a show with great Asian representation, but I'm the only Asian working in post on a show about Asians, which is cool/funny/nice all at the same time. It's even more special because "Fresh Off the Boat" and "Pen15" are such game-changing cultural-breakthrough comedies – and they're big hits. Another project I am also very proud of is "Naomi" because that was the first pilot I worked on, a drama/comic/action show that got picked up. You feel invested in the show because of all the long hours you put into it, and seeing it go out into the world is also special. Plus, I got to work with Gina Hirsch whose dad is Paul Hirsch, an editing legend who won an Oscar for cutting the first "Star Wars" movie. I'm a big "Star Wars" fan, so it was cool to work with someone who was there when it happened and tells great stories about it.
What was your biggest challenge in your job (or on a particular project) and how did you overcome/solve it?
One of the two biggest challenges was doing the pilot for "Naomi." There were some things I wasn't familiar with, like working with a conformed sequence and the workflow of doing a pilot. Luckily, I brought along someone I'd worked with before who had more experience than I did and could show me what I didn't know. We were a great team because we had each other's backs down in the trenches. The other challenge was learning what it's like to work on a big theatrical feature. You get thrown into the fire and try to make sure not to mess anything up.
What was the most fun you've had at work?
That would be on "New Girl" and "Fresh Off the Boat." Both crews were laid back and knew how to let you do your work, but they also had parties, made sure your birthday is celebrated, Mardi gras celebrations, going-away parties, etc. Also, on both of those shows, if I was done with my work, I was able to go on set and meet the production crew or go to the writers room. They would let me explore anytime I wanted. It was a great experience to get to know the cast and production crew, especially after COVID. Post had been work-from-home and imposed various restrictions, so I felt I made the best use of my time when there was no pandemic.
Jobwise, what do you hope to be doing five years from now?
Directing! I got into editing to become a better director. I just finished shooting my first short, which was self-funded, and had an issue because I wasn't going to make my day. I was renting a location and running out of time to shoot two more scenes that were needed. Thanks to my experience in post, I was able to combine two scenes into one, and it made the film work better. I solved the problem by thinking like an editor: how things could cut together, shot selection, what was most important to get and what was okay to miss. But I still love editing and would like to do both.
What are your outside activities, hobbies, passions?
I have two kids, Leo and Ellie, who are my hobbies, activities, and passion! So I don't have a lot of free time, but when I do, I'm watching movies in a theater as much as possible. I especially like going to retro theaters like the New Beverly (which is four blocks from where I live) or going to an American Cinematheque screening and watching films I've never seen or maybe haven't seen on the big screen. I'm a cinephile, and I want to be a knowledgeable one, so I see as many films as possible, anything and everything. I'm prepping myself in case I ever get stuck in a room with Quentin Tarantino and Guillermo Del Toro, talking about films. I also love to see a movie without seeing a trailer or knowing anything about it, even whether it's good or bad — that's even more exciting!
Favorite movie(s)? Why?
The first "Star Wars" movie, which is now subtitled "Episode IV – A New Hope," is now my favorite movie because of the great story, its technical innovations, and the backstory and history of getting the film made — like George Lucas not sticking around for opening day because he thought the movie would fail, so instead he went to Hawaii with Spielberg over  opening weekend to talk about Indiana Jones. Also, that he invented not just a world but a whole ever-expanding universe is quite ingenious! That happens maybe only once in a lifetime. It would be a dream fulfilled to work on any "Star Wars" project. I've fashioned my whole career to prepare for the chance that one day, if I did get called to work on a "Star Wars" project, I would have solid credits that proved my abilities. Another personal favorite is "Snatch." It's just a great movie. I always use lines from that movie in my personal life!
Favorite TV program(s)? Why?
"Seinfeld" is one of my favorites. Like with "Snatch," I often repeat lines from the show. But "Breaking Bad," "The Sopranos," "Sons of Anarchy," "The Mandalorian," "Fleabag," "What We Do in the Shadows," "Game of Thrones," "Vikings," "Summer Heights High" [Australia], "and five shows from South Korea: "My Mister," "Reply 1988," "Vincenzo," "It's Okay Not to Be Okay," and "Squid Game." I love these shows because of the stories they tell and the clever ways they tell them. It's shows like these that help make this the golden age of television we've been experiencing for the past decade! There are other shows I love for nostalgia reasons. They inspired me to go into television and movies as the career I want to be in for the rest of my life. That's hard to do, considering the challenge of being regularly employed in this business.
Do you have an industry mentor?
Yes, I have a few. Saleem Aziz is not only a good friend – he also gives me a lot of good advice about career decisions and paths to take. And he's been a bridge for me to get into the ACE diversity program where I have three mentors (Lillian Benson, ACE; Jacques Gravett, ACE; Rosanne Tan, ACE) whom I go to with questions or seeking tough career advice. Despite their busy schedules, they find time to reply — and reply quickly — which is nice because sometimes you need to make a decision by the end of the day.
What advice would you offer to someone interested in pursuing your line of work?
Be prepared to make sacrifices. Some people might not need to make ones as big as I did because it's also part luck. For example, I didn't work for six months because I turned down reality gigs so I'd be available to work on a scripted show, which meant taking a huge pay cut — even with a new baby to feed! Have the self-confidence to believe that when you do get called for a show, you're ready and won't mess up the opportunity you're being given. I even took a two-day course from Moviola on how to be an assistant editor, and I interned there so I could get some free classes.
Was there ever a circumstance when you had to rely on the Guild for help or assistance?
I have been lucky to work on shows that treat everyone well. Even with shows that didn't pay well, I never felt like I was being taken advantage of.
Is there anything you'd like to say to your fellow Guild members, some words of encouragement?
The greatest thing about the Guild is the more you involve yourself and really learn about your craft, the more people are willing to help you, even with this business being so competitive. There may be certain groups that are hard to break into, but when you try to get to know people and are genuine about yourself and not primarily trying to get a job, then things may open up for you very easily. Say out loud what you want. Will it into existence. If you keep at it, there are people who will help you get there, which is why I love working in post: the whole system has been based on the Mentor and Padawan [an apprentice to a Jedi knight], and eventually the Padawan will become a Mentor and pass down what they learned, and so forth. This is one of the few careers where this is expected to happen because your mentors want to see you succeed.
Compiled by David Bruskin. 
Interested in being featured in What Our Members Do? Send your name or that of a friend to SCollins@editorsguild.com.