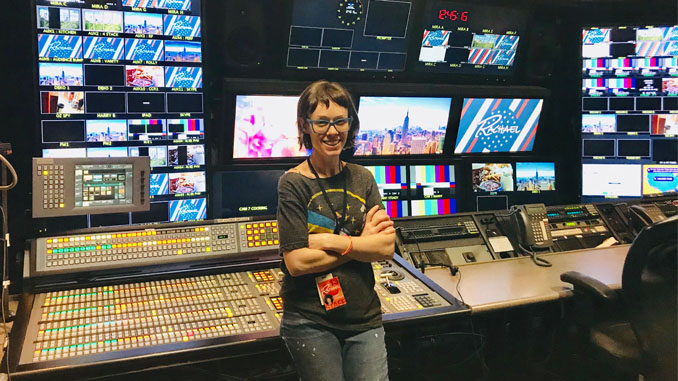 Where are you currently employed?
I work freelance.  
Current Project?
The Rachael Ray Show, the talk and lifestyle show. We are going into Season 14 this fall, which will be my ninth season with the show.
Describe Your Job.
I always tell people that I am an "instantaneous editor." I edit the show as it happens. My day-to-day responsibilities include keeping the switcher up to date and cleaned out, building effects for the show and switching the show. During the show, I am cutting cameras, running effects and feeding monitors.
How did you first become interested in this line of work?
I first became interested in switching when I was in college.
Who gave you your first break?
Kim Southwick! Kim was the production manager at KIDK-TV 3, the local CBS news affiliate in Idaho Falls, Idaho. When I was 15, he hired me as a camera operator for what was both my first job and my first TV job. I was so lucky to work in such a small market. While in high school, I was a camera operator, as well as stage manager, prompter operator and character generator (the station had a vidi-font machine — so old!). I was also the weekend photographer and writer for the evening news.
What was your first union job?
Rachael Ray was my first union gig.
Which of your credits or projects have made you the most proud and why?
I have a lot of projects that I've been proud to be a part of. I am very proud to work on Rachael. We put out a beautiful product and I work with a fantastic crew. Over the last couple of years, I have had to opportunity to work on The Late Show with Stephen Colbert and Sesame Street. All these shows require completely different skill sets from me, but they are all final products that I am super proud of.
What was your biggest challenge in your job (or on a particular project) and how did you overcome/solve it?
Truck work is probably the most challenging. You roll into a completely unbuilt show and you have a day or less to build every effect you need and to make sure that it will work effectively enough that your split-second decisions don't hinder the flow of the show. If you don't have a good truck engineer, it can be a very intensive build. It's fun — like putting together a puzzle.
What was the most fun you've had at work?
I got to switch a show where British performance artist Millie Brown vomited paint all over Lady Gaga. It was part of a performance that Lady Gaga was doing at the 2014 South by Southwest (SXSW) Festival in Austin that Fuse.tv aired on the Internet. An hour before airtime, someone ran into the truck, told us, "The second song is where she will throw up," and then left. None of us knew what that meant, until the second song started. It was an adventure. Really, even the worst show can be fun if you have a good crew.
Jobwise, what do you hope to be doing five years from now?
I would love it if Rachael was in its 18th season in five years. It's a great work environment.
What are your outside activities, hobbies, passions?
I love fermentation — getting my hands in the dirt and bringing life into a garden, or anything that I can use to express my creativity. That includes painting, music and crafting with my kids.
Favorite movie(s)? Why?
The Philadelphia Story, especially for the banter between Katherine Hepburn and Jimmy Stewart.
Favorite TV program(s)? Why?
I can't say I have a favorite, but I just binged The Umbrella Academy and looooved it. It is so purposeful with its cinematography and editing. I enjoyed it for the story and its production values.
Do you have an industry mentor?
Jon Pretnar and Mike Ser are probably the best technical directors I've ever worked with. They both are never-ending wells of information and creativity.
What advice would you offer to someone interested in pursuing your line of work?
Do it as much as possible. It won't matter how much you learn about the switcher if you don't have the opportunity to get your chops. So much of what you do during the show is muscle memory and it's important to build.
Was there ever a circumstance when you had to rely on the Guild for help or assistance?
Actually, no. I haven't tapped into the Guild for assistance yet.
Is there anything you'd like to say to your fellow Guild members, some words of encouragement?
We are on the crossroads of creativity and technology. How lucky are we?!!
Compiled by Edward Landler      
Editor's Note: To recommend a member (including yourself) to be featured on CineMontage.org, and the home page of the Editors Guild website, please contact edlandler@roadrunner.com.