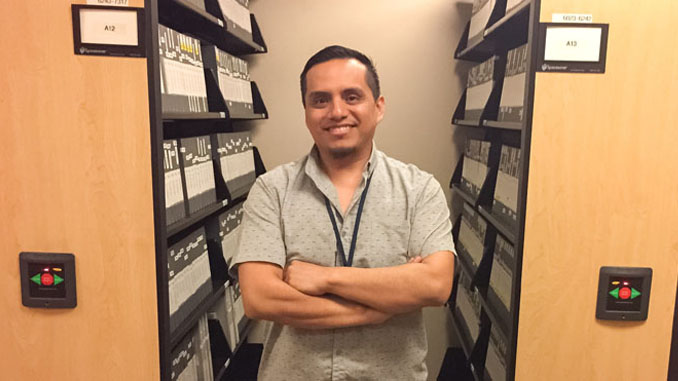 Where are you currently employed?
I work as a sound service person in Sony Sound Distribution and Inventory at the Sony Studios in Culver City, CA.
Current Project?
I'm not working on any specific project now, but we just finished a huge project at Deluxe Culver City (Stage 6 on the Sony lot). We created more than 25,000 records for the Colorworks/Deluxe Culver City internal archives on LTO5 tapes. We then arranged them in sequential order, labeled them, and sent them to Sony's off-site storage.
Describe Your Job.
The vault is the very first department through which each media asset goes. My job is to make sure that each asset is assigned a unique barcode number and that every single detail is entered into our inventory system for all tracking purposes.
These details include: Barcode number, alternate titles, contents, format, media class, media type, standard, picture resolution, aspect ratio, framing, version, color sampling, running time, alternate barcodes, creation date, color space, audio configuration, facility label — and any other additional description that will facilitate locating each media asset when necessary.
How did you first become interested in this line of work?
Although I've always been fascinated with TV shows and movies, my interest didn't spark until I got my first job in the industry.
Who gave you your first break?
When I was 18 years old, I was working in the restaurant industry when I met Stuart Heising through a mutual friend. Stuart was a visual effects producer at Hollywood Digital West, and he gave me an entry-level opportunity in their film and video vault.
What was your first union job?
Media Assets Vault Manager with Colorworks/Deluxe Culver City on the Sony Studios lot, back in 2015.
Which of your credits or projects have made you the most proud and why?
In 2007, while working at the post-production house Company 3 in Santa Monica, I had the opportunity to embark into the wonderful world of feature movies. I was the digital intermediate dailies producer for several Hollywood releases, including Rush Hour 3, National Treasure: Book of Secrets, Cloverfield, Untraceable and Horsemen. It was a rewarding experience to have worked in such a demanding, fast-paced and laborious process under the guidance of very talented people.
What was your biggest challenge in your job (or on a particular project) and how did you overcome/solve it?
Producing dailies for Cloverfield. This movie was shot on the Sony F23 digital camera, the Thomson Viper Filmstream camera, and Panasonic AG-HVX200 P2 HD camcorder, which required the implementation of special workflows considered non-traditional at the time. We were able to process and accomplish the requested deliverables. In order to do it, everyone on our team got very involved, running many tests during pre-production until clients were satisfied with the results.
What was the most fun you've had at work?
The most fun was working with many different people with many different backgrounds and stories, expanding my network and reconnecting with people I've worked with in the past. Also, all the cool perks, like cast and crew screenings, holiday parties and employee happy hours.
Jobwise, what do you hope to be doing five years from now?
I would like to get back into operations management or producing.
What are your outside activities, hobbies, passions?
Family interaction is important to me; I really value the quality time I spend with them, including our dog Astro, who is 15 pounds of pure cuteness. I also enjoy watching boxing and soccer, and, of course, I love watching films.
Favorite movie(s)? Why?
There are too many to list but here are a few: The Shawshank Redemption, American History X, Full Metal Jacket, American Beauty, Pulp Fiction, 12 Angry Men, Goodfellas, and The Good, the Bad and the Ugly. I consider them great stories with great cinematography and great dialogue.
Favorite TV program(s)?  Why?
Game of Thrones, The Wonder Years, Seinfeld, The Office and Curb Your Enthusiasm. In my opinion, Game of Thrones is just an amazing show; the story, the characters, the acting and the production values are unbelievable. Everything is so well put together. As for the other shows, you know what they say, "Laughter is the best medicine."
Do you have an industry mentor?
During my 15 years at Company 3, I was exposed to very talented colorists, online editors, and producers who were very influential. But the one person from whom I learned the most was Thatcher Peterson, the head of production. I was lucky to work with him for five-plus years in the operations department.
What advice would you offer to someone interested in pursuing your line of work?
Go for it, ask questions, take risks, learn as much as you can, expand your knowledge and network.
Was there ever a circumstance when you had to rely on the Guild for help or assistance?
So far, I've had good relationships with my previous employers and now with the studio. Thankfully, I have not had the need to reach out for assistance.
Is there anything you'd like to say to your fellow Guild members, some words of encouragement?
I would like to leave with a quote from the great Pelé: "Success is no accident. It is hard work, perseverance, learning, studying, sacrifice and, most of all, love of what you are doing or learning to do."
Compiled by Edward Landler
Editor's Note: To recommend a member (including yourself) to be featured on the home page of the Editors Guild website contact edlandler@roadrunner.com.