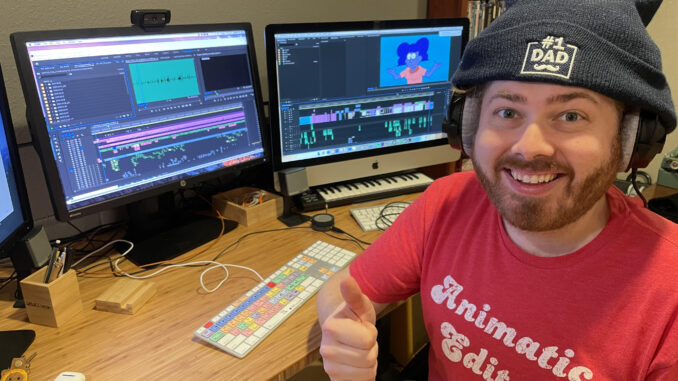 Where are you currently employed?
Netflix Animation.
Current projects?
I'm editing animatics and picture on "Centaurworld." The amazingly talented Megan Dong has created a really bonkers world filled with catchy songs. I'm proud to be part of the team and can't wait to put it out into the world.
I'm also busy being a new dad. My wife and I welcomed our daughter in August and I've somehow already earned the coveted #1 Dad hat. Not too shabby!
 Describe your job.
I'm currently the picture editor now that the series is in post, but I was also one of the animatic editors.
Animatic editing is an incredibly fun job that I wish I had known about when I was in school. As an animatic editor, I bring in the storyboards and dialogue, and then pace out the episode and add temp SFX/music. We're essentially building a blueprint for the animators, but it's also the final rewrite of the show as we work with our directors to get the tone, rhythm, and story all worked out.
I often find the job hard to explain without visuals so I created a video about it here:
https://youtu.be/19mLrEOIpsg
I haven't made a video about picture editing (yet!) but it's the post side of things. So I'm receiving fully animated clips, manipulating them as needed, and adjusting/refining the timing that was previously established by the animatic.
How did you first become interested in this line of work?
Fate kind of pushed me into it. I was a PA on multi-cam sitcoms for a few years when one night at about 4 a.m., I jumped out of bed from a fever dream about Muppets. I was filled with a desire to learn how to be a puppeteer. So I jumped on the computer, found a class, signed up, and started a few days later. Everybody else in the class happened to work in animation. They cracked me up every day and we became fast friends.
When I was looking for my next gig, they encouraged me to try animation. So through them I got my first job at Titmouse and was instantly blown away by the creative, ragtag, make-cool-stuff spirit of the place. I knew animation was the place for me!
 Who gave you your first break?
Definitely Anthony "Sugar Boi" Lioi. He was the friend from puppet class that most encouraged me to work in animation, and he was the first person to hire me as an animatic editor. He saw something in me, saved my career twice, and taught me everything I know about animation. What a guy! Working with him was like a taking a master class in clarity, comedy, animation production, and creative problem-solving. He's the best supervising director in the galaxy. And a cunning warrior. And a good friend.
What was your first union job?
"Big Hero 6: The Series" at Disney Television Animation (DTVA).
 What credits or projects are you proudest of, and why?
"Pinky Malinky" for Netflix/Nickelodeon. Such a unique, funny, heartfelt show about a sausage. And the fake-documentary style allowed us to give the edit an attitude and character of its own.
And "Beefcake Boys," a series about four boys who can magically turn into big muscly beefcakes. I created this series of shorts for DreamWorks/Awesomeness and it fulfilled a dream of writing and running my own show. I love the end result and I loved working with close friends like Stephen Leonard (animator extraordinaire), Ruth Turner (hilarious character designer), and my wife Melanie Hoffman (best producer  in town!)
 What was your biggest challenge in your job (or on a particular project) and how did you overcome/solve it?
The biggest challenge for me in editing animation is that there doesn't seem to be a standard way in which an editor is included creatively. Some animated shows think of their editors as collaborators, but some think of them more as technicians. It can be frustrating to start a job and realize they don't see the position the same way you do. But the solution I found was to look at those situations as opportunities to learn from somebody new. In my case, I realized that the people in charge had a specific sensibility through which I could learn a new skill to add to my toolbelt for future projects.
What was the most fun you've had at work?
Every day working on "Pinky Malinky" because of both the collaborative atmosphere set forth by the showrunners (Chris Garbutt, Rikke Asbjoern, and Scott Kreamer) and the nature of the show (fake documentary). The editors were given so much creative freedom and encouragement! It was truly a blast coming to work and trying out whatever crazy ideas we had with our directors.
There's one scene in particular that I hope is played at my funeral. Pinky – who is a hot dog that can inflate like a balloon – loses a class election and sadly deflates for a looooooong time. I got to pull out all my favorite balloon and fart SFX and start playing around. At one point, I thought back to one of my favorite scenes in "Austin Powers" when the computer tries to say "evacuation complete" as Austin continues urinating and how It added a layer of tension that made it so much funnier. So I brought in some footage of Pinky's teacher trying to resume class and made it look like he's being interrupted over and over by more and more fart SFX. It's really silly and over the top but it's the kind of thing I'd always hoped I'd be doing for a living.
 Jobwise, what do you hope to be doing five years from now?
I would love to edit an animated feature.
 What are your outside activities, hobbies, passions?
I often get obsessed with new hobbies, run them straight into the ground, and move on. (Puppetry, Magic, Croquet, Running, Lamp making, Liquid Light Projection, etc.) It makes life interesting. But my biggest hobby has always been playing guitar. I find that a lot of editors are also musicians. If anybody is interested in starting a Dad Rock editors band, let me know!
 Favorite movie(s)? Why?

The precise comedic timing of "Austin Powers: International Man of Mystery" has always stuck with me and I think back to it a lot as I work.
Pixar's "Up" showed me the depth and breadth of emotion that great editing can have in animation for "kids." The "Married Life" montage in particular is moving and inspirational.

Richard Donner's "Superman" is my all-time favorite on every level.
"Home Alone" always impressed me with its ability to swing from touching sentimental moments to cartoony physical comedy.
And like many people, the original "Star Wars" trilogy is probably what fired up my engines in the first place. Yub Nub! [Ewokese]
 Favorite TV program(s)?  Why?
"The Office" (UK) because it's such a perfect 14-episode arc. The editing is used so effectively to increase the awkward tension.
"Star Trek: The Next Generation" because I think it teaches me to be a better person.
And "Survivor" because it's the greatest game ever played. (I loved Cinemontage's feature on "Survivor" editors last year, by the way.)
Do you have an industry mentor?
Mentorship is such an important part of this business and I'm grateful to have crossed paths with some awesome people. John Venzon, ACE, and Jon Price, ACE, have both been gracious with their time, chatting with me over many meals about the ins and outs of this tricky business, helping me navigate career decisions, and bonding with me over Dad Rocking. And the previously mentioned/praised Anthony Lioi continues to be a mentor, friend, and son I couldn't have had. I hope to one day pass it forward and be as helpful a mentor for someone as they've all been for me.
I also think it's important to have trusted advisors in my fellow editors. Rachael Russakoff and Matt Brailey are super talented editors with whom I love to talk shop. Whether it's at work – or in Matt's case, the Tam O'Shanter bar – I know we've got each other's backs.
What advice would you offer someone interested in pursuing your line of work?
Someone once told me that anybody can be trained to push buttons; what you're being paid for is your opinion… but you better know how to push the buttons.
Animatic editing is a position not many people outside the industry know about, so you have to either teach yourself or learn on the job. I'd recommend getting a bunch of storyboards and just playing around with them. Find the fun in editing still images, separated dialogue, SFX, music, etc, Then apply to jobs everywhere and tell them you know both Avid and Premiere — even if you have to teach yourself the night before!
Was there ever a circumstance when you had to rely on the Guild for help or assistance?
I was at Nickelodeon when the editors voted to join. The guild was very helpful answering the million questions we had throughout the process.
Is there anything you'd like to say to your fellow Guild members, some words of encouragement?
Bill and Ted said it best – "Be excellent to each other" and "party on, dudes."
Compiled by David Bruskin