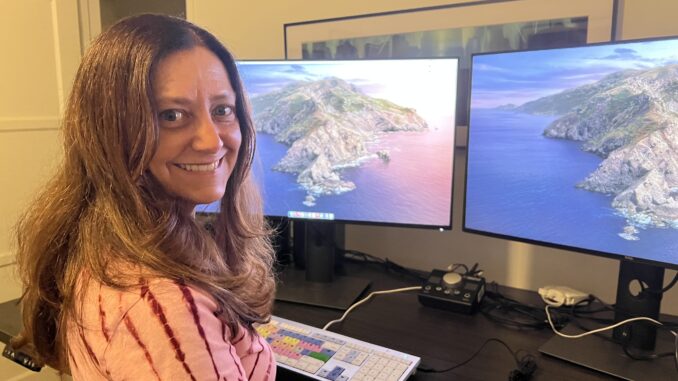 Where are you currently employed?
I'm in between projects at the moment.
Current projects?
The last movie I worked on was "King Richard," and I'm starting on the "Untitled Bob Marley Biopic" later this year.
Describe your job.
I've been Pamela Martin's first assistant for over 10 years. I'm responsible for making sure the cutting room runs smoothly with a focus on providing everything Pam needs to do her job efficiently, i.e., organized dailies, scene cards, lined script, temp sound effects, temp music, etc. I also communicate regularly with all of the other departments (sound, music, DI) to provide what they need throughout the post process.
How did you first become interested in this line of work?
I had a friend who was an assistant editor and thought that my attention to detail and love of numbers would make me a good candidate for the job. I was open to the idea so I started taking film classes and got an internship to learn more about filmmaking in general and editing specifically.
Who gave you your first break?
The same friend helped me get my first internship and eventually gave me my first P.A. job.
What was your first union job?
My first union job was apprentice editor on "Waterworld."
What credits or projects are you proudest of, and why?
"King Richard" — I loved the movie and that Pam's amazing work was recognized by her peers.
"Battle of the Sexes" — Our cutting room felt like a home away from home, and I still enjoy watching the movie after seeing it so many times.
"Waterworld" — It was my first credit and first experience on a big studio feature.
What was your biggest challenge in your job (or on a particular project) and how did you overcome/solve it?
One big challenge was about 20 years ago when I needed to learn the Avid in order to keep working as an assistant editor. I was nervous about it but I overcame it by saying yes to a job with an editor who was willing to teach me how to translate what I knew about working on film to working on Avid.
Another challenging situation was when I was told I would have to share a room on "Captain America" with another assistant editor. I'm particular about my work area and process, so I didn't want some strange guy in my space. I worked it out by getting to know him. Now he's my husband.
What was the most fun you've had at work?
There are a few people I've worked with who manage to make me laugh on a regular basis by making up songs or repeating favorite quotes out of context. I have the most fun when I'm laughing a lot at work.
Jobwise, what do you hope to be doing five years from now?
I try not to plan too far ahead these days, so for now, I'll just keep doing what's next.
What are your outside activities, hobbies, passions?
I really enjoy hiking, traveling, music, food, and sports.
Favorite movie(s)? Why?
"Remains of the Day" — It's such a moving and beautifully crafted film.
Favorite TV program(s)? Why?
"Mister Rogers' Neighborhood"– I'm inspired by his curiosity, kindness, and empathy. He had an amazing ability to communicate with both children and adults in such a comforting way.
Do you have an industry mentor?
I've worked with many talented and generous editors and assistant editors. Pam has taught me so much over the years that I've worked with her. Greg Perler taught me the Avid so I'm eternally grateful to him. Audrey Evans taught me how to sync dailies on film!
What advice would you offer to someone interested in pursuing your line of work?
Get to know people who are working on the types of projects you want to work on, and be ready to jump right in when the call comes.
Was there ever a circumstance when you had to rely on the Guild for help or assistance?
When I was still new to the industry, I called the Guild for help navigating a complicated political situation.
Is there anything you'd like to say to your fellow Guild members, some words of encouragement?
I've learned something on every job by staying open-minded about new situations or the people I'm working with at the moment.
Compiled by David Bruskin.