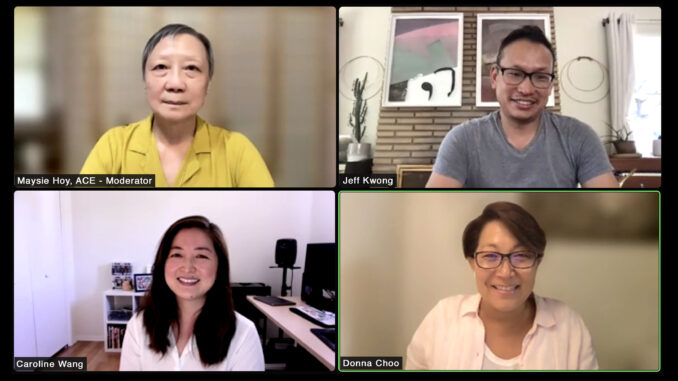 By Cynthia Wang
Luyen "Lu" Vu, ACE, began his college days at UCLA studying art. Illustration and painting came naturally to him, and his family supported his creative inclinations. Even so, he was still searching for something that could spark a real passion in his life. He decided to switch majors and give philosophy a try.
His first class featured no textbooks and a curriculum seemingly focused on just two specific movies. "We watched '2001: A Space Odyssey' and 'Blade Runner,' and then just talked about that the whole quarter," Vu recalled. But that was enough to get him hooked; shortly afterward, he applied to go to film school. Once he arrived at the University of Southern California, Vu absorbed every lesson he could in producing, writing and directing, but "almost zero editing," he said. Yet post-graduation, friends would contact him seeking his help in editing specifically. "'You're pretty good with computers,'" one told him by way of encouragement. "'I think you'll be fine.'"
Vu was, venturing into a new field as an assistant editor on reality television and then, two weeks after joining the Guild, as an assistant on "Arrested Development." Connections would then expand his résumé to include scripted series such as "Heroes" and "Fringe," work that in turn led to his current eight-year collaborative relationship with director John Ridley.
"I like art, and filmmaking involves all different types of art," Vu said of his surprising career. But what did his Vietnamese family think of his nonlinear path to becoming a film and episodic editor? "My parents were neither supportive or unsupportive," Vu admitted with candor before adding with a laugh, "but like most Asian parents, they needed to be able to say what it is that you do to other people!"
Asian American picture editors Vu, Poppy Das, ACE, and Mark Yoshikawa, ACE, shared their background stories, workplace advice and cultural experiences during a "Celebrating Asian Pacific Heritage Month" Zoom seminar hosted by Edie Ichioka, ACE, on May 21, the second in a series called "Tell Us Your Story" presented by MPEG's Pan Pacific Asian Steering Committee. The first seminar, held May 14, included host Maysie Hoy, ACE, story analyst Donna Choo, music editor Jeff Kwong, and assistant editor Caroline Wang.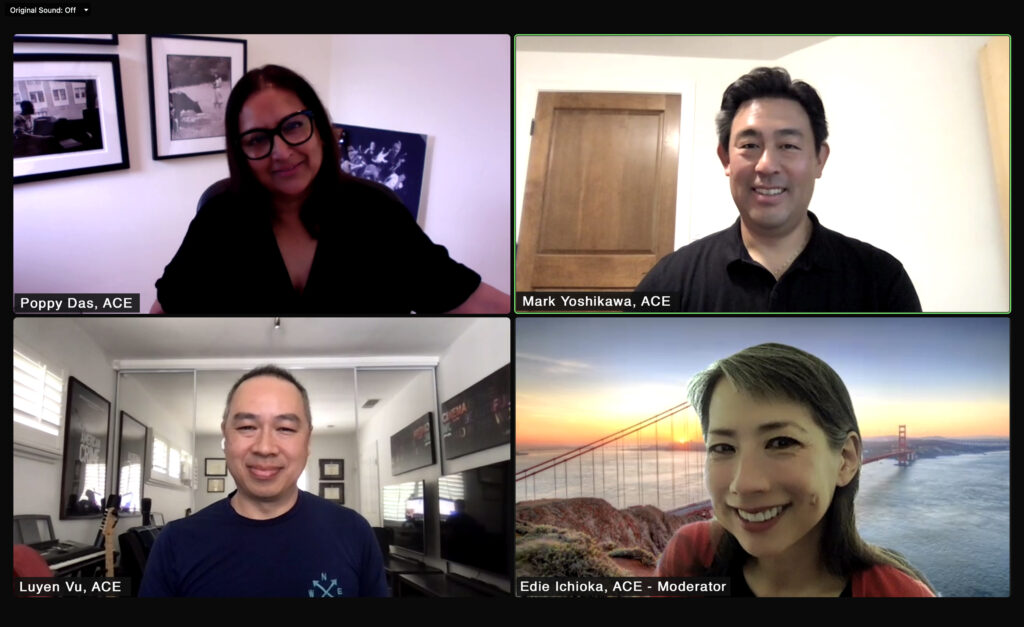 Nena Erb, ACE, co-chair of PPASC along with Rosanne Tan, ACE, helped coordinate the panels with the help of Karolina Touvinen and Tricia Rodrigo, while Robert Komatsu, ACE, and Ian Tan, ACE, facilitated the Q&As. Adriana Iglesias, Harolena Gaines, and Muneeb Hassan from the Guild staff, as well as Diversity Committee co-chairs Hoy and Lillian Benson, ACE, provided guidance. Their efforts were rewarded with appreciative audiences eager to hear new voices and see representation across different areas of post-production.
"I am very fortunate my direct supervisor is a Chinese woman," said Choo, a union story analyst at Sony Pictures Entertainment in a field she described as still populated "largely white men, very few people of color, and very few women." But in reading works by authors prior to commercial publication, Choo has the opportunity to flag emerging or underrepresented voices who "just need time to develop" before having their pieces adapted for visual audiences. "I feel like I'm infiltrating in my own way," she said.
For Choo, herself of Japanese, Korean and Native Hawaiian heritage, she has seen her communities gain clout. "I have never worked at this level at the studio and read so much material that features that many Asian American characters, queer characters, non-binary characters, and people of color," she added. "It is a really exciting time."
Wang, an L.A.-based assistant editor who toiled as a civil engineer for five years before realizing she got so much more "solace and comfort" out of her DVD box sets of "The Office" and "Friday Night Lights," took her first steps into the film industry when she moved to New York for a self-paid six-week workshop in AVID and Final Cut Pro. Buoyed by her new skills, she sought out internships via Craigslist, landed at Break Thru Films, and then worked her way back to L.A. to add reality and scripted television to her portfolio.
Proud of her recent efforts on the Marvel Studios' series "The Falcon and the Winter Soldier" and "Hawkeye," Wang said she benefitted from the on-set advice she got from PPASC co-chair Tan, her editor and mentor: "Rosie Tan has been an enormous influence for the past few years. She has really guided me through a lot of things professionally and personally."
Like Wang, Kwong studied civil engineering in college, but his love of music proved too great. With his wife Emily already a music editor, the songwriting and guitar-playing Kwong learned the craft from her while he helped her spot notes and set up rigs. Eventually he joined the music department of "Fresh Off the Boat" after she had been on the show for a year. Now they co-manage Papercranes, a music editorial IATSE signatory. Although his parents "know I love what I'm doing," Kwong said, he refrains from going into too many details. "I never tell my parents when I'm on hiatus. It would give them a heart attack!" he joked. "As far as they know, I'm working year-round."
In contrast, when a young Yoshikawa started making movies in high school with his friends—using two VCRs to edit things together, no less—he and his parents kind of knew where he was headed. Yoshikawa would study film at the University of California Santa Barbara, head south to become an apprentice, then get the call to join the crew of the 1996 Tom Hanks film "That Thing You Do!" as an editorial production assistant. More importantly, he would work with his hero, Richard Chew, ACE. "He's just a great mentor," Yoshikawa said. "That's where I really got my feet wet."
With highlights including films "The Tree of Life" (2011), "The Hunger Games: Mockingjay—Part 1" (2014), and "Reminiscence" (2021), and television pilots for "Westworld" (2016) and "Succession" (2018), Yoshikawa has relished experimenting while cultivating a great support network. "Pay attention to everything in the [editing] room," he advised, "because it will all come into play later in your career. Good people attract good people, so get to know everybody."
Das combined her love of photography with her need for storytelling when she became a documentary film editor. Although she valued her training on journalistic PBS series such as "Frontline" and "Nova", "I was more interested in emotions that captured real people," she said. So she headed west, gaining experience on different types of reality programming from "The Bachelor" to "30 Days" before landing the projects that spoke to her most, such as "Robin Williams: Come Inside My Mind" (2018), "Lorena" (2019), and "Challenger: The Final Flight" (2020).
She next lends her discerning eye to a Netflix docuseries on the life of Arnold Schwarzenegger, which will require her and her team to sift through 80 terabytes or archival material, not including new footage. However daunting it may seem, Das said this was the aspect of collaboration she enjoys the most. "Yes, it's my job to guide the director and say, 'This is really fantastic, this is really interesting, and this does not belong here,'" she explained. "I will say, 'Look. I know you love this, I know you wanted this. I've taken it out—let's take a look at it. It's always going to be your call, but we need to trust each other, and I am listening.'"
By the end of the two panels, participants on both sides of the Zoom screen were eager to carry the torch for Asian Pacific American members, whose insights struck a chord personally and professionally. "The joy of my job is I am going to hold up the people in my community, you know," Choo said, "and give them visibility because I'm not satisfied. I've come such a long way, but I am not satisfied."
Cynthia Wang is a freelance writer based in Sydney, Australia.