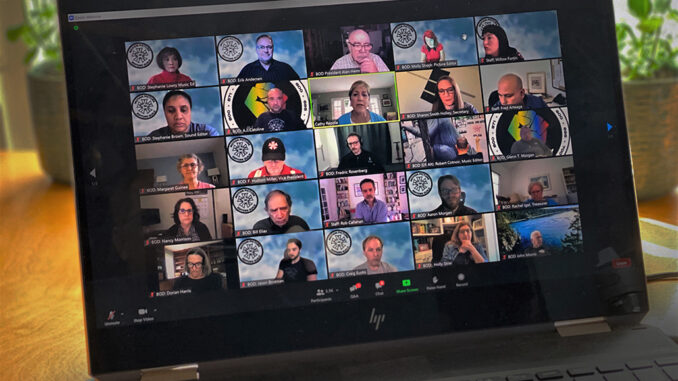 by A.J. Catoline
Local 700 members united in a massive show of solidarity during a four-hour online webinar Saturday morning which was the largest attended union meeting in Editors Guild history. More than 2,800 members, including picture and sound editors and re-recording mixers, and a dozen other classifications, attended from Los Angeles, New York, San Francisco, Atlanta and working on-location around the world.
These thousands of post-production professionals logged on to hear National Executive Director Cathy Repola report on the ongoing IATSE Basic Agreement negotiations, which occur every three years and affect contracts in film and television. The turnout eclipsed the meeting during the last negotiation cycle in 2018 when about 2,100 members showed up in the ballroom of the Sheraton Universal.
IATSE International President Matthew Loeb said this week the talks are at a "critical juncture." The existing agreement initially ended on July 31; an extension expired Sep. 10. Industry work has continued since on a "status quo" basis.
"We have a lot of solidarity," remarked MPEG President Alan Heim as he welcomed members to the webinar meeting.
On the heels of a devastating loss of employment in the industry due to the pandemic, with many editors working from home for the last 18 months, in isolation from their post-production crews, while missing in-person social mixers and Guild meetings in exchange for Zoom calls, the spirit of collective bargaining remained strong. Resolve has been strengthened during the pandemic and union members now are more connected, informed, and engaged than ever.
In thousands of comments in the webinar chat feed, as well as online at the "I Am The Union" Facebook group page, members wrote comments that they would enthusiastically support the efforts of the Editors Guild, and its sister Locals, and the leadership of the International Alliance in their efforts.
While waiting for a report from Repola, music was streamed including "Union Man" by Neil Young. Nearly 400 questions were submitted online, and Repola stuck around in overtime to answer nearly each one. The questions were submitted electronically, and read aloud by Membership Outreach co-chairs Molly Shock and Stephanie Brown.
National Organizer Rob Callahan thanked the many member volunteers who for the last several weeks have texted every active member on the Local 700 roster. He urged others to join in the effort to get out the word, and for members to sign up for a volunteer shift on the Guild website.
"I thank all of our member volunteers who helped generate the turnout today through our texting outreach campaign," said Repola. "And a huge shoutout with much gratitude to our staff who worked so diligently to put this huge virtual meeting together."