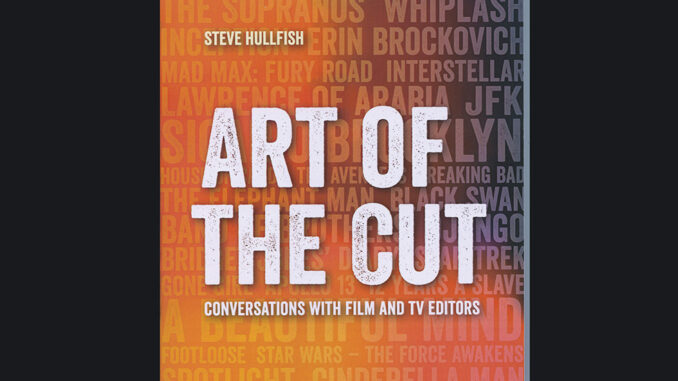 Art of the Cut: Conversations with Film and TV Editors
by Steve Hullfish
Focal Press/Routledge
Softcover $39.95
ISBN #978-138-23866-4
by Betsy A. McLane
Steve Hullfish knows how to talk with editors. In addition to writing five previous books (all published by Focal Press), including The Art and Technology of Digital Color Correction and Avid Uncut, he has extensive post-production credits in both television and film. Based in Chicago, his experience includes the television shows The Oprah Winfrey Show (1986-2011), Investigative Reports (1991-2011), The New Explorers (1993-96) and Cold Case Files (1999-present), as well as the feature fiction films Courageous (2011) and War Room (2015), and last year's Clinton, Inc. documentary.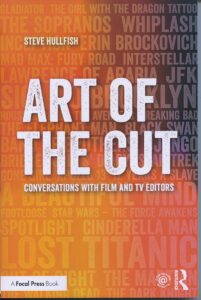 In his new book, Art of the Cut: Conversations with Film and TV Editors, he gathers together interviews with more than 50 working editors to create a mosaic of advice that will interest both veterans and newcomers to the field. It will be especially valuable for those who aspire to join what Hullfish calls, "the brotherhood and sisterhood of editors."
Art of the Cut organizes the interviews in 11 chapters, including Project Organization, Pacing and Rhythm, Sound Design, and Miscellaneous Wisdom. Along the way, Hullfish introduces a wide range of subjects such as choosing temp music and developing social skills in and outside the editing room. He also devotes a separate chapter to the unique demand of Documentary.
Rather than set each interview on its own as an in-depth dialogue, Hullfish opts to combine many voices to comment on a topic. For example, in the chapter on Performance, Julian Clarke, ACE, states, "You can take a bad performance and make it passable; or sometimes the harder job is actually working with a strong performance." Maryann Brandon, ACE, comments, "Sometimes there's a physicality to something the actors do that makes the way you cut a scene work." Anne Coates, ACE, reminisces, "One actress I was working with, I mostly picked out where she looked charming and smiled, and cut away from her when she was talking."
Obviously, these people were not all in the same room at the same time, but Hullfish weaves together their insights to create the feel of ongoing conversations, perhaps a friendly chat over lunch. This technique allows individuals to comment on many different topics, and emphasizes the willingness most editors have to share their insights and tips. Hullfish also includes his own questions at the beginning of most sections, and interjects to keep things rolling and offer his own perspective.
Art of the Cut offers a smattering of diagrams, charts and photos, all of which, unfortunately, are poorly reproduced. Focal Press would be well advised to improve the quality of the visuals in their publications to match the usefulness of the writing. The writing in this case is clear and colloquial, nicely enhancing the affable tone of the editors' words of wisdom. The book's layout features what Hullfish calls "nuggets" of information that especially appealed to him, presented in large type pull-quotes within boxes. These quotes, such as "Foley can help make the viewer 'lean in,'" are offered as discussion starters for classes. They require the reader to review a section fully to find out who made the statement, since the source of the quote is not credited in the box. This may be a means to get the material read closely, but it is frustrating when one wants to make a quick attribution.
Also set off in boxes are definitions of terms specific to editing, such as "Turnover," "RAID" and "ScriptSynch." While experienced professionals are familiar with these, the definitions make the book ideal as an ancillary classroom text. It is as a learning tool for emerging editors that The Art of the Cut will find its best use.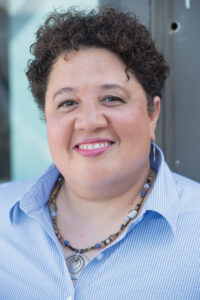 The chapter on documentary editing is a miniature of the book's overall format. Hullfish condenses each of the elements considered for fiction work into one chapter covering different types of documentaries. He crams a variety of non-fiction styles into 25 pages, but interviews only five people, perhaps most interestingly Craig Mellish, ACE, who sheds light into the process of working on a Ken Burns opus. Since documentary editing can include many variations, from following a strict script to shaping 500 hours of digital verite into a story, it might well deserve a volume of its own.
Down-to-earth advice about how to break into and move up in the business, along with war stories, are offered in the Miscellaneous Wisdom chapter. This gossipy and reflective section may be the most interesting one for long-time professionals. Kelley Dixon, ACE, shares, "I'd been assisting for way too long! Although, I do admit to having spent a few too many years chasing my Big Feature Assistant dream — which never really happened. So, I got into TV and just stayed there. But the situation has to be right to move up. You have to be with an editor who lets you cut, that is not intimidated by you or your work, that encourages you, that will tell producers you did the work, etc."
Oscar-winning editor Pietro Scalia, ACE, speaks for many when he states, "I loved editing. I discovered it while I was doing my documentaries. It was a form of writing…I think that the cutting room is the most intimate environment where you actually make the film."
More information, including full transcripts of the interviews, should be available on the companion website to Art of the Cut, www.routledge.com/cw/Hullfish.