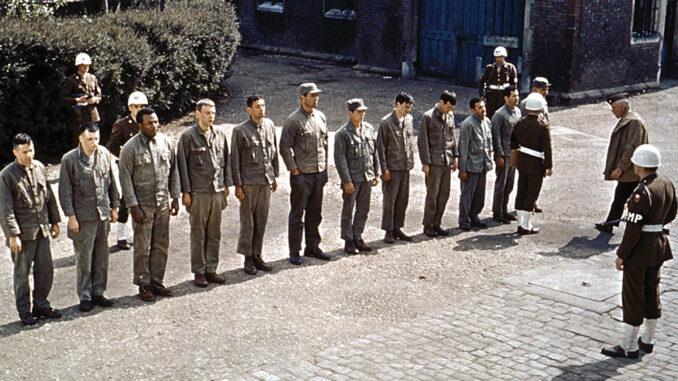 by Edward Landler
MGM's The Dirty Dozen, directed by Robert Aldrich, had its world premiere at Loew's Capitol Theatre on Broadway in New York City 50 years ago, on June 15, 1967. Based on the novel by E.M. Nathanson, it depicts 12 court-martialed American soldiers sentenced to death or long-term prison sentences. Offered amnesty if they survive a top secret mission, they train as a commando unit to kill high-ranking Nazi officers gathered in a French chateau on the eve of the D-Day invasion.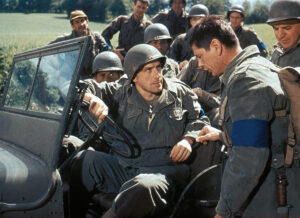 At the film's conclusion, reacting to an American general's praise, a survivor at a military hospital mutters, "Killing generals could get to be a habit for me." This is followed by a voice reading an official commendation over a montage of the namesake dozen — a motley crew representing a full range of motivations for their original crimes from understandably justified and sympathetic to utterly despicable and psychopathic.
The day after the premiere, The New York Daily News reported that the end of the movie was greeted by "the loudest burst of applause ever heard on Broadway." Earning over $20 million in its first year of release, it was the number one box office hit of 1967. As a reflection on the tides of popular sentiment, it may be no coincidence that this was the first year polls saw a majority of Americans turning against the ongoing Vietnam War.
On April 15, 1967, nearly a half million people marched the streets of New York behind Dr. Martin Luther King, Jr., and Dr. Benjamin Spock. In Los Angeles, on June 23, over 10,000 protestors greeted President Lyndon Johnson at the Century Plaza Hotel, five days before the movie's opening at Hollywood's Paramount Theatre. Soon after, MGM announced that Dozen had broken all opening-day records for any non-roadshow film in the studio's 43-year history.
"Younger people by the bushel thought it was an anti-establishment picture," director Aldrich noted in a 1971 Sight and Sound interview. In The Los Angeles Times in 1981, he said, "When we planned The Dirty Dozen in 1965, do you think we knew that by the time the film came out Americans would be sick of Vietnam so the mood would be just right for our picture? Rubbish!"
The movie's anti-authoritarian attitude was not in the original novel, the rights to which Aldrich had tried to buy when the proofs circulated around Hollywood in 1964. MGM outbid him.
Author Nathanson got the idea for the story when he was an actor and assistant director on Russ Meyer's The Immoral Mr. Teas (1959). During World War II, the softcore porn moviemaker had been a combat photographer; he told the writer he had shot footage of prisoners in a stockade in England training for a mission in Europe.
Meyer's memory may have been hazy, but there was a real-life model for the Dozen. They were not murderers or felons, but brawling US infantrymen who wound up in the stockade regularly for disobeying orders and going AWOL on drunken weekends. Preferring not to bathe, they were dubbed the "Filthy 13," and were parachuted behind enemy lines after midnight on June 6, 1944 to destroy Nazi supply lines and escape routes. In 2012, the unit's 92-year old leader, 101st Airborne Sergeant Jake McNiece, was awarded the French Legion of Honor.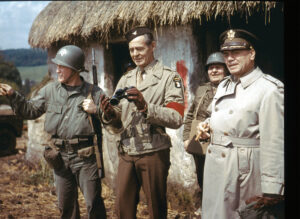 Upon buying the rights to Nathanson's novel, MGM gave the project to producer William Perlberg and writer/director George Seaton, who were wrapping the WWII drama, 36 Hours (1964). A year later, the studio re-assigned it to producer Kenneth Hyman, then completing Sidney Lumet's The Hill (1965), with veteran writer Nunnally Johnson to script.
When Johnson completed his draft late in 1965, Aldrich was brought in to direct. Working his way up in the industry as an assistant director on films like William Wellman's Story of G.I. Joe (1945), Jean Renoir's The Southerner (1945), Abraham Polonsky's Force of Evil (1948) and Charles Chaplin's Limelight (1952), he had directed his first feature, The Big Leaguer, in 1953.
After reading Johnson's script, Aldrich said that it "would have made a very acceptable 1945 war picture, but I didn't think a 1945 war picture is necessarily a good 1967 war picture. So I brought in [screenwriter] Lukas Heller. I thought it needed more bite…a more cynical approach to the people in this kind of situation."
Having written three of the director's earlier films (Whatever Happened to Baby Jane?, 1962; Hush…Hush, Sweet Charlotte, 1964; and The Flight of the Phoenix, 1965), Heller worked in the comic sardonic touches underscoring the anti-establishment tone that Aldrich wanted. The director himself contributed the "Last Supper" scene with the outfit reciting a rhyming attack plan that carries over directly into their drop into France. Aldrich offered an apt critique of the finished script: "The first two-thirds were Mr. Heller's contribution toward making it into a 1967 picture, and the last third was a pretty high-class, well-done war picture."
As pre-production started up early in 1966, Aldrich wrote to producer Hyman about the movie's central character, Major Reisman, the maverick Army officer pressured into training the criminal squad. He wanted him to be the "most cynical, suspicious, sophisticated, anti-authoritarian, anti-establishment, mean, miserable son of a bitch that anybody has ever seen in a movie."
MGM had offered the part to John Wayne; he turned it down because he thought the script was "unpatriotic," and supported the Vietnam War by making The Green Berets (1968). Aldrich recruited Lee Marvin, fresh from winning an Oscar for his dual role as gunslinger adversaries in the Western comedy Cat Ballou (1965). A supporting actor in the director's WWII movie Attack (1956), Marvin had played a manipulative colonel with an eye for a future in politics.
After reading Johnson's script, Aldrich said that it "would have made a very acceptable 1945 war picture, but I didn't think a 1945 war picture is necessarily a good 1967 war picture."
Several of Dozen's supporting actors worked with Aldrich before — Ernest Borgnine, Ralph Meeker, George Kennedy, Richard Jaeckel and Robert Ryan — but, of the 12 title characters, Charles Bronson alone had been in earlier Aldrich films.
The director asked Jack Palance, his star in Attack and The Big Knife (1955), to play the Bible-thumping racist, murderer and rapist Maggott, but the actor refused. Aldrich told an American Film Institute seminar in 1971 that Palance, an active supporter of the Civil Rights movement, felt it was not a serious depiction of bigotry. Telly Savalas took the role instead.
A weightier perspective on racism came through in the character of Robert Jefferson, a black man condemned to death for killing white soldiers trying to castrate him. For Cleveland Browns fullback Jim Brown, one of the all-time great football players, this was his second movie and a further step into an acting career to follow his planned retirement from sports at the end of the next season.
After two weeks of intensive rehearsals, production began in England on April 25, 1966, lensed by veteran British cinematographer Edward Scaife (Outcast of the Islands, 1951; Khartoum, 1966). It was shot on location around Buckinghamshire, about 20 miles north of London, and on the backlot of MGM's Borehamwood Studios.
The scheduled four-month shoot began to stretch into six months when weather turned wet after the first month. Aldrich also admitted falling "a little behind schedule because we kept changing the script every day." One such change led to a starring career for one of the Dozen actors.
A scene written for the huge, muscular Samson Posey (played by 1950s TV Western star Clint Walker) called for him to pose as an incognito general and inspect an airfield's troops when the Dozen report for parachute training. As the shoot began, Walker told Aldrich that Posey's character would not be able to pull such a prank off.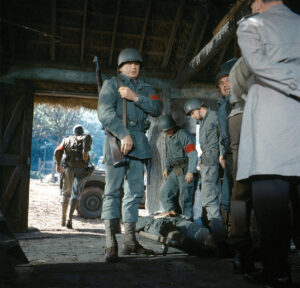 The director turned to Canadian actor Donald Sutherland, portraying the lean, goofy Vernon Pinkley, and said, "You with the big ears, you do it." The scene in the finished film led producer Ingo Preminger (brother of director Otto) to send Sutherland the script for Robert Altman's M*A*S*H (1970).
Meanwhile, the delays kept Brown from reporting to summer training. In July, Cleveland Browns owner Art Modell said he would fine his player $1,500 for every week of training he missed. Taking umbrage at the threat, the fullback announced his immediate retirement from football.
Construction of the Nazis' chateau and its grounds for the climactic third act of the movie caused yet another delay. It took the art department under art director Bill Hutchinson (Lord Jim and Dr. Zhivago, both 1965) four months to build the 240-foot-long, 50-foot-high building with bomb shelter, tunnels, boathouse and landscaping with gardens and a river.
As the set neared completion, the special effects crew told Hyman and Aldrich that it would take an enormously expensive 70 tons of explosives to destroy the chateau as scripted. Hutchinson tore down and rebuilt the entire middle section of the chateau with foamed plastic and cork so it could be blown up with just one ton of explosives.
This delay prompted singer Trini López's lawyer to demand more money for his client, or he would pull him out of his first movie role to play his contracted performance dates. Aldrich chose to write López out of the movie's ending by breaking his character's neck parachuting into France and giving his scripted heroic death scene to another one of the Dozen.
Shooting finally wrapped October 13 and Aldrich was back in Hollywood October 20 to start six months of editing with Michael Luciano, ACE. This was Luciano's 11th film with Aldrich since editing the director's second feature, World for Ransom, in 1954. He would go on to cut nine more of Aldrich's movies after Dozen.
Setting the tone with the opening scene of Reisman watching a military hanging, the editing sustains its involving pace as he refashions a volatile rabble of misfits into an effective working unit, despite their hopeless situation. Luciano won an ACE Eddie Award and an Oscar nomination for his cutting (all four of his Oscar nods were for his work on Aldrich movies).
After a well-received screening of the director's cut for exhibitors in April 1967 MGM re-processed the movie, adding six-track stereophonic sound and making it the first motion picture ever shot in 35mm to have 70mm release prints. As a result, Dozen lost the tops and bottoms of the 35mm framing to achieve its widescreen format.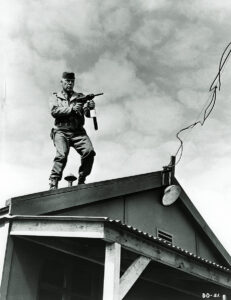 As a sign of the changing standards of the Production Code, despite concerns over violence and profanity, the Motion Picture Association of America (MPAA) gave the film its approval. The MPAA stipulated, however, that credits and advertising must carry the warning, "Suggested for Mature Audiences."
With the movie's overwhelming box office success, Aldrich was named Director of the Year by the National Association of Theatre Owners. His share of the profits from his most commercially successful film also enabled him to purchase his own studio. Five years later, after four box office failures, he was forced to sell it.
Aldrich did not get an Oscar nomination for his direction, but the picture garnered three more nominations in addition to Best Editing. Nominated for Best Supporting Actor, John Cassavetes lost to fellow Dozen performer Kennedy for his role in Cool Hand Luke (1967). The MGM Studio Sound Department was nominated for Best Sound for the work of sound recordists Claude Hitchcock and Franklin Milton, sound editor John Poyner and, uncredited, sound editor Van Allen James and re-recording mixer Aaron Rochin, CAS. Poyner, however, on his own, won the Oscar for Best Sound Effects.
Breathing new life into the war movie, The Dirty Dozen reinvented the model for military mission films, from The Devil's Brigade (1968) to Inglourious Basterds (2009), and cracked open the door for bloodier violence on screen — soon thrown wide open by Bonnie and Clyde (1967) and The Wild Bunch (1969). In the late 1980s, it also generated three TV movie sequels and a short-lived television series.
More significantly, the Dozen's extermination of Nazi generals by gasoline and grenade was widely seen as a comment on the criminal complicity of all participants in war, no matter on which side they fought. As Aldrich noted, "The whole nature of war is dehumanizing… European critics all picked up on the parallel between burning people alive and the use of napalm, whether they liked the picture or not."