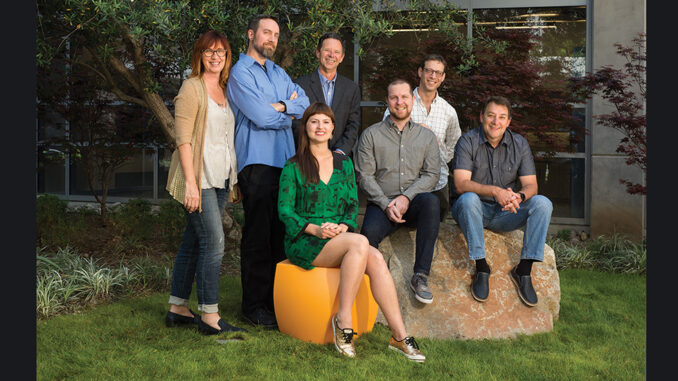 by Mel Lambert • portraits by Martin Cohen
HBO's highly popular Game of Thrones TV series has demonstrated that audiences will tune in regularly for well-fashioned drama that incorporates outstanding post-production. With the seventh season kicking off July 16, the struggle for the Iron Throne continues as several noble families fight for control over the mythical lands of Westeros, while a forgotten race returns after being dormant for thousands of years.
Premiering in 2011, the Emmy Award-winning drama stretches from the south, where heat breeds lust and intrigue, to the savage eastern lands, where a young queen raises an army. And in the frozen north, a wall of ice protects the war-ravaged kingdom from dark forces that lie beyond.
Reportedly, the new season will bring surprises to the kings and queens, liars and lords, and honest men who engage in this dance of power and ancestry, based on George R.R. Martin's best-selling fantasy novels. David Benioff and D.B. Weiss serve as the show's executive producers, with producer Greg Spence overseeing post-production. Currently the series is distributed to an audience of 25 million across various HBO platforms.
"This year, we have new locales and new characters, which can be a sound challenge," supervising sound editor Tim Kimmel says.
Working out of Formosa Group, Hollywood, the audio crew includes supervising sound editor Tim Kimmel, sound designer Paula Fairfield, MPSE, supervising dialogue editor Paul Bercovitch, sound effects editor Bradley Katona, MPSE, Foley mixer/editor Brett Voss, dialogue/music re-recording mixer Onnalee Blank, CAS, and sound effects re-recording mixer Mathew Waters. The hour-long drama is re-recorded in 7.1-channel format, with a separate pass for 5.1-channel air delivery; all six seasons also are available on Blu-ray and streaming markets with Dolby Atmos soundtracks.
"I came aboard for Season Three in 2013 and soon realized that these were big shoes to fill," Kimmel recalls. "Post for Season One had been completed in the UK, with principal photography taking place — as it still does — mainly in Northern Ireland. But for Season Two, the show runners wanted to handle sound post-production on the [US] West Coast. The show's high attention to sound detail had begun with the series' first episode; when I took over, I was asked to continue with that approach and to step it up a notch."
Shooting of the seven-episode new season wrapped in February with Kimmel and his team beginning sound editorial during March and April, and the dub starting in early May. "This year, we have new locales and new characters, which can be a sound challenge," Kimmel says. "Every season brings new challenges; the action is always getting larger — witness the 'Battle of the Bastards' sequences toward the end of Season Six [which won six Emmy Awards in 2016]. Now that I know what's ahead of us, I've gotten my panic out of the way!"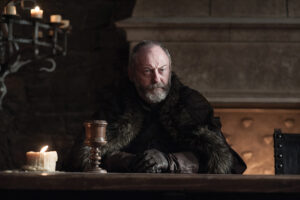 Dialogue/ADR Editing
After a review of production dialogue, Kimmel assesses what will be needed for ADR or sound design. "Clear dialogue is extremely important for the audience to understand the complex story flow," acknowledges Bercovitch, who joined the show for Season Five. "The major difference between Game of Thrones and other shows I've worked on is in the number of takes per scene — and thus the options for repairing problems with the select takes. We try and pare down our ADR lists by repairing dialogue as much as possible and looking for alternate takes, using individual syllables to tightly match tracks."
The dialogue editor concedes that his most difficult task comes from dealing with costume noise. "With metal armor, flowing dresses and heavy costumes, I need to reach into the boom and lavalier tracks to secure good takes," he explains. "Some costumes can interfere with both sources. But I don't go too crazy cleaning up the cloth movements; if I go too far, the resulting edit can sound choppy or lifeless."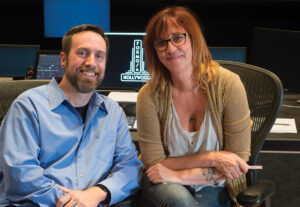 What distinguishes Game of Thrones is the amount and quality of its Foley. "With this in mind, I aim for a very clean dialogue track by doing my best to clean up cloth movement, footsteps, production effects and other non-dialogue elements from the production track," Bercovitch continues. "But then, I split these elements off from the main dialogue track and fill the holes with clean fill tone so that they can be blended with or replaced by Foley without affecting the overall dialogue level. While the resulting track can sound a little sterile when played in isolation, hopefully it creates a space where the details in the Foley — and backgrounds, effects and Loop Group, for that matter — can shine through."
The supervising dialogue editor has developed a color-coded Pro Tools template "with 16 dialogue tracks, four PFX tracks of door closes, footsteps and cut downs — these are useful for the M&E Stems — plus the ADR and Loop Group tracks."
Sound-Effects Editing
Following a spotting session with the sound team, Katona will develop his list of effects elements. "From experience, I know that I should look at what the Foley team will be producing and concentrate on my hard effects," he says. "While I might cut the horse steps — simply for reasons of picture sync — Foley will handle the performed effects, like leather movements and the bits in the horses' mouths. There might be 200 footsteps in a key scene that need to be in tight sync with picture, but with a realistic feel."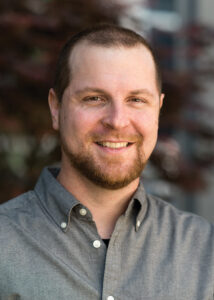 Working frame by frame, Katona marks every point at which he will need to add an effect. "I then turn to my general library, which contains thousands of sound effects that I've built up over time, together with a separate library of effects that I use only on Game of Thrones." The custom library contains a variety of carts and wagon, "plus boats with realistic-sounding wooden creaks, ropes and water sounds," he adds. "That on-deck activity is often supplemented by Foley. I also have a collection of dogs and other animal sounds used on the show, although the gore, including bones breaking, might be added in Foley. I'll build up multiple layers to add a heightened sense of realism. I also develop background and natural ambiences, including winds, birdsong, river sounds, waterfalls, insects and crickets."
The sound effects editor delivers both mono and stereo sound effects to the stage — the former for hard sync sounds and the latter, in the main, for background and ambience stems. "We might have 70 mono tracks and 16 stereo tracks per episode," Katona says. "But that number might expand dramatically on a sound-heavy sequence, with separate horns, bows and arrows, swords, staffs and so on."
Foley Recording/Editing
Foley for Game of Thrones is centered on weapons and clothing. "Brett Voss has worked on similar shows and is well accomplished with episodic thrillers," says Kimmel. Special emphasis is made on cloth passes for each character, and the gear they might individually use in each scene, plus wind rustles that might be needed for some ADR tracks. Although real swords might be used for battle scenes, because they can be difficult to wield on the Foley stage, the artists often resort to crowbars and the like, plus other pieces of metal, according to Voss. "A sheet of leather being dragged across a concrete surface replicates the sound of dragon wings," he explains.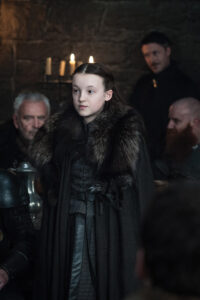 The Foley mixer/editor also handles the recording of door closures, and debris hitting various objects and surfaces. "We try to achieve a perfect balance between sound effects and Foley," he adds. "We record all the cups and plates, bone scrapes on teeth during the banquet scenes and set downs, plus spilled wine and water sounds. We make separate passes for each character in a scene, to provide isolated tracks for the dub stage. Our Foley artists take on the key mannerisms of each character."
Voss delivers 40 Foley tracks to the editorial team, including 16 of footsteps, between 12 and 20 of props and four of movements. "I love going to the dub stage when I can, to learn more about how the tracks are used in the soundtrack," says Voss. "We like to secure feedback and comments about what might not be working; we can always adjust to those requirements and redo the tracks, if necessary. In fact, our greatest hurdle is how to turn the show's abstract world into reality."
Sound Design
"Paula Fairfield was the top of my wish list when I came aboard," Kimmel states. "Other sound designers were offered to me, but I held out for Paula, whose work I knew from Lost and feature films." Her off-the-wall approach to design, "with an emphasis on new and unique sounds, was perfect for vocalization of the dragons, White Walkers, giants and other creatures," the supervising sound editor says. "She also developed environments for those and other characters, including sounds for the weather during the battle scenes in the Season Five episode 'Hardhome.'"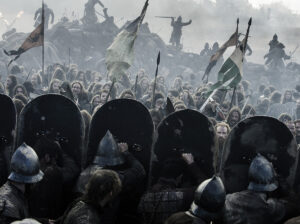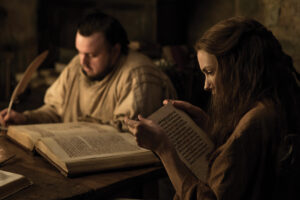 "As well as the three dragons, wolves and key creatures, I focus on the essential conceptual elements," Fairfield explains. "I also look after the Warg transitions [as characters enter the minds of animals and perceive the world through their senses], in addition to dream sequences. There was a complete language imagined for the White Walkers called Skroth that we experimented with. But we quickly found that it demeaned them to actually speak, so I developed the idea of having them speak through the forces of nature — ice cracks and great earth movements — to make them omnipotent."
To remain focused on the individual characteristics of the three CGI-generated dragons (Drogon, Rhaegal and Viserion) controlled by the lead character Daenerys Targaryen, Fairfield developed her ways to relate to them. "I look upon the smaller dragons — Rhaegal and Viserion — as Beavis and Butt-Head [the two socially incompetent teenage delinquents from Mike Judge's eponymous animated TV series] because they're always bickering with one another. Perversely, I imagine that the large dragon is married to Targaryen, and that they share a strange husband-and-wife relationship. In Season Five, for example, there is a sequence where, having disappeared for most of the previous season, Drogon flies down to see Daenerys. It's a very intimate scene, so I generated sounds appropriate for a sexual, romantic relationship, including dragon purrs."
All elements of the three dragons are fully designed with wing and skin sounds. "In fact, I develop everything I can to give them movement," Fairfield stresses. "I even fashion the stretching of skin as they move up and down. I also work at a sample rate of 96 kHz so that the elements can be time-stretched and contracted as necessary. I produce between 300 and 400 individual design tracks per episode, with separate Pro Tools sessions for each character. To save time for Mathew Waters, I pre-dub the tracks into multi-channel layers for wings, skins, high vocals, low vocals and movements."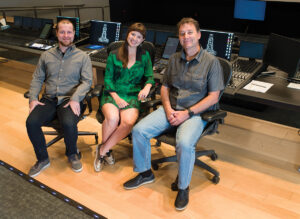 Re-Recording
Blank and Waters joined the show at the start of Season Two. "I soon realized that Onnalee is very organized and, for dialogue tracks, prefers to receive both boom and lavalier mic tracks," Kimmel says. "Mathew also focuses on the quality of the sound effects tracks, and participates in their selection."
"When I first heard that post for the show was moving to the West Coast, I talked with everybody who knew anybody at HBO to get the gig," Blank recalls. "I had never mixed anything as complex as Game of Thrones; I wanted that show so badly! For three years we worked at Soundelux/Todd-AO, and then moved to Stage A, on what is now Formosa at The Lot. For Season Seven, we are relocating to the brand-new Formosa Hollywood Stage 1, which features a pair of interlinked Avid S6 32-fader M40 control surfaces." Other hardware includes five 32-channel HDX Pro Tools playback systems and a 192-channel stem recorder.
During her first season on the show, Blank mapped out her workflow strategy. "I like to receive clean dialogue and ADR tracks, with plenty of alternates. Mathew and I prefer to print as we go, because of our outboard-gear settings. It also allows us to watch the scene one more time as viewers. I need to be well organized, with 16-20 production tracks, 10-20 of ADR plus 60-85 of Group, with call-outs and yells."
For Season Six, Blank normally received 10-11 quad music stems from music editor David Klotz. "I also receive stereo and mono elements…maybe orchestra, up to four percussion, atmosphere solos, cello plus male and female vocals," she says. "Music is the emotional core of the show; we use our instincts to achieve the optimum results."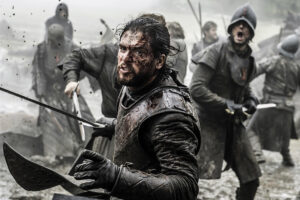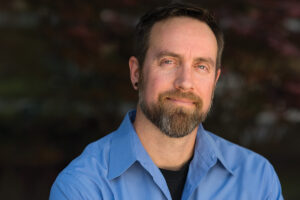 Blank prefers to mix dialogue in the center channel, "although I may pan it if the action allows," she admits. "But I'm not a great fan of ping pong dialogue, especially if it takes the audience out of the scene. For music, I'll follow the quad assignments, with maybe a solo cello in the center, or re-panned as necessary to fill out the room. For ambiences and reverb, I use a Lexicon 960 processor."
When he joined the show, Waters recalls, "I thought that the background ambiences could be made more interesting and present. With so many characters, I thought that each soundtrack should be a signature, with key environmental sounds to indicate where we were. I soon realized that it takes a village to make a show like Game of Thrones."
On day one of a mix session, Waters will "go through the backgrounds and see what we have. I can then give Onnalee a rough format against which she can mix her dialogue elements. We also check how the effects will balance against the dialogue and music melodies to provide clear openings. I need to understand the music score — do we need a sound effect here?"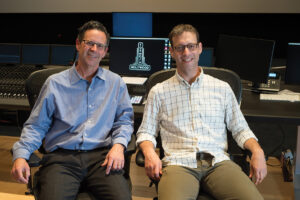 As sound effects mixer, Waters receives mono and stereo elements from Katona, plus LCR, 5.0 and 5.1 stems from Fairfield. "The dragon tracks arrive as 5.1-channel mixes, which I just need to adjust against the music," Waters explains. "Foley is normally 24 or more tracks, although for the 'Battle of the Bastards' episode, we also received 180 tracks of horses and 180 tracks of weapons. Often, we do not have time or the storage capacity to pre-dub the effects tracks; we run all sound effects tracks off a single Pro Tools session. So if we know the episode is getting very complex, I'll ask for pre-mixed stems from editorial. One exception was the penultimate episode for Season Six — 'Battle of the Bastards' — which was so busy that we secured additional time on the stage to pre-dub the sound effects."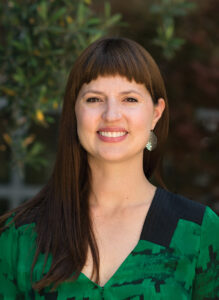 The dub team mixes in 7.1-channel and then folds down that master mix to 5.1-channel for broadcast by thinning out the music and backgrounds. "The 7.1 format's side channels are useful for effects and music," offers Waters. "We will also listen to the Dolby Stereo Left-Right fold-down on near-fields speakers," Blank explains. "And, since that is the mix most viewers will hear, we'll make adjustments to the 7.1-channel to ensure full compatibility. We also check the loudness of our theatrical-style mixes. For the 'Battle of the Bastards' episode, we had 45 minutes of loud drama. To make our target loudness, we monitored at 81 dB SPL rather than our normal 85 dB."
"Our biggest challenge on a show like Game of Thrones is to create tension without losing the sense of mystery," concludes Waters. "The illusion is convincing because we use organic sounds to develop a realistic-sounding yet fictitious world. We have CGI dragons that we think are real. Everything in the show should be as real as real can be."