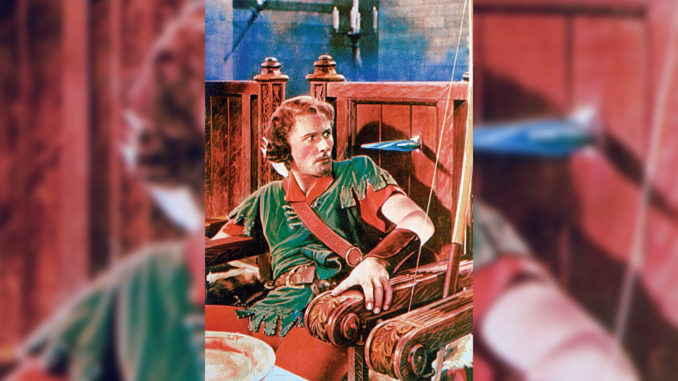 by Jana Carole
I was born 20 years after Warner Bros. released The Adventures of Robin Hood in 1938, so my introduction to that Technicolor wonder was in black-and-white, on the screen of our mid-1960s TV set, one of many movie classics showcased on Saturday Afternoon at the Movies. Television portrayed none of the vivid color that was so significant when the movie was released on the big screen; however, this quasi-historical swashbuckling adventure lost nothing in the scaled-down version I watched decades later. Nothing lost, at least, in the imagination of this eight-year-old girl. For although that Technicolor extravaganza was visually extraordinary (I finally saw it years later in a revival house), it was that dashing action hero, Robin of Locksley––played by the immortal Errol Flynn––who inspired this adventure-seeker.
When that Saturday movie ended and I stepped outside to swing from a peach tree, it was not Marian but Robin Hood that this little girl sought to emulate. Mind you, Maid Marian had fabulous dresses (not to mention hats), was smarter than most leading ladies of the era, and rode a really cool horse (who later became Roy Rogers' loyal "Trigger"). Still, it was Robin Hood who got to swing through the trees of Sherwood Forest and scale the walls of Norman castles, organizing repressed Saxons into an enlightened band of merry fellows, challenging greedy oppressors in daring duels and contests––all with an irrepressible charm punctuated by frequent belly-laughs. Who wouldn't want to imitate such an action hero? By comparison, our latter-day 20th Century action heroes are more sizzle than steak, all swagger sans charm.
What made Flynn's Robin Hood such an egalitarian action hero, one that could thrill every movie demographic and inspire this little female adventurer? How could this man in green tights offer such universal appeal––even in black-and-white––when our modern action heroes have so little to offer girls? Today's macho heroes are characters designed to appeal to men. Today's adolescent girls are left with only Angels to imitate. The likes of Flynn's Robin Hood no longer exists to swing across the gender abyss and still land on his feet (okay, perhaps Indiana Jones, but he's a throwback; try naming a truly modern one).
For audiences in 1938 theaters, The Adventures of Robin Hood played as a warning to resist oppressors who were currently taking hold in Europe.
Robin Hood was not the first (nor the last) anti-establishment action hero. But Flynn may have broken the mold when creating a balanced character with equal parts passion and playfulness––qualities likely to appeal to the emerging mid-century feminist. Unlike the self-inflated lusty heroes of today, Robin Hood displayed a social conscience without surrendering his sexual charisma. Never hard-nosed tough nor crazy-eyed obsessed, he had an easy-going charm. He had a flair for the dramatic without losing his sense of the comical (catch his visit to Prince John's court with a poached deer slung over his shoulder). Gallant Robin Hood wooed Maid Marian into social awareness with intellectual truths in Sherwood Forest, but still appeared at her balcony to seal the deal with several ardent kisses. Unlike the dysfunctional loners and loose cannons of today, Robin Hood could organize a political rebellion and lead the cause of righteousness on behalf of the repressed. All this while looking pretty darn good in tights.
There are many reasons Robin Hood was a runaway success––beyond its outstanding cast and Technicolor effects. Action heroes are known for crossing international box office boundaries and Robin Hood was no exception. But every producer knows that the true hero of any action picture is its film editor, who performs the magic that makes the hero look impossibly daring and inconceivably athletic. It's said that Flynn performed nearly all of his own stunts and swordfights, but it was in the hands of picture editor Ralph Dawson to manipulate and pace Robin Hood's finesse (for which Dawson won the Best Film Editing Oscar that year) to maintain the swashbuckling grace that captured this girl's heart. And although I was transported from my central California home to Sherwood Forest, in fact, most of Robin Hood was shot just a few hours north of my backyard––in Chico, California. Augmenting that visual spectacle was the remarkable orchestral drama of Erich Wolfgang Korngold's original score, for which he also won the Oscar.
Beyond pure entertainment value, those looking for substance will find it. For audiences in 1938 theaters, The Adventures of Robin Hood played as a warning to resist oppressors who were currently taking hold in Europe (composer Korngold immigrated to Hollywood to flee Nazis). And for an eight-year-old in 1965––indeed, for any age in any era––the original action hero Robin Hood carries an imperative message for truth and for right, no matter what the government may be doing in its own interest.