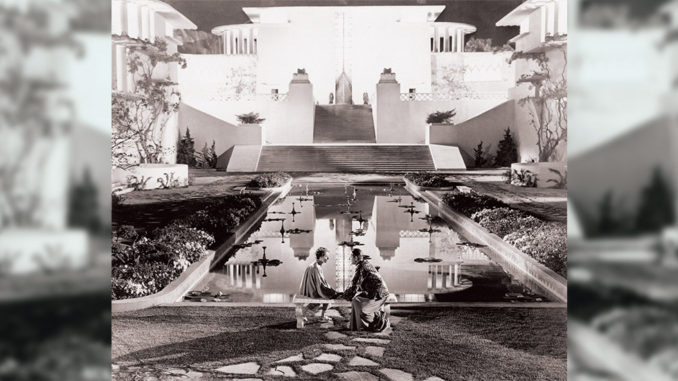 by Kevin Lewis
In 1937, the year the Society of Motion Picture Film Editors was founded, Frank Capra was one of the most respected film directors in the world. He had just won his second Oscar for direction, he was president of the Academy of Motion Picture Arts and Sciences (AMPAS), he was one of the founding members of the Screen Directors Guild (the forerunner to the current Directors Guild of America), and his film version of the best-selling book Lost Horizon was in release. But his career was about to take a dive as steep as the Himalayan Mountains he had just re-created in the movie. Because of his lawsuit against Columbia Pictures for fraud and the re-editing of Lost Horizon, he was on suspension and unemployable by any other studio because Columbia head Harry Cohn would not release him from his long-term contract.
After ten years together, Cohn and Capra feuded over Lost Horizon. Even though the novel had been a best seller for the previous three years, it was still a risk to produce this fantasy adventure at a time when a world war was almost a certainty––even with a filmmaker the stature of Capra. The sneak preview in November 1936 had been a disaster, and the over $3 million investment threatened to sink Columbia, Cohn and Capra. Ultimately, Lost Horizon was an acclaimed movie that made a modest profit and Capra dropped his suit because Cohn made him an offer he couldn't refuse: the film You Can't Take It With You (1938).
The saga of Lost Horizon began in 1934, when Alexander Woollcott, The New Yorker writer and Algonquin Roundtable raconteur, praised the book, telling the radio audience on his CBS show The Town Crier that he "went quietly mad" reading Lost Horizon, a utopian fantasy set in Tibet. The novel, by the young British writer James Hilton, was published in England the previous year with little notice. Millions of Americans went mad with him wondering if Shangri-la really existed. A spiritually beaten Depression-era nation needed to believe in this harmonious, mystical, monastic community in the Himalayas called Shangri-La, where the residents never look old (talk about a metaphor for Hollywood!).
The re-editing of Lost Horizon did not stop in the 1930s.
Capra was also intrigued by the novel, according to his son, Frank Capra, Jr., longtime president of EUE/Screen Gems Studio in Wilmington, North Carolina, who says his father believed that Shangri-la was "a repository for all the beauty and art and wonder in the world, the things that man had been able to make and all the good things that could be protected for a later time. My father would have made that picture in color, but there was little to no stock footage of the avalanches, the snow and the high mountains in color," Capra, Jr. explains. "He wanted the size and scope that the stock footage brought to it, but at the same time, he didn't want to mix the two, so he decided to go ahead and do it in black and white." Capra's longtime cinematographer Joseph Walker re-created Tibet in Sherwood Forest (now Westlake Village), north of LA, and in the San Bernardino Mountains.
Capra was deeply affected by the worldwide Depression and felt a sense of personal guilt, according to his son. "Movie people made a lot of money and I know that he sometimes felt a little embarrassed by that," Capra, Jr. says. "He thought, here we are making so much money and here are these people who can't eat. He always felt that to be a little strange. That is why so many of his films really centered around the Depression and what was going on." These fables of millionaires sharing their wealth with the poor, impoverished businessmen being rescued by mass donations, and politicians fighting Congress were given a unique name by pundits: Capracorn. Lost Horizon was a unique film in Capra's oeuvre because he was known for his contemporary comedies, not fantasies.
The film offered a spiritual release from the studio politics in which Capra was enmeshed. The director had been troubled by the cavalier studio action in 1933 authorizing a 50 percent pay cut for all non-union employees on the basis of a decline in ticket sales. As its president from 1935-39, he saved autocratic, studio-run AMPAS from dissolution by forcing the Academy to recognize the nascent Screen Actors Guild, Screen Writers Guild, Screen Directors Guild and Society of Motion Picture Film Editors as the negotiating unions with the studios. Previously, the Academy resolved labor issues. Capra later became president of the Screen Directors Guild. "My father was part of negotiating teams for the Directors Guild on achieving director's rights, " Capra, Jr. points out.
 A spiritually beaten Depression-era nation needed to believe in this harmonious, mystical, monastic community in the Himalayas called Shangri-La, where the residents never look old [talk about a metaphor for Hollywood!].
As for Lost Horizon, audiences weren't prepared for a solemn Capra film at its 1936 preview in Santa Barbara, California. Both Capra and Cohn thought they had an unreleasable film (as then Board member John Conte related in his article for the Motion Picture Editors Guild Newsletter NOV-DEC 97, "How Editing Saved a Studio in 1937"). Conte quoted Gene Milford, who, with Gene Havlick, edited the film: "I was at the theatre that night, overseeing the screening on two dual projectors [picture on one reel, sound on another], and I don't remember the audience laughing except when they were supposed to. People did walk out, but only because the movie was too long." Estimates on the running time vary, but it was between two-and-a-half and three hours long.
In his autobiography, The Name Above the Title, Capra claims that he junked much of the opening two reels––which were static exposition, according to Capra, Jr., who read the scenario. But both Conte and Capra biographer Joseph McBride state that Capra worked with editor Havlick on restructuring the beginning, and took 20 minutes off the running time. After a successful preview in San Pedro, California, the film premiered in March 1937 at 132 minutes.
After the March showings, and unbeknownst to Capra, Cohn ordered the re-cutting of the movie to approximately 114 minutes for the general release in September 1937. Capra went to London for the premiere of Lost Horizon in April. He next left for the Soviet Union to research a film project with screenwriter Robert Riskin, and then returned to London before he took another European vacation prior to returning to Los Angeles. While in London the second time, Capra discovered that a mediocre Columbia comedy, If You Could Only Cook (1935), was fraudulently being advertised by the studio throughout the United Kingdom as a Capra production. After a confrontation with Cohn at Columbia in June about this fraud, he also discovered that the studio head had re-edited and shortened Lost Horizon without his knowledge. He sued Columbia for fraud and the re-editing of the film. The suit would eventually be thrown out on a technicality by a judge in Los Angeles. Suspended by Columbia because of the suit, and thinking that his two Oscars and Academy presidency would cause a studio stampede for his talents, Capra was shocked to discover that he was blackballed by the other studios. Then he made peace with Cohn.
Shangri-la was a repository for all the beauty and art and wonder in the world, the things that man had been able to make and all the good things that could be protected for a later time.
Who actually did the re-cutting and shortening of Lost Horizon remains a mystery––or a secret––until this day. Both Capra, Jr. and McBride are unclear about who did the re-editing. "No one would ever own up to it," Capra Jr. says. However, editors Havlick and Milford won the Oscar for their editing of the film; they were praised for creating seamless editing of such action sequences as the civil war in China, the plane crash, the deaths in the snow, the love scene beside the pool and the death of the High Lama. Academy voters likely realized that Columbia had strained its limited resources to afford the montages and special effects that Capra required to create the unforgettable images. Havlick went on to garner two other Oscar nominations for editing Capra films, You Can't Take It With You and Mr. Smith Goes to Washington (1939), and Milford won another for On the Waterfront (1954).
While Havlick was the editor of Capra's later Columbia films, the director also remained very close to Milford, the editor of his early comedies, according to Capra, Jr. "In my father's view, [Milford] contributed a great deal to the final production––but I think he felt that way about all editors," he says. "He was very proud of them and felt that they made the picture all over again. He spent lots of time in the editing room, and was very much involved on a day-to-day basis."
But the re-editing of Lost Horizon did not stop in the 1930s. The film had a second life during World War II, when it was re-released as Lost Horizon of Shangri-la in a 108-minute version to capitalize on the campaigns in the China-Burma-India theater. Later generations saw a 95-minute television print, which was often shown in a 66-minute version for daytime TV.
Capra was to have his vindication, however. During the 1970s and '80s, he worked with Robert Gitt of UCLA Film and Television Archives on the 132-minute restoration, which includes audio tracks over still shots to compensate for lost footage. Ross Hunter re-made the film in color as a musical in 1973, but it quickly vanished. But the original is still the stuff of which dreams are made.
After all, Capra's version is readily available on DVD. Like in the Shangri-la it depicts, Lost Horizon has proven ageless––and that is its legacy.