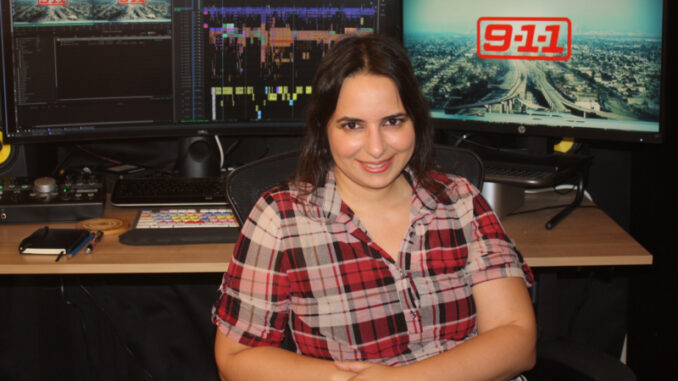 Where are you currently employed?
My most recent project was season 6 of the show "9-1-1" for FOX where I edited four episodes (603, 607, 611, and 615).
Current projects?
I've also finished an indie LGBTQIA+ film called "F.L.Y." which premiered at the Outfest LA Film Festival in July. It stars one of the same leads from an indie movie I edited called "Lupe."
Describe your job.
I'm a film and TV editor with experience in drama, horror, action and comedy. I'm also an elected picture editor representative on the MPEG board of directors, serve on multiple committees, and I'm the co-chair of the MPEG Young Workers Group.
How did you first become interested in this line of work?
I grew up in Israel where you pick majors in high school. I majored in theater and media studies. I loved acting and performing, so theater was an obvious first choice. Media studies was a distant second; I chose it because it was the only other major that enabled me to avoid science. Little did I know my second choice would grow into a love of filmmaking, specifically editing — so much so that it overtook my first love of theater. I leveraged my high school editing experience so that for my two-year mandatory military service, I got drafted as an editor for the air force filming unit, where I was trained on Avid.
Who gave you your first break?
My first break in Israel: There was a big military operation after I had already finished my service, so I was called back as reserve force, which is when I met a fellow reservist who got me a job editing local celebrity news bulletins at E! Israel.
My first break in the US: Before relocating to the States, I Googled and cold-emailed post houses relentlessly until I received a response, which was from a fellow Israeli, a post supervisor named Nadav Streett. He gave me advice and agreed to talk about helping me find a job after I moved to Los Angeles. I landed in L.A. in July 2009 when the economy was in bad shape. Nadav informed me there were no jobs — but two weeks after I arrived, he needed a night-shift assistant editor on a reality clip show, and I jumped at the opportunity.
What was your first union job?
In 2014, I was a night shift assistant editor on an Endemol Shine reality show called "Restaurant Startup." After that, I switched to work on scripted content.
On a related note, I was elected to the board of directors as an assistant editor representative in 2017. The nomination came as a surprise, and I learned a lot "on the job" about what it means to serve as a board member. I served two terms as an assistant editor rep before I became a picture editor representative.
What credits or projects are you proudest of, and why?
In 2022, I was incredibly honored to be nominated for an ACE Eddie award for editing the indie film "Lupe." Actually, I had edited that film back in 2017, and it was the first film that I'd edited solo, start to finish. HBO Latino bought it and released it in February 2021, so there was a long delay before the world-wide release. "Lupe" currently no longer lives on the Max platform but can be streamed elsewhere.
Most recently, I'm very proud of my work on "9-1-1," especially my first episode of season 6, "The Devil You Know" (ep. 603), which is a powerful character journey for Athena Grant Nash, played by the phenomenal two-time Oscar nominee Angela Bassett. I got to edit a chilling nighttime running chase sequence that takes place concurrently in two different time periods, all under a wonderful Nina Simone cover of the song "Lilac Wine."
What was your biggest challenge in your job (or on a particular project) and how did you overcome/solve it?
"Lupe" had an unusual post process on multiple levels. Principal photography was already done, and the co-directors (André Phillips and Charles Vuolo) had already assembled a first cut when they realized they were in over their heads and needed an editor. Their assembly had pieces of the story puzzle, but it was disjointed. I started my edit from scratch. Having worked so long in Avid, I utilized the opportunity to relearn Premiere Pro.
The co-directors were based in Boston and I was in L.A., so we set up a remote workflow. This was long before that became a pandemic norm. Because the film features a trans non-actress, many parts were improvised to help her feel natural and in the moment. It meant the film had drifted so far off from the original script that the co-directors advised me to not even read it. I was handed a hard drive and basically told, "Here's a bunch of footage. Disregard the script and go make a movie." (More about the editing of "Lupe" can be heard in audio excerpts and read in interviews at shirancarolyn.com/press.)
What was the most fun you've had at work?
Recreationally, I'd say I had the most fun when I assisted Chris McCaleb, ACE, on "Fear The Walking Dead" interstitials alongside the editorial crew from the season, and we attacked each other with nerf guns from the writers room. Creatively, I'd say it was co-editing a few episodes on season 1 of "Chucky" with Randy Bricker, ACE, which brought the famous murdering doll from the movies to the TV screen. Given the freedom of exploration a first season provides, I had a lot of creative input on the editing styles, graphic styles, and song choices for the season. (I even have a little whistling cameo in the last episode of season 1.) That show was a ton of fun to work on.
Jobwise, what do you hope to be doing five years from now?
I want to edit dramatic features that are so thought provoking, they leave a long-lasting impact on the viewer. That's something "Requiem For a Dream" did to me when I first saw it, and it cemented my decision to become an editor.
What are your outside activities, hobbies, passions?
I enjoy salsa dancing, karaoke, board games, traveling, and I sketch occasionally.
Favorite movie(s)? Why?
For childhood nostalgia, "The Lion King," "The Sound of Music," "Mary Poppins," "Hook," and "What About Bob?".
Favorites that stayed with me long after watching: "Requiem for a Dream," "Her," "Eternal Sunshine of the Spotless Mind," "Whiplash," and "Arrival."
Favorite TV program(s)? Why?
Scripted: "This is Us," "The Queen's Gambit," early-mid "Game of Thrones," "The Crown," "The Night Of," and "House MD." The first five shows for their well-written dramatic stories that "squeeze the heart" or leave you contemplating, or both. "House MD" for the wacky medical cases and the razor-sharp sarcasm.
Unscripted: "Chef's Table" — great-looking food with captivating origin stories. "Queer Eye" — a heartwarming group that helps people.
Animation: "Big Mouth," for the grotesque yet hilarious and relatable humor.
Do you have an industry mentor?
Over the years, I've assisted many talented editors and learned from all of them. I'd say my most influential mentor who initially taught me how to assist within scripted content is Dan Lebental, ACE.
I first heard of him when the school in Israel where I once studied After Effects emailed and said this big-shot Hollywood editor is coming to speak at the school. I asked the head of the school if she could e-introduce me to Dan. She said to just reach out to him directly. I wrote him a long message in Hebrew introducing myself. I waited a month with no response, then decided to send it again. This time I got a one line response: "Sorry, I don't speak Hebrew." Oy! I translated my message. We became friends and stayed in touch. One day, I wanted feedback on a rough cut of a short film I had edited, so I sent it to him. He was about to start an indie and needed an assistant editor. He hired me for the job, and the rest is history!
What advice would you offer to someone interested in pursuing your line of work?
Even if you're currently assisting, always keep editing on the side: short films for film students, Craigslist jobs, whatever. It's a whole other brain muscle that needs to be exercised. Don't lose sight of your initial goals. If you're on the "wrong ladder" (not the genre you want, or not the type of job you want), switch to climbing the right ladder before the money or work conditions make you too comfortable to turn down the next promotion. Your "no's" define your career path even more than your "yesses" — one of the many pieces of wisdom given to me by Dan.
Was there ever a circumstance when you had to rely on the Guild for help or assistance?
While editing a show on location, the production ran out of money mid-season and attempted to terminate many union positions and finish the show non-union. I contacted a field rep. Within a few days, production backtracked after realizing they would be in violation of union contracts. Another time, I had a show with very messy payroll accounting; it was clear that the payroll company was understaffed after COVID hit. When I wrapped, I sent my timecards and stubs to a rep to double check and verify that I was paid correctly, which I was not, and I got some money retroactively.
Is there anything you'd like to say to your fellow Guild members, some words of encouragement?
If you want the Editors Guild to do more or do things differently, it's up to you not only to communicate what you want, but also to be part of that change. It's really rewarding to make a difference, and it is also an excellent networking environment when you work with others toward the same common goal that helps the collective. For a tangible example of what I first did that made me want to do even more within MPEG, read my opinion piece from January 2021 titled "How the New Member-to-Member Section was Born to Help Job Hunters." For links to get involved, visit editorsguild.com/volunteer and editorsguild.com/committees.