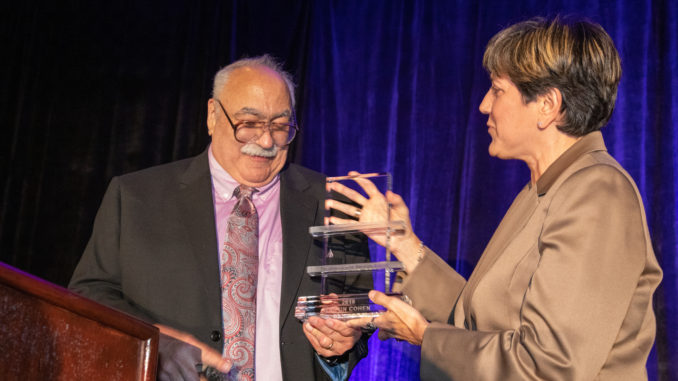 by Scott Collins
Marty Cohen, a celebrated post-production executive who held top roles at Amblin, DreamWorks, and Paramount, has died at age 67.
Cohen was taken to the hospital after having difficulty breathing over the weekend and passed away Sunday in the intensive care unit, according to a friend, Guild board member Sharon Smith Holley. Cohen had suffered from heart disease.
He was the recipient last October of the Guild's Fellowship and Service Award, given to professionals who have advanced the interests of post-production and the labor movement.
At a gala event in Universal City, Cohen told a packed ballroom of more than 200 friends, colleagues and industry professionals: "It's really like a dream to be here tonight. It's incredible."
FOR A TRIBUTE TO COHEN'S CAREER, CLICK HERE: http://digital.copcomm.com/i/1175934-q4-2019
Born in New York in 1953, Cohen spent more than 40 years working in post-production, starting out as an apprentice editor and eventually rising to roles as an executive overseeing post on major motion pictures such as "Anchorman: The Legend of Ron Burgundy," "Catch Me If You Can," and "Gladiator."
He was also involved in preservation efforts for a number of films, including "Who Framed Roger Rabbit?," "Saving Private Ryan," and "The Godfather" trilogy.
Jeffrey Katzenberg, a DreamWorks cofounder, praised Cohen last year as "one of the unsung heroes of our industry … Your leadership in post-production has been crucial in bringing many of the modern era's greatest films to full realization."
A lifelong movie lover, Cohen mentored dozens of post-production professionals, guiding them toward rewarding careers in filmmaking. He was also renowned as a skilled practical joker.
He is survived by his wife Kathy and four grown children: Elijah, Gabriel, Hershel and Maggie, as well as two grandchildren.
Family members have set up a memorial scholarship fund in Cohen's name at his alma mater, Queens College in New York and requests that donations be made there in lieu of flowers or other memorials. Details can be found here.
Scott Collins is Communications Director of Motion Picture Editors Guild.