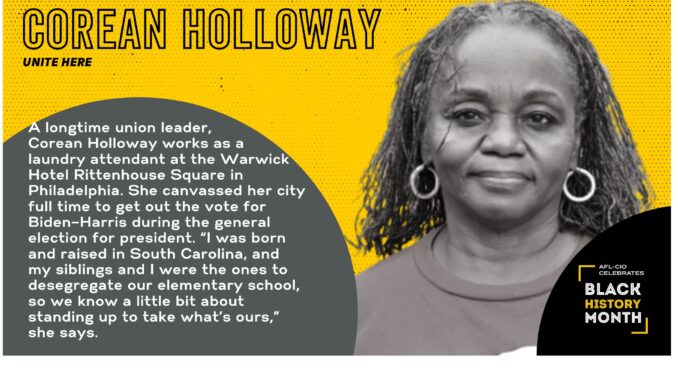 Reprinted from the AFL-CIO blog Now by Kenneth Quinnell on February 16, 2021.
This year, for Black History Month, [the AFL-CIO is] taking a look at a group of leaders who are currently active making Black history across the labor movement. Check back daily for a new profile and meet some of the people working to improve not only their community, but also to improve conditions for working people across the country. Today's profile is Corean Holloway.
A longtime union leader, Corean Holloway works as a laundry attendant at the Warwick Hotel Rittenhouse Square in Philadelphia. She canvassed her city full time to get out the vote for Biden-Harris during the general election for president. "I was born and raised in South Carolina, and my siblings and I were the ones to desegregate our elementary school, so we know a little bit about standing up to take what's ours," she said.